Parisian perfume is famous for its fine quality and sophisticated bouquet. Discover the secrets to crafting the perfect scent from a master perfume maker in Paris. During this hands-on workshop, learn the history of 'Eau de Cologne' and how to identify and describe a perfume's various notes. Then, follow your nose and mix your own signature scent by combining classic perfume ingredients into a bottle that's yours to keep.
Highlights
Paris perfume workshop

Create your own perfume to take home

Learn the history and tradition of perfume-making

Professional local guide

Recent Photos of This Tour
Perfume Workshop in Paris
What You Can Expect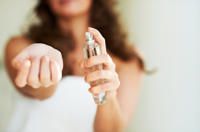 Spend a sweet-smelling afternoon in Paris with a unique 2-hour workshop. Make your way to Paris' 16th arrondissement to meet your guide, an industry expert who teaches at the renowned Perfumery in Versailles and consults international brands like L'Oreal on creating their signature scents.
Start off with a brief introduction to the international history of perfume, from the creation of a personalized perfume for Catherine de Medici in a Florence convent in the 1500s to the birth of Eau de Cologne in 18th-century Germany.
Next, learn about the primary scent families and how to identify and describe an eau de cologne's ingredients. Your instructor will discuss how major perfume producers use these formulas so you can identify the ingredients in your favorite perfumes on the market today.
Equipped with your new nasal knowledge, create your very own perfume by blending standard scent profiles — classic cologne, fruity, floral, spicy and green tea — plus ozonic and chypre atomizers. Experiment with different mixes to get the scent you want, and then capture it in a lovely 50 mL bottle to take home. You'll remember your Paris vacation every time you spray it on!

June 2016
A wonderful and unique experience!
I thought this workshop would be a tourist gimmick: was I wrong! Not only was the ambience exquisite - this class is held in a beautiful Parisian apartment - but our instructor was brilliant, kind, and wonderfully helpful. Not only does she hold a degree in chemistry, but she also gave information, answered questions, and made recommendations in both French and English. I was the only American, my 'classmates' were both from the Paris suburbs, and we were taught about scent families, combinations, what works, what doesn't - it was extremely interesting, and a lot of fun. We helped each other, and had an excellent time.
A recommendation - plan to arrive well ahead of starting time the metro takes a while to this slightly remote station, and there's a little walk to reach the building. Get here earlier to enjoy a coffee at the corner cafe or even visit the high-end depot-ventes in the neighborhood.
I received a complimentary bottle, and bought another of two of the three scents I created, and had a man's cologne made for me!, for a very low cost. Enjoy your personal scent and I hope you love this workshop!
April 2016
Had a wonderful time at this workshop! Highly recommended if you love perfume.
March 2016
This was exceptional ! I don't even wear perfume and I loved this tour ! The host patient , knowledgeable and very welcoming

January 2016
One of the highlights of my trip, I even purchased 2 additional bottles. Class was held in this perfect Parisian apartment.
December 2015
Outstanding! Definitely a 5 Star rating experience.
Thank you,
Cris Rivera
October 2015
August 2015
So much fun and informative!!! We all loved it, even my 14 year old son made a cologne for himself!! High-lite of our Paris trip!! FANTASTIC!! Highly recommend!!!!
August 2015
One of our favorite 'different' days The group was small which was nice. Suprisingly - how much my husband enjoyed making his own cologne - he wears it every day. I purchased a second bottle of my second favorite. The time went by much too fast. I could have experimented more. We would and have already recommended this workshop to others!!
June 2015
There were only 2 of us in the class and we both had very personalized instruction since she spoke French and I speak English. It was fun playing with the scents and i enjoyed creating 3 signature scents. Taking a large bottle of one home is included in the course cost but it was very reasonable to buy the other two. It would be nice to return some name to have a longer class and learn more from this wonderful woman. I also enjoyed that it was held in a residence which let me sees bit of how Parisians really live.
June 2015
Advertisement
Advertisement