Create beautiful lasting memories of your vacation with a 2-hour private photo shoot in Paris. Let a professional photographer guide you toward some of Paris' most gorgeous backdrops or ask him or her to capture candid moments as you venture through the city on your own path. Feel like a celebrity with a photographer on your tail, and receive an email with between 130-150 high-quality images after your photo shoot. It's an especially wonderful way to commemorate a special occasion, but is also a great way to get unique family portraits.
Highlights
2-hour private professional photo shoot in Paris

Receive between 130-150 photos by email after your shoot

Price applies for groups of up to eight people

Choice of four photo shoot times throughout the day

Perfect way to commemorate a honeymoon or other major milestone!

Why Our Insiders Chose This Tour
Let the professional take care of the photos for you on this tour! Soak up the attention as the photographer follows you around the city of love and captures every unforgettable moment! Romantic and fun!
Recent Photos of This Tour
Private Paris Walking Tour with a Personal Photographer
What You Can Expect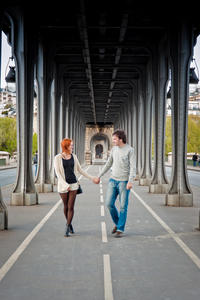 Meet your professional photographer near the Louvre Museum for either a morning or afternoon photo shoot, whichever time slot fits your schedule best. Your private photo package can include as many as eight people, so plan to get the whole family into the pictures – or make it a special memento of just you and your sweetheart.
With a photographer who knows Paris at the ready, you can relax into the role of model for a little while, confident that you're in good hands. Let your photographer guide you to some of Paris' most photo-worthy spots or choose specific places you want as the backdrop. You can choose major monuments like Notre Dame Cathedral or the iconic Eiffel Tower, or some of Paris' hidden gems.
Be serious, be candid, be funny, be romantic – whatever suits your mood – and let the photographer capture you and your group at your best. At the conclusion of a 2-hour photo shoot in Paris, you'll get roughly 130-150 high-quality images via email to remember your Paris trip.
May 2016
Wow! What a wonderful time I had with Michel. I was nervous at first but he does make you feel relaxed and I really had a fantastic time seeing the sites of Paris and being photographed in beautiful settings. Well worth it!!

April 2016
At the beginning I had some doubts. Especially as I read several bad reviews about the communication according to the meeting point. But I Must say that it couldn't have gone smoother. We arrived a few minutes earlier at the meeting point en we recognized our personal photographer Michel. He introduced himself kindly and did his best to make us feel comfortable right from the start. Michel was really great during this shoot. He made us laugh, feel comfortable, was professional, took his time to give us some inside information and tips for the rest of our stay and most important, shot a lot of great pictures of my girlfriend and me. We couldn't have wished for a better guide/photographer than Michel. He said shoots at least 150 pictures but during this 2 hour tour he shot 234 pictures and we already received them the day after.
My advice, if you can prefer a photographer than ask for Michel. He is great!

April 2016
Aaricia was absolutely amazing. The weather was less than optimal but her professionalism and sunny disposition more than made up for it. I was joking with my friends when I told them I planned to hire a photographer to follow me around while in Paris, but when I found this tour I knew I had to do it. If you want an amazing way to capture your time in the City of Lights this is the way to go. I don't know where I am going to put all of the beautiful images I now have but Aaricia gave me so many to choose from that I will be shopping for frames and making wall space for months to come.

April 2016
This is an absolutely beautiful way to commemorate your time in Paris. Aaricia was the consummate professional. She was pleasant and helpful and sought to bring out the very best in me as she turned me into a supermodel for the day.

March 2016
This was a birthday gift from my best friends and it was the best birthday present ever. I was traveling solo in Paris, and this was a great way to get pictures with some of the sights in Paris that were not taken with a selfie stick and cell phone. Michel Planson, my photographer did a great job at making me feel comfortable and he was very knowledgeable about the area which made getting that perfect shot all the more obtainable. This is also a great way to get a lay of the land. I got my pictures back really quickly, and they of course were of professional quality. If you can squeeze it in, I would recommend this highly.
March 2016
Me and my husband booked this tour for our first trip to Paris. This was also our first photography tour so we were not prepared for this kind of experience but David, our photographer was a true gem. He was funny, spontaneous and made us at ease. It was a nice day but cold and windy so we had our jackets. He carried our jackets almost throughout the trip. The pictures have come out so beautiful and natural. Not only we liked our pictures but we LOVED David. Thanks David.
February 2016
I had an absolutely wonderful experience with David my photographer. I met him at an agreed location and we were off. The time went so fast because it was so fun. He had so many places in mind for great photos and I absolutely loved it. He did an amazing job, he made me feel comfortable and to start to like the camera. We had a blast. The same night I received over 200 photos of my time... the pics were beyond amazing. He so accurately captured me in Paris having such a great time! It was truly amazing. I highly recommend this tour to capture some wonderful memories in Paris. My friends and family were also thoroughly impressed with my photos, just fantastic! This is such a great idea and everyone should do it. My deepest thanks and appreciation for your time and work, I am beyond thrilled and forever grateful.
January 2016
David was a blast, absolutely amazing! My fiancé and I were in Paris for a college break tour and thought it would be fun to get some pictures together instead of all our selfies. We could have never imagined that they would turn out this great! David was knowledgeable and energetic. He went above and beyond for the perfect shot, he would move trash, lay on the ground, and somehow find a way to keep other people out of the frame. We wanted some romantic as well as fun shots and he was able to deliver. He knew where to take us for great shots, he helped us pose, and most importantly he made us feel comfortable. David would give us tidbits of information about the area we were taking pictures in and gave us ideas of activities to do while in Paris. We had so much fun with this photo shoot and getting to know David.
January 2016
What a great tour we had, will highly recommend it! Specially if it's your honeymoon like it was for us, Michel was fantastic and the pictures worth every penny
December 2015
what a great idea and the photographer was really friendly. I was amazed how good the pictures were considering we are in our fifties and our kids loved them. Thanks for the memories of Paris
Advertisement
Advertisement