Capture the picturesque sights of Paris through a photographer's lens on this private 3-hour walking tour. Take your pick of a tour through Montmartre or the Latin Quarter, and stroll through the inspiring streets with a professional photographer guide. Snap frame-worthy shots of iconic attractions and tucked-away treasures with tips on lighting, composition and camera control from your guide. Get the most out of your experience with the personalized attention of a private tour.
Highlights
Photography walking tour of Paris' Latin Quarter or Montmartre district led by an expert photographer
Discover the sights and hidden gems of the district and how to capture them on camera
Take shots of Notre Dame Cathedral and the bistro-lined streets of the Latin Quarter
Snap photos of the Sacré Coeur Basilica and cobbled streets of Montmartre
Learn new ways to 'see' Paris and capture its magic with insider tips
Enhance your photography skills, whether you're a beginner or serious amateur
Enjoy in-depth attention from a guide on a private tour
Recent Photos of This Tour
Private Photography Walking Tour of Paris: Latin Quarter or Montmartre
What You Can Expect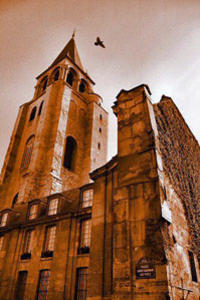 Novice photographers and experienced shutterbugs alike will find much to love on this private photo tour of Paris. Choose from a walking route through the Left Bank bohemia of the Latin Quarter or artsy, hilltop Montmartre, and meet your guide in a central location midmorning. Bring whatever camera equipment you have, from a smartphone or point-and-shoot to an advanced digital SLR.
Set off through the historic streets, stopping as often as you like to capture scenes that inspire you. See iconic attractions like Notre Dame Cathedral and Sacré Coeur Basilica (depending on route), plus charming backstreets and hidden gems that many visitors miss. Along the way, get tips from your guide on composition, using the day's lighting conditions to your advantage and maximizing the features of your camera.
End your 3-hour tour at a local bistro, where you can rest your feet and enjoy some refreshments (own expense). If you use a digital camera, get a professional critique of the day's photos from your guide before saying au revoir.
See Itinerary below for a detailed description of each route.
Itinerary
Photography Walking Tour – Latin Quarter (3 hours)
Meet your guide in the Latin Quarter, a district on the Left Bank of the Seine near Paris' Sorbonne University that's known for its student life, bohemian vibe and buzzing bistros.
Explore the back streets to record the sights on camera, and stroll along the Seine to absorb the views of Notre Dame Cathedral. Then, take a closer look at this spectacular Gothic church and take shots of its exterior, with helpful ideas from your guide.
Photography Walking Tour – Montmartre (3 hours)
Meet your guide in Montmartre, the hill in northern Paris known for its art galleries, nightlife and Sacré Coeur Basilica.
As you stroll, learn how to 'see' the buildings and streets from a photographer's viewpoint and stop to take pictures helped by hints from your guide.
Delve into the cobbled alleyways, leafy squares and stepped hills, and gradually make your way to the Place du Tertre near the Sacré Coeur. See the outdoor art stalls of watercolorists and portrait painters in the square and finish by snapping views of the white, domed church.
July 2015
What a wonderful introduction to our week in Paris! Richard was the perfect guide on our tour through the Montmartre area, showing us interesting places not frequented by many tourists. It was only our family on the tour, so the children received individual instruction on the manual settings of their cameras. This made a huge impact on their photos for the duration of our holiday. Well worth the money.
October 2014
Richard provided a great deal of helpful information on lighting and composition, all the while commenting on Paris history and places. We didn't know to bring information on our cameras, but understand that will be added to the info sent out prior to the event.
October 2014
Richard taught me so much about my camera and photography. It was a wonderful way to wander a lovely part of Paris, seeing the street life through the lens and learning much about the area as well. Thank you Richard.

February 2013
Wow what a great tour! Kevin was our guide and his knowledge and witty sense of humor made the day very special. I would highly recommend this tour to anyone who wants to see the beauty of Paris thru the eyes of a professional photographer.
October 2012
Great tour. Learnt so much from Kevin, my photographer, and took some fantastic shots. Have been able to put into practice all that I was shown, during the rest of my stay in Paris

Amy M USA
June 2012
This was a great tour and I learned so much about my camera in such a short time! Much more fun than reading the owners manual!
April 2012
Kevin was a fantastic guide and teacher. This was one of the best tours we did on our trip to Europe. He bought me so much about using the camera on manual settings and I have never used automatic since. Not only did we get some great photography tuition, but we also learnt a lot about Paris and life in the area. Thanks Kevin.
February 2012
I really enjoyed this tour. Kevin is great! He really knows his stuff. We worked on a lot of techniques that will definately improve my photography skills. I look forward to doing it again on my next trip to Paris.
October 2011
Great practical lesson for improving my photography skills. Kevin was lovely, and took things at a nice pace. A great tour for those with an interest in photography!
September 2011
Advertisement
Advertisement