Learn one of France's most iconic dances while flaunting the traditional costumes that helped make it famous. This 2-hour class in Paris is a great way to familiarize yourself with the cancan, a fun part of French heritage. Get to know the history behind the legendary dance and try your skills at the basics. Guys sport a red cumberbun and while women get to wear the ruffled, multi-layered dress that give this dance its va va voom. After the lesson showcase your new found moves with a culminating performance.
Highlights
2-hour private cancan dance class in Paris
Dress up in traditional cancan costumes
Master the basic dance steps from an expert instructor
Learn about the history of this classic Parisian cabaret dance
Perform a 5-minute cancan dance at the end
Private class limited to 12 people ensures a more personalized experience
What You Can Expect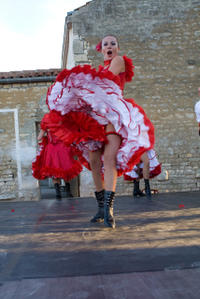 Where better to learn the famous cancan dance than in Paris, where it all began? Head to a theater venue in central Paris and get ready to master the moves during a 2-hour private dance class.
After meeting your instructor — a cancan expert who also choreographed the dances in Woody Allen's movie
Midnight in Paris
— learn about the history and traditions of this legendary form of dance, which originated in the Parisian cabarets in the late 1800s. Hear beauty secrets popular among female cancan dancers, and discover why these lively, high-energy performances are still popular throughout Paris today.
D
ress up in the classic, frilly red-and-white cancan outfits and hit the stage! Have fun learning the basic steps in time with the catchy chorus line. It doesn't matter if you have never danced before, this is open to everyone! At the end of class, show off your new moves with a 5-minute performance in front of your private group. I
magine you're on stage at one of the famous Parisian cabarets!
Advertisement
Advertisement