Experience Paris like an insider on a full-day private tour that's designed just for you! Your knowledgeable local guide will put together a completely customized itinerary based on your interests shared during a pre-arrival phone call. Whether you want to see iconic attractions like the Eiffel Tower and the Louvre or explore the hidden gems and back streets of Paris, enjoy a stress-free day of sightseeing. Learn everything you need to know to explore Paris with ease, from navigating public transit to finding the best bakeries in town.
Highlights
Spend a day in Paris with an expert private guide
Enjoy a flexible itinerary and customize your own sightseeing trip
See top Paris attractions like the Eiffel Tower, Notre Dame Cathedral and the Louvre Museum
Get insider tips from your guide and discover Paris' off-the-beaten-path gems like Saint-Louis Island
Enjoy a full-day of hassle-free sightseeing with your logistics pre-arranged and public transport costs included
Recent Photos of This Tour
Private Tour: Customize Your Perfect Day in Paris
What You Can Expect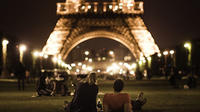 Make the most of your time in Paris with a tour that's tailor-made to suit your desires. Before you arrive, speak with your local guide on the phone to share your interests and ideas so he or she can prepare a perfect itinerary in advance.
On the morning of your tour, meet your friendly guide at a convenient Central Paris location of your choice. Set off to explore the city's many delights without worrying about a thing. Your guide will arrange all transportation, which may include riding the metro, buses to get you where you want to go, from famed museums like the Louvre and Musée d'Orsay to charming local parks and gardens (all entrance fees and activities at own expense).
If you have specific ideas in mind, your guide will make them happen efficiently, while sharing a Parisian's perspective along the way. Or, let your guide pick local attractions and tucked-away gems that most visitors miss. You set the pace for the day and stop as often as you like. When hunger strikes, your guide will lead you to some of the best dining spots in town, whether you crave a casual café or fine dining (own expense).
See below for a sample itinerary of what your perfect day in Paris could include.
Itinerary
Example Itinerary:
9am: Meet your private guide at your central Paris hotel. You will be introduced to the secrets of your new neighborhood, such as the best bakeries, convenient metro and bus stops and hidden-away parks and gardens. The guide will also give you museum information and a metro pass.

9:15am: Tour Notre Dame with your guide, and while admiring the building's striking French Gothic architecture, learn about its relevance as the focal point of Catholicism in France. Take a stroll around the mysterious yet overlooked streets hiding behind Notre Dame itself.

10:30am: Walk along the UNESCO-listed banks of the River Seine to Saint-Louis Island, a natural island in the middle of the river, and then stop for ice cream at its legendary ice cream parlor, Berthillon.

12:30pm: Take an insider tip from your guide for the best place to eat lunch, and head to a brasserie where Gerard Depardieu is said to enjoy eating. While you relax, your guide will help you to arrange a dinner reservation at a hip Parisian bistro within walking distance of your hotel.

1:45pm: Meet your guide and explore Luxembourg Gardens. If you've got kids, they'll enjoy a pony ride while the rest of you stroll around the Grand Bassin pond, admiring the fountains and manicured gardens that make the park so popular. Pop into a Dalloyau patisserie to buy a famous Parisian Opera cake – a layered sponge topped with chocolate glaze.

2:30pm: Head to the Louvre, and go straight inside with your pre-purchased skip-the-line ticket (extra 15€/person). Walk around with your guide, learning about this beautiful national museum, and see world-famous works of art like Leonardo da Vinci's Mona Lisa.

3:30pm: Head to the picturesque hill of Montmartre. On the way up, stop where the Impressionists once set their easels and explore the small streets of what the locals call "the village of Montmartre". Buy souvenir paintings to take home, and finish your day with the impressive Sacré Coeur cathedral and its stunning panorama overlooking the entire city.
June 2016
This tour was wonderful. Our guide was very knowledgeable and energetic. He took us to things we would never have found on our own. All seven in our party gave him top ratings.
June 2016
Manuel and Margot were both good and we all enjoyed our tour. Manuel is very knowledgeable about the history of the places he showed us. I totally recommend this trip.
June 2016
Our tour guide gave us exactly what we wanted. She was friendly and out going. She was a young college student who was very knowledgeable on Paris. We were very happy with her. A true delight
June 2016
Olek is an outstanding tour guide. We were interested in avoiding the tourist areas and seeing where the Parisians lived. Oleks knowledge of the city and its history was awesome! He showed us the non-touristy areas we wanted to see plus a few hidden gems. We highly recommend Olek.
June 2016
What a superb day we had with Guillaume! I cannot recommend this tour more highly. It was chock full of wonderful things. Our guide was incredibly knowledgeable, kind, informative and friendly. It was a lot of walking, but we also were able to take the metro and the bus, which my kids LOVED! We went off the beaten path and avoided the crowds, while still seeing some of the most popular sights in Paris. I give this tour the highest recommendation!
June 2016
It seems pricey at first but the quality of tour we had was well worth the amount. Our guide Lucien was a fantastic, passionate and knowledgeable local with a Masters in French History. His love for Paris was infectious. This tour exceeded our expectations and made us more comfortable wandering the streets of Paris. We learnt additional bits of history about the popular attractions and even the streets we walked to get to them. The practical bits of information about French culture and the city of Paris informed us and set our pace for our holiday in France. We had the most delicious lunch at a quiet little bistro. Highly recommend a private tour with Lucien.
June 2016
We had a party of 4 for this tour and Manual was our guide. All four of us enjoyed this tour. He took us to the main attractions that we wanted to see but he also took us on the less traveled roads of Paris, which was a highlight to see. The knowledge he had for all of Paris was amazing. We all learned a lot about Paris and it's history. He took us to one of the places he liked to eat for lunch, which turned out to be my personal favorite meal of the trip! I would highly recommend this tour to anyone!!
May 2016
The guides were very knowledgeable, interesting and nice! They worked with us to create the perfect walking tour based on what we wanted to see and do, I would highly recommend.

May 2016
Great tour! Romain was absolutely fantastic! Very knowledgeable and made our day very special...Anyone going on this tour should ask for Romain! He took us in areas that many tourists do not get to see.... A different side of Paris ...Would do this tour all over again!
May 2016
This was superb!!!! The only way to see Paris.
Advertisement
Advertisement