Experience Paris like an insider on a full-day private tour that's designed just for you! Your knowledgeable local guide will put together a completely customized itinerary based on your interests shared during a pre-arrival phone call. Whether you want to see iconic attractions like the Eiffel Tower and the Louvre or explore the hidden gems and back streets of Paris, enjoy a stress-free day of sightseeing. Learn everything you need to know to explore Paris with ease, from navigating public transit to finding the best bakeries in town.
Highlights
Spend a day in Paris with an expert private guide
Enjoy a flexible itinerary and customize your own sightseeing trip
See top Paris attractions like the Eiffel Tower, Notre Dame Cathedral and the Louvre Museum
Get insider tips from your guide and discover Paris' off-the-beaten-path gems like Saint-Louis Island
Enjoy a full-day of hassle-free sightseeing with your logistics pre-arranged and public transport costs included
Recent Photos of This Tour
Private Tour: Customize Your Perfect Day in Paris
What You Can Expect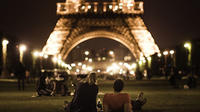 Make the most of your time in Paris with a tour that's tailor-made to suit your desires. Before you arrive, speak with your local guide on the phone to share your interests and ideas so he or she can prepare a perfect itinerary in advance.
On the morning of your tour, meet your friendly guide at a convenient Central Paris location of your choice. Set off to explore the city's many delights without worrying about a thing. Your guide will arrange all transportation, which may include riding the metro, buses to get you where you want to go, from famed museums like the Louvre and Musée d'Orsay to charming local parks and gardens (all entrance fees and activities at own expense).
If you have specific ideas in mind, your guide will make them happen efficiently, while sharing a Parisian's perspective along the way. Or, let your guide pick local attractions and tucked-away gems that most visitors miss. You set the pace for the day and stop as often as you like. When hunger strikes, your guide will lead you to some of the best dining spots in town, whether you crave a casual café or fine dining (own expense).
See below for a sample itinerary of what your perfect day in Paris could include.
Itinerary
Example Itinerary:
9am: Meet your private guide at your central Paris hotel. You will be introduced to the secrets of your new neighborhood, such as the best bakeries, convenient metro and bus stops and hidden-away parks and gardens. The guide will also give you museum information and a metro pass.

9:15am: Tour Notre Dame with your guide, and while admiring the building's striking French Gothic architecture, learn about its relevance as the focal point of Catholicism in France. Take a stroll around the mysterious yet overlooked streets hiding behind Notre Dame itself.

10:30am: Walk along the UNESCO-listed banks of the River Seine to Saint-Louis Island, a natural island in the middle of the river, and then stop for ice cream at its legendary ice cream parlor, Berthillon.

12:30pm: Take an insider tip from your guide for the best place to eat lunch, and head to a brasserie where Gerard Depardieu is said to enjoy eating. While you relax, your guide will help you to arrange a dinner reservation at a hip Parisian bistro within walking distance of your hotel.

1:45pm: Meet your guide and explore Luxembourg Gardens. If you've got kids, they'll enjoy a pony ride while the rest of you stroll around the Grand Bassin pond, admiring the fountains and manicured gardens that make the park so popular. Pop into a Dalloyau patisserie to buy a famous Parisian Opera cake – a layered sponge topped with chocolate glaze.

2:30pm: Head to the Louvre, and go straight inside with your pre-purchased skip-the-line ticket (extra 15€/person). Walk around with your guide, learning about this beautiful national museum, and see world-famous works of art like Leonardo da Vinci's Mona Lisa.

3:30pm: Head to the picturesque hill of Montmartre. On the way up, stop where the Impressionists once set their easels and explore the small streets of what the locals call "the village of Montmartre". Buy souvenir paintings to take home, and finish your day with the impressive Sacré Coeur cathedral and its stunning panorama overlooking the entire city.

May 2016
Great tour! Romain was absolutely fantastic! Very knowledgeable and made our day very special...Anyone going on this tour should ask for Romain! He took us in areas that many tourists do not get to see.... A different side of Paris ...Would do this tour all over again!
May 2016
This was superb!!!! The only way to see Paris.
April 2016
Wow! Let me say that this was the best money we ever spent! As soon as we booked this trip, Liz the tour operator was on it with advice, ideas and ensuring we would get as much from the tour as possible.
Olek was our tour guide.
He arrived, as agreed at 9.30am and we spent 7 and a half hours getting to know Paris!
Olek made 800 years of history jump out of every wall, garden and street. He was extremely knowledgeable and highly entertaining - while totally engaging not only us, but our 16 yr old boys too.
Olek you are a gem and a credit to your beautiful city - best tour EVER!
April 2016
WOW!
This was the best money we ever spent!
Olek our guide, made 800 years of history jump out of every wall, garden, statue and street!
He was so knowledgeable, so interesting and highly entertaining - not only for us but for our teenage sons too - they just loved it!
I always thought Rome was the most beautiful city in the world - but Olek changed that over 7 and a half hours - he blew us away with his beautiful city and it's fantastic history.
Olek, you are a fantastic human being, thank you for giving us a day we will never forget!
March 2016
What an amazing experience! We could never have seen and done half as much without our awesome tour guides! We loved them both. Alex and Adele AKA Delphine were sooooo knowledgeable and passionate and fun and we reAlly missed them when the tour ended. Fabulous!
March 2016
In Paris I did not want to do a group tour or hop on hop off bus, I brought my 16 year old granddaughter and did not want her to lose interest. Our private guide Monica was absolutely wonderful. We spent the day visiting Notre Dame, St Luis Isle, the Left Bank......the Latin Quarter, St Germaine and then ended up at the Opera, concentrating on areas and explanations that really interested my granddaughter. It was a very special day, how can you not love Paris.
December 2015
Our tour guide Marion was fabulous. She had a wealth of knowledge about the history of the city, and made sure that we saw everything possible within the time available. We would highly recommend her and Viator - Just a great day!
November 2015
Alex was a great tour guide. He listened to what we wanted to see and made sure we hit all the spots on our list, even though it was a bit of a challenge. He said hitting 3 spots was a good amount to strive for, but I think we hit 4 or 5. He was very personable and knowledgeable, and very intelligent. We would ask for him again if we took a tour in Paris. By the way, taking a tour is worth every penny. It saves you time, informs you about what you are looking at, and is way more pleasant than trying to find things on your own. Highly recommend.
November 2015
Awesome! Highly recommend this to all visitors to Paris.
November 2015
My wife and I arranged this tour for just the two of us so we could have a personalized day around Paris. Before our tour, we had visited many sites, Notre Dame, the Louvre, and many others and we wanted to visit more off the beaten path sites have a more personalized experience as opposed to trying to make a group happy. Manuel was our guide and he took us through many areas of Paris and through many centuries of its history. He was engaging and informative, with a great sense of humor. We thoroughly enjoyed our day.
Advertisement
Advertisement