Tour code:
6353PRIVATELOUVRE
Get to know the picture-perfect city of Paris on this private walking tour that comes with a fast-access entry ticket into the Louvre Museum. Starting on Île de la Cité, where the ancient city was born, your own guide takes you on a 3-hour stroll along the Seine River and shares insight into many famous landmarks like the Notre Dame Cathedral and the Eiffel Tower. Next, it's off into the Louvre, bypassing the long entrance lines, for a guided 2-hour tour of world-class artworks including the 'Mona Lisa' and 'Venus de Milo.'
Highlights
Private walking tour of Paris and the Louvre

Learn about the origins of Paris on Île de la Cité, home to Notre Dame Cathedral
Walk along the River Seine past famous landmarks
View the Musée d'Orsay, Place de la Concorde, the Champs-Elysées and the Eiffel Tower
Skip the entrance lines and enjoy a guided tour of the astounding Louvre museum
See major artworks such as Mona Lisa and Venus de Milo, and learn about the Louvre's history and architecture
Recent Photos of This Tour
Private Tour: Paris Historical Walking Tour and Skip-the-Line Louvre Museum with Guide
What You Can Expect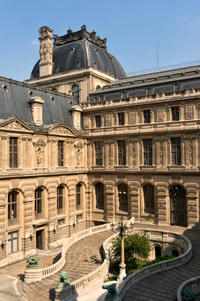 Discover Paris, but without the crowds in large tour groups, on this private walking tour of the city. An informative guide takes just you and your group for a 3-hour stroll, starting at the epicenter of Paris — Île de la Cité —where the ancient city was founded.

Gain insight into Paris' history, architecture and culture as you see the landmarks and bridges along the Seine River. Along the way, your guide will point out some secret spots known only to locals.

First, admire the Notre Dame Cathedral before moving on to the Pont Neuf and Pont des Arts, the Musée d'Orsay, the Orangerie Museum (Musée de l'Orangerie), the Tuileries Garden (Jardin des Tuileries), Place de la Concorde, La Madeleine, the Champs-Elysées and, of course, the unforgettable Eiffel Tower.

Refuel with lunch (own expense) and then you'll be chauffeured by luxury vehicle to the Louvre. Known for its long entrance lines, the Louvre is an absolute must-do while in Paris. With your priority entrance ticket, sail past the line and head straight inside.

During a 2-hour guided tour, learn about the significance that the Louvre holds for the city, and about its history as a fortress and palace for French emperors, including Napoleon.

Gaze upon world-famous artworks and lesser frequented treasures not easily found by most visitors, including Delacroix's Liberty Leading the People, Géricault's The Raft of the Medusa, Michelangelo's Dying Slave, paintings from France's Romanticism and Classicism periods, Venus de Milo and original fortress walls. And of course, the one-and-only, Leonardo da Vinci's Mona Lisa.

After the museum tour, you're free to explore the Louvre on your own, or set off on the cobblestone streets of Paris and discover the local gems recommended by your guide.
April 2016
Our experience was entirely dependent upon Harriet, our guide, who was incredibly knowledgeable, passionate about French history and art and coud not have been more charming and personable. There wasn't a question I asked that she couldn't answer and the color and context she gave to every point of interest and certainly, our tour through the Louvre, absolutely made the tour for me and my 17 year old as well. She was a gift on our trip - and I would highly recommend requesting her if that's possible. This is a great first day walking tour to take - to acquaint yourself with the history and points in time as you begin your stay in Paris.
April 2016
This tour was a complete delight it really felt like a good friend showing me his home town. Alex, my guide, was very knowledgeable, and personalized the tour to my interests. If you love to walk then I highly recommend this way of exploring Paris. It began with Notre Dame and ended with the Louvre. Alex left me with plenty of options to continue to discover the delights of Paris.
March 2016
Our guide patiently waited for us in front of the train station. Good thing this was a private tour so we were the only ones she's waiting on. Our guide knows quite a bit of facts and place of interests. She was also helping us with our baby stroller. She was patient and didn't mind going over time. Weather permitting, this tour is great for all ages. You get to put things in perspective.
December 2015
The tour was amazing and our tour guide was outstanding! Chris was so knowledgeable about Paris and it's history and his passion for the city was infectious. He also made the tour of the Louve exceptional. I would highly recommend this tour and ask for Chris!!
October 2015
Randa was an amazing tour guide. She was very knowledgeable not only about the sites we were seeing, but the museums and all of Paris. We got lucky and were her only clients that day, so had a private tour which allowed us to ask a lot of questions. When we finished she also had great recommends for the rest of our stay in Paris. Wonderful!!!
October 2015
Our personal guide was funny and very knowledgeable. It was great to be able to tailor the tour to our liking and to not have to fight for position in a group to ask questions and hear the answers.
September 2015
This was the highlight of our trip to Paris. For anyone visiting Paris for the first time this trip is essential.
September 2015
Our tour guide Harryette was very knowledgeable, pleasant, interesting tour guide that we ever met before.We would definitely recommend her.
August 2015
Berdine our guide was well educated. Her knowledge on her subject matter was extraordinaire. Would recommend her to everyone.
July 2015
Our Tour Guides were Lilia and Dario. They were both excellent.
Could not have wanted more from our tours.
Advertisement
Advertisement