69 Reviews
Location:

Paris, France

Duration:

2 hours

(approx.)
Reaffirm your feelings for your beloved in the most romantic city in the world! With this vows renewal package in Paris, meet at your chosen location in central Paris where your celebrant will read your vows. Afterward, take a stroll among the most famous landmarks of this world-class city. A professional photographer will be there every step of the way to document this amazing experience, and you'll receive between 130-150 HD photos by email at no additional cost. If you upgrade to the video option, you'll also receive professional video footage. Don't miss this chance to make your time in Paris truly unforgettable!
Highlights
Wedding vows renewal ceremony in Paris

Renew your vows or have an unofficial wedding in front of the Eiffel Tower or another Paris landmark of your choice

Celebrant and professional photographer included in package
Receive between 130-150 HD photos of your special day by email

Upgrade to the video option to receive high definition footage of the ceremony

Package price is for eight people maximum, so you can bring along some family to help you celebrate

Why Our Insiders Chose This Tour
What could be more romantic than renewing your wedding vows in the city of love with the Eiffel Tower as your backdrop! This package makes it easy to have the ceremony you always dreamed of -- and the included photos are priceless!
Recent Photos of This Tour
Renew Your Wedding Vows in Paris
What You Can Expect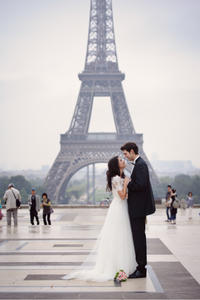 At a pre-arranged time, meet at the east pillar of the Eiffel Tower or another Paris location of your choosing for your vows renewal or unofficial wedding ceremony in this gorgeous, undeniably romantic city. You may bring up to six guests to witness this special milestone.

As you stand before one of the world's most recognizable landmarks, your celebrant will read your vows and have you exchange rings if you desire. Afterward, celebrate with a walk through the streets of Paris. A professional photographer will capture every moment of your ceremony and numerous photos of you and your love in front of various Paris attractions. Pick your favorite landmarks or take photo op suggestions from your photographer.

Afterward, you'll receive between 130-150 HD photos of your 2-hour experience by email to treasure as reminders of what is sure to be one of the most romantic days of your life! To make the special day even more memorable, upgrade to the video option to receive a 15-30 minute, high definition video montage of the ceremony.
November 2015
Our photographer was amazing and our pictures were everything we wanted and the renewal was great with beautiful words spoken from our celebrant.. we loved every minute with them....
November 2015
Many thanks to David law photographer and David our 'Celebrant' for a highly memorable experience renewing our wedding vows by the Seine River with the Eifel tower in the background.
A thoroughly enjoyable morning with some fabulous memories and photos.
10 out of 10! 2 great characters.
November 2015
We had our renewal of vows last August 22,2015 and it was so fantastic! The renewal ceremony was so intimate despite from the fact that it was too crowded when we went there. I cant help my self to cry because everything was so perfect, standing in front of the Eiffel tower holding hands with my husband and saying those vows we had, Ohhhh so perfect! It was one of the best part of our lives and that can't be trade with money. And of course with the help of our 2 Davids. I was so scared at the beginning that my husband may not like it, knowing the fact he was too scared to have a pictorial session in front of many people but everything went great. David, our photographer was so brilliant and very helpful. I would recommend David Law and David Jornet to everyone. This is one of the best item here in Viator and you will not regret when you book this. It was a whole new experience for us! Thanks to our two Davids.
October 2015
My best experience in all of Europe! My wife and I had planned this for a long time. She wanted to have a dream wedding. Bad weather could have ruined it for us but David saved the day. It was a rainy day but David Law was able to make the best of the bad weather and produce pictures that blew us away. He was so good at dealing with the elements and knew exactly what needed to happen in order to make this day grand. He is extremely professional but it felt like we had been friends for a long time. I was not sure at first how the pictures would turn out but they were amazing. He is a true artist. David Jornet was also just as professional and friendly. He also had wonderful words to say for the vows. If you choose to renew your vows or use this service as your wedding ceremony, I would recommend David Law and David Jornet to everyone I know and anyone reading this. Paris is such a beautiful place to have this experience but the two Davids made it even more beautiful. We will never forget our wedding day in Paris and we will not forget the grand service provided by David Law and David Jornet.
Thank you
Christopher and Tammy Eagleson
October 2015
amazingggggg!!!! at the beginning I was a little afraid, I don't even believe the reviews here, but for the price I decide to try it. our photographer Michael was on time at the location. he was superrr nice, professional and patient with us. after like 100 or more pictures, our wedding vows ceremony starts. it was a magic and unforgettable memories. the official Santiago because we select a Spanish ceremony for my parents, was super nice as well. great tour, pictures are amazinggg. thank you thank you thank you. I am always traveling and getting tours, but I am sure, this will be the best!
September 2015
We had an amazing time with Michael our photographer getting beautiful and romantic pictures all around the Eiffel Tower. We will treasure the memories and pictures for a lifetime. Definitely a must do while in Paris.
September 2015
We were a little apprehensive about what to expect from renewing our vows but we need not have been! We had a fabulous, professional photographer, Michel Figuet, who made us feel at ease with posing around the Eiffel Tower. Not something we are used to! The celebrant, Lou, joined us and although he was a very young man, he performed his part very well indeed. And all in a lovely French accent! It was a very emotional experience for us, but Michel and Lou made us feel very much at ease. It was well worth it and would highly recommend the experience for anyone considering renewing their vows.
V
United States of America
September 2015
The whole experience was breathtaking!!!The two David's were absolutely fabulous!! One David was the officiate and the other was the photographer!! The photography was stunning!! The wedding vows done by David were so pretty. They went beyond and above our expectations!!
August 2015
We had a great time with the two Davids, or D2 for short. It was a fun time and despite some initial confusion over timings, everything went well. Photographer David was very enthusiastic and as a result the photos are more animated than they would have been without his encouragement. Highly recommended.
August 2015
one of the many highlights of our trip, totally worth doing, we had David our photographer and another David our officiant, so much fun!!!
Advertisement
Advertisement