Make your trip to one of the world's most romantic cities even more so by including a vow renewal in Paris at the Eiffel Tower. Choose the iconic French monument or another central spot in Paris as the location for your ceremony, where a celebrant will read your vows. After a brief ceremony, enjoy a romantic walk through this incredible city, escorted by a professional photographer who will capture every wonderful moment. Receive roughly 130-150 high-quality images by email as part of the package. You can upgrade to include professional video footage of the occasion, too.
Highlights
Wedding vows renewal ceremony in Paris

Renew your vows or have an unofficial wedding in front of the Eiffel Tower or another Paris landmark of your choice

Celebrant and professional photographer included in package
Receive between 130-150 HD photos of your special day by email

Upgrade to the video option to receive high definition footage of the ceremony

Package price is for eight people maximum, so you can bring along some family to help you celebrate

Why Our Insiders Chose This Tour
What could be more romantic than renewing your wedding vows in the city of love with the Eiffel Tower as your backdrop! This package makes it easy to have the ceremony you always dreamed of -- and the included photos are priceless!
Recent Photos of This Tour
Renew Your Wedding Vows in Paris
What You Can Expect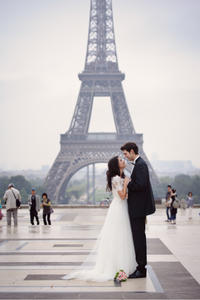 Choose the Eiffel Tower or another place in central Paris for your vow renewal and, at the appointed time, meet your celebrant there. If you choose the Eiffel Tower – easily the most popular spot – you'll meet at the east pillar of the landmark. Bring along as many as six guests to witness this special occasion.
Look into your sweetheart's eyes as the celebrant reads your vows, before one of the world's most recognizable monuments. Exchange rings if you wish. At the conclusion of the ceremony, enjoy a romantic stroll through Paris. Throughout the ceremony and walk, a professional photographer is on hand to capture all the intimate moments for posterity. Let your photographer guide you to pretty spots, or choose where you'd like to go. Later, you'll get roughly 130-150 high-quality images sent to you via email to remember such a romantic experience. You can even upgrade to include a video option, which means you'll get a 15-30 minute HD video montage of the experience as well.
April 2016
Our wedding vow renewal day was truly amazing and magical. Our photographer Michel and our celebrant Victoria became instant friends with both ourselves and our guests. The beautiful words and poem spoken to us by Victoria were so special. The photographs taken in the beautiful surroundings were amazing. Everything we wished for and more! We loved every minute spent with them, and they made us feel so relaxed on our special day. We would recommend this experience to everyone.

April 2016
foi simplesmente espetacular eu e o meu noivo adoramos as fotos tiradas pelo fotografo Ari, uma pessoa muito amavel e acessivel. recomendo a todos
January 2016
We had such a wonderful time with David and Lou. David took wonderful photos and Lou spoke a beautiful vow renewal. More importantly both couldn't have been nicer or more fun. Thanks again!!
December 2015
What a great experience!! David and his son were tremendous!! Highly recommend this offer to anyone looking to renew their wedding vows while in Paris!! Top-notch!
December 2015
Our wedding renewal in a Paris was truly amazing. The photographer became an instant friend. He took the time to capture us with the beauty of the surrounds. The pictures were all so lovely it was hard to choose which we liked best. Our celebrant was lovely. She made us feel so comfortable and made the service such a personal and memorable experience. I would highly recommend this experience to anyone!
November 2015
Our photographer was amazing and our pictures were everything we wanted and the renewal was great with beautiful words spoken from our celebrant.. we loved every minute with them....
November 2015
Many thanks to David law photographer and David our 'Celebrant' for a highly memorable experience renewing our wedding vows by the Seine River with the Eifel tower in the background.
A thoroughly enjoyable morning with some fabulous memories and photos.
10 out of 10! 2 great characters.

November 2015
We had our renewal of vows last August 22,2015 and it was so fantastic! The renewal ceremony was so intimate despite from the fact that it was too crowded when we went there. I cant help my self to cry because everything was so perfect, standing in front of the Eiffel tower holding hands with my husband and saying those vows we had, Ohhhh so perfect! It was one of the best part of our lives and that can't be trade with money. And of course with the help of our 2 Davids. I was so scared at the beginning that my husband may not like it, knowing the fact he was too scared to have a pictorial session in front of many people but everything went great. David, our photographer was so brilliant and very helpful. I would recommend David Law and David Jornet to everyone. This is one of the best item here in Viator and you will not regret when you book this. It was a whole new experience for us! Thanks to our two Davids.
October 2015
My best experience in all of Europe! My wife and I had planned this for a long time. She wanted to have a dream wedding. Bad weather could have ruined it for us but David saved the day. It was a rainy day but David Law was able to make the best of the bad weather and produce pictures that blew us away. He was so good at dealing with the elements and knew exactly what needed to happen in order to make this day grand. He is extremely professional but it felt like we had been friends for a long time. I was not sure at first how the pictures would turn out but they were amazing. He is a true artist. David Jornet was also just as professional and friendly. He also had wonderful words to say for the vows. If you choose to renew your vows or use this service as your wedding ceremony, I would recommend David Law and David Jornet to everyone I know and anyone reading this. Paris is such a beautiful place to have this experience but the two Davids made it even more beautiful. We will never forget our wedding day in Paris and we will not forget the grand service provided by David Law and David Jornet.
Thank you
Christopher and Tammy Eagleson
October 2015
amazingggggg!!!! at the beginning I was a little afraid, I don't even believe the reviews here, but for the price I decide to try it. our photographer Michael was on time at the location. he was superrr nice, professional and patient with us. after like 100 or more pictures, our wedding vows ceremony starts. it was a magic and unforgettable memories. the official Santiago because we select a Spanish ceremony for my parents, was super nice as well. great tour, pictures are amazinggg. thank you thank you thank you. I am always traveling and getting tours, but I am sure, this will be the best!
Advertisement
Advertisement