Discover the darker side of the City of Lights with this skip-the-line tour of the famed catacombs of Paris. Explore these fascinating underground passageways lined with the bones of thousands of former Parisians and learn the history of the mesmerizing and macabre labyrinth. Bypass the long lines for this popular attraction and enjoy personalized attention of a small group limited to 20 people.
Highlights
Small group guided walking tour inside the Paris catacombs
Personalized small group tour (maximum 20 people)

Skip the line to enter the catacombs and avoid two-hour queues
Expert English-speaking guide

Recent Photos of This Tour
Skip the Line: Catacombs of Paris Small-Group Walking Tour
What You Can Expect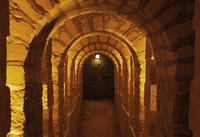 The Paris catacombs consist of an extensive underground network of tunnels originally dug as limestone quarries during the building of some of the city's famous monuments. Beginning in the late 18th century, remains from Paris' overcrowded cemeteries were exhumed and transported here for storage, with thousands of bones neatly arranged into piles along the walls.
Delve into this eerie underworld with an exclusive small-group tour. Lines to enter the catacombs often exceed 2 hours, but you'll head to the front of the queue with your knowledgeable guide. A group maximum of 20 people provides a more personalized experience.
Wander through the dimly lit labyrinth that winds beneath the city's famous streets. Marvel at the stacks of human skeletons that greet you at every turn while your guide illuminates the history of this soul-stirring 'empire of death.'
Itinerary
Departs on Thursdays at 4pm (arrive strictly at 3:40pm)
Departs on Saturdays at 10am (arrive strictly at 9:40am)
May 2016
John was an excellent tour guide. Interesting facts. No wait in queue and we got to see a few areas not open to the general public. One of the best things I've done in Paris so far
May 2016
Unbelievable to see and know that someone was once employed as a decorative bone stacker underground. Felix was our informative and helpful guide. Please be aware this is a walking tour and a degree of fitness is required. Not for those who dislike small spaces or narrow stairs which there are many coming back out of the catacombs.
May 2016
Well organized tour into semi-private areas of the Catacombs. Very knowledgeable and enjoyable guide
May 2016
We met with the city wonders rep outside the entrance. When our group had all arrived we met our tour guide, Alberto. He was funny, charming, and charismatic. The history/ stories were great. It was fun to be allowed behind locked doors that the public does not have access to...this was my first trip to Paris/Catacombs and it was incredible. We thoroughly enjoyed this experience. This was our second tour through viator and I would 100 recommend this guide/tour. Also, for those worried about the physicality of the tour- it was not that bad. The stairs were manageable and the halls were tall/wide enough for regular people to navigate. Also, at the end of the tour you can go into the gift shop and they recommend a local bar to go to. We went to the bar and enjoyed some good drinks-I recommend that place too.
May 2016
Took this tour on Wednesday afternoon with Alberto, an Italian living in France, whose English was very good. He made the Catacoombs come alive for us, with his witty and knowledgeable commentary and thanks to having booked this tour, as opposed to queuing up for hours outside and only seeing specific areas, we walked straight in at our allocated time and saw parts that are generally closed to the public. So very glad I took this tour, as what I had read about the Catacoombs before coming to Paris just didn't do them justice. Would recommend this to every single person who has ever even had a moment's thought about doing it. It wasn't cheap, but then again neither was the experience. Word of warning though- at the end when you start to climb towards the surface it is extremely hard going as there are many steps and they are high. I really struggled and am not in bad shape, so if you have dodgy knees or feet, or a heart condition I really wouldn't recommend it! Violette
May 2016
Visiting the Catacombs is a must when you are in Paris and our guide Alberto was fantastic. Glad we booked this tour... not only did we skip the 1hour line to get in but it was a great way to learn about some of the history of Paris and of course explore some additional tunnels of the Catacombs which we otherwise would not have had access to.
May 2016
UNEXPECTEDLY TERRIFIC. AMAZING STORY AND VERY UNIQUE EXPERIENCE. TOUR GUIDE WAS OUTSTANDING
May 2016
Great experience. Guide was on time and very knowledgeable and friendly. We were here in April and the line ups were not long at all but having a guide made the cost of these tickets worth it. We also got to go into areas where the general public was not permitted. Totally cool tour!
April 2016
Alberto was our guide and his knowledge of the Catacombs was incredible. I also liked the fact that he mentioned the movie, and #34;As above, so below and #34; which is based on the catacombs of Paris, not necessary a true story but was impressed he knew about it. I highly recommend this tour!
rglovett United States of ...
April 2016
Not to be missed. The was amazing and creepy. You definitely want to skip the lines because a long line had formed when we got there, and we just went right in. But you also get the benefit of a knowledgeable tour guide. Our guide was great. She gave us lot of insights on both the history of the Catacombs and the current activities in the Catacombs. She might even have participated in a few recent activities!
Advertisement
Advertisement