Experience culture and art through the ages with a small-group tour of Paris' epic Louvre Museum. Jump the queue and spend three hours with an expert guide, seeing and learning about some of the museum's 35,000 artworks across eight themed galleries. Then enjoy time on your own to explore, viewing paintings, sculpture, and architecture from 450 BCE to the 19th century. With millions of items to see, the Louvre offers something for everyone!
Highlights
Guided walking tour inside the Louvre Museum

Includes viewing of the Venus de Milo and Mona Lisa

Personalized small group and commentary (maximum 25 people)
Expert English-speaking guide, plus audio headsets so you're guaranteed to hear the guide clearly
Skip the line entry to avoid the queues

Identifies all the museum's highlights including viewing of the Venus de Milo and Mona Lisa
Recent Photos of This Tour
Skip the Line: Louvre Museum Walking Tour including Venus de Milo and Mona Lisa
What You Can Expect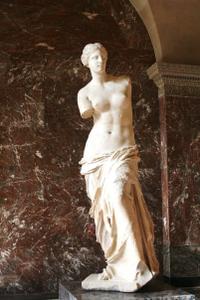 Your 3-hour journey through some of the world's great artistic treasures begins at the Arc du Carrousel, next to the Louvre entrance. Choose a morning, afternoon or evening tour and meet your English-speaking guide. Enjoy fast access to the museum with your skip-the-line pass and begin your tour through the massive venue, home to over 35,000 works of art spanning more than 73,000 square meters of exhibition space
.
Your entrance pass also provides complimentary audio headsets.
Wander the diverse exhibitions, starting with the Ancient Greek Parthenon followed by the iconic Venus de Milo. While in the ancient antiquities gallery, view the celebrated Winged Victory of Samothrace. Then head to the Apollo Gallery to view the opulent royal crowns of Napoleon and King Louis XV. Embrace the sentiment of the French Revolution with Delacroix's famous painting Liberty Leading the People, and absorb the romance of the Italian Renaissance as you gaze at the work of Michelangelo and Da Vinci's Mona Lisa. (Please see full sample list below.)
With your small group (limited to 25 people), engage in lively chats with your guide and hear entertaining anecdotes, trivia and history. Afterwards, spend as much time as you'd like exploring the museum independently.
Please Note: Evening tours are limited to Wednesdays and Fridays at 6:30pm. For a uniquely magical and relaxing tour, book an evening session and wind through the quiet corridors at night, when the crowds are gone and the artwork is basked in soft light. Enjoy the tour without all the bustle, and finish with great views of the Louvre's glittery outside pyramid lit up after dusk.
Itinerary
Skip the Line: Louvre Museum Walking Tour includes but is not limited to:
Sully Wing
Roman Sculpture Hall
Venus de Milo
Frieze of the Parthenon
Etruscan Artifacts
Winged Victory of Samothrace
The Apollo Gallery (crowns of Louis XV and Napoleon)
Italian Renaissance Wing (DaVinci's Madonna on the Rocks and Mona Lisa)
French Wing (David's Coronation of Napoleon; Delacroix's Victory Leading the People)
Michelangelo's Slaves
Canova's Psyche and Cupid

Nicole P Australia
April 2016
Excellent Tour. We got to see all the main highlights with an extremely knowledgable and passionate guide. The Louvre is so large that I think this is the only way to see it if you have never been before.
April 2016
While it went too fast, the tour guide was well worth the value. Hearing the history besides seeing the views made it so much worth it.
April 2016
It was a beautiful spring day in Paris and made so memorable by Catherine with her detailed knowledge of the Louvre. It was amazing to see the famous art works that you have read about and seen photos of for real. Catherine added the cream on the top with her interesting background to each work. There is no way we would have been able to find our way to the highlights of this amazing museum on our own with out taking twice as long and getting lost! We would thoroughly recommend booking this tour when in Paris.
April 2016
This was an excellent way to see the Louvre! Hats off to our very informative guide, Alexandre, who made the time we spent there most worthwhile.
April 2016
Great tour guide, very passionate about the louvre and what it represents.

April 2016
Violet is an amazing guide. She is as beautiful as she is knowledgeable on history, and that is very knowledgeable. The Louvre is huge. I suggest taking a tour just to avoid losing your way in there. We saw all three wings and she was a wealth of information on every period of history contained in the museum. On top of that she also had amusing stories and kept things interesting and moving.
MELODY United States of ...
April 2016
Christine was phenomenal. Very informative, fun and inspired. The tour was spectacular!
April 2016
Totally worth it. We were thinking of just getting the combo of City tour + Louvre but glad we didn and #39;t. There were just so many works of art and at 3 hours, this tour was enough to show us through all the best ones. It could get exhausting though. We forgot the name of our awesome tour guide: Merci!
April 2016
Awesome, would definitely recommend this. We had a small group and it was perfect. Hit all the major art works and then some. You do not want to waist half your day waiting in line, book skip the line!
April 2016
Great guide, informative and knowledgeable.
Advertisement
Advertisement