Descend into the macabre, otherworldly realm of the Paris catacombs on a guided, small-group tour. Skip the long entrance queues and head directly inside to explore the labyrinth of former mining tunnels that was converted into underground bone garden in the 18th century. Learn about the catacombs' history from a local guide while marveling at the collection of stacked skulls and bones from more than 6 million Parisians. Group size is limited to nine people for a more intimate experience.
Highlights
1.5-hour tour of the Catacombs of Paris

Beat the queues and enjoy skip-the-line entry to this popular Paris attraction

Explore the alluring underground labyrinth of skulls and bones with an expert guide

Learn about the history and significance of the catacombs

Small-group tour limited to nine people to ensure a more personalized experience
Recent Photos of This Tour
What You Can Expect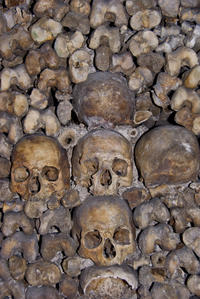 Meet your guide at the Catacombs of Paris, skip the entrance line and head straight inside to explore the mysterious underground ossuary. The catacombs may not be for the faint of heart, but they are certainly worth the visit.

Descend 130 steps to the subterranean cemetery and begin exploring the labyrinth of passageways, filled with curious nooks and crannies. Hear about the history of the catacombs from your knowledgeable guide — once stone mines, the network of tunnels were developed into a vast burial tomb in the 18th century after Paris' cemeteries became overcrowded. Today they are home to the remains of approximately six million people.

Wander along winding tunnels lined floor-to-roof with the skulls and bones of the dead. Listen as your guide relays some of the stories relating to this historic burial ground, and soak up the catacombs' otherworldly atmosphere.

After 1.5 hours exploring the Catacombs of Paris, ascend back to street level to conclude your tour.
March 2016
Great guide and experience
February 2016
January 2016
Really Fantastic!!! Our guide was so great. We had really cool facts thrown our way by the tour guide the entire time. The tour makes it so much more than hallways full of bones. The skip the line factor was essential. The line was long, and we watched it grow while waiting for our skip the line tour!
November 2015
We loved our tour with Lucy! She was extremely magnetic and very knowledgeable. We loved our time and enjoyed learning and experiencing this part of Paris. Highly recommend it!
November 2015
I highly recommend this tour. It's well worth the cost. We reserved for a Saturday in November, and the line we avoided would have been a very long wait. Our guide was very amicable, good-homored, and knowledgeable. He outlined the history of the Catacombs and how and why they were constructed, including the reinforcements that were painstakingly undertaken to keep the site from collapsing, and various sites within. He was most willing and able to answer questions. The ossuary itself is fascinating and not disturbing, as I feared it might be, although I don't think it would be appropriate for young children. My teenage granddaughter found it amazing. We walked down very, very many stairs to go deep underground and then through a longish tunnel, and then the space opens up. At the end, there is another walk up a very narrow, circular staircase, which I think was around 86 steps. Educational and very interesting.
October 2015
Lucy was our guide and she was adorable. I have a little claustrophobia and she put me completely at ease. Highly recommended.

September 2015
Wear sensible footwear because the floor is very uneven and for heavens sake don't bring a baby stroller down there. A couple in our group did and I don't know how they managed to cart it back up 5 storeys of tightly corkscrewed enclosed stairs at the end of the tour. Strollers are useless anyhow because of the bumpy path. Unless you're really claustrophobic you'll be fine through most of the tour, but those stairs at the end freaked me out and I'm ok in tight spaces. The tour was fascinating and our guide gave us so much information we would have otherwise missed. A very unique and interesting tour for sure.
September 2015
Very interesting and a nice guide!
September 2015
September 2015
Tour guide was very good. We had a group of 12 which made it easier to here the guide as went through the Catacombs.
Overall great tour.
Advertisement
Advertisement