Uncover the joys and tragedies of centuries of Parisian history with a skip-the-line ticket to Paris Story. Jump past the main lines and experience 2,000 years of history in just under an hour through the use of wide-screen, audio-visual technology and virtual holo-video imagery. There's even an interactive, 3D model of the entire city.
Highlights
Multimedia introduction to 2000 years of Paris history

Locate landmarks on an interactive 3D model of Paris

Experience 5 different sides to Paris at the Paris Experience

Sightseeing in Paris? Get a Paris Pass for free entry to over 60 top attractions, a guidebook and travelcard. Paris Pass includes admission to Paris-Story.

Recent Photos of This Tour
Skip the Line: Paris-Story
What You Can Expect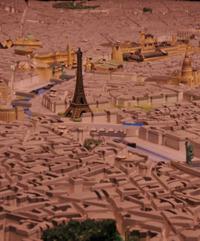 Skip The Lines! Book your ticket for Paris Story ahead of time to take advantage of jumping the queue. Don't waste time waiting in lines on vacation!
Go back in time 2000 years with the greatest multimedia show ever produced about Paris! Thanks to the new wide-screen, audio-visual technology and to virtual holo-video images, Victor Hugo will guide you across the centuries of Parisian history, as you discover the joys and tragedies which have molded the City of Lights.The show is given in your language, thanks to a headphone system.
With this unique experience, after 50 minutes of pure emotion, full of excitement and breathtaking images, you'll gain an insight into the soul of Paris!
Paris-Miniature (New!): have fun and play with the first ever 3D interactive model of Paris ! 170 touch slides and 3 touch screens help you to locate most monuments and places of interest on the model of Paris. Also discover the old enclosures of Paris, thousands of blocks and streets, 150 realistic miniatures, and even the places involved in the "Da Vinci Code"
Paris-Experience (New!):
Discover a video gallery with 5 flat screens, offering an insight into 5 different themes (the mysteries of Paris, strolling in Paris, Paris by night etc...), and showing why Paris is so unique. Also take advantage of the free high speed Internet booth, connected to major portals: Paris Tourist Office, Regional Tourist Board and many others. A unique 3D plasma screen will show you incredible images shot by the Lumire brothers in 1898, and you don't need additional glasses to get the 3D effect !
A 1-hour must see for anyone visiting Paris!

Anne Germany
June 2013
A very charming film, mostly about the architecture of Paris. You also have a lot of interactive stuff to play with before or after seeing the film. We went here very first thing in Paris, and it was well worth it - we were really well informed about the sites we visited later.
August 2011
Fantastic way of understanding the history of paris this 50mins of film is ideal for someone who wants a brief history of paris and do not like reading. It gives you an idea of where you must go without being too long .Ideal for any wife who who dont listen
Ramon P USA
December 2009
Great introduction to Paris!
September 2015
Recommended as a good overview of the history of Paris. Just the right length.
August 2014
Very informative. Seats are small. Little leg room.
Boris K Canada
June 2014
MARTHA H USA
September 2012
July 2012
We did this the day after we arrived in Paris, to give us an overview of Paris history. It was informative and enriched our overall experience.
Gail T Australia
December 2009
We saw this on our first day in Paris. It was good to get the history before we did Paris by foot. The venue has a miniture model of Paris, great to get your bearings of the city.

June 2013
It was simple but nice to do
Advertisement
Advertisement