Travel to Belgian Flanders on a day trip from Paris to explore the Ypres Salient, site of many World War I battles. Pay your respects at the Tyne Cot Cemetery and St Julien Memorial, where thousands of soldiers who died defending the area were laid to rest. Tour the well-known battle site at Hill 60. Visit the Menin Gate Memorial and then enjoy time to discover the town of Ypres on your own.
Highlights
Small-group day trip from Paris to World War I monuments in Belgian Flanders
See the Ypres Salient region, site of many famous WWI battefields
Visit several memorials and war cemeteries, including St Julien Memorial, Essex Farm Cemetery, Tyne Cot Cemetery and Menin Gate Memorial
Explore the town of Ypres at your leisure with free time at the end of the day
Enjoy personalized attention from your expert guide
What You Can Expect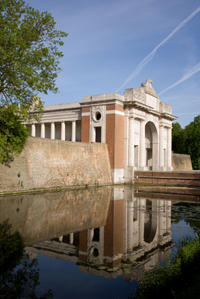 Travel north through France into Belgian Flanders. This part of Belgium saw some of the heaviest fighting of World War I, in an area known as the Ypres Salient.
The Ypres Salient around the town of Ypres protruded into German-held territory, and was thus the scene of some deadly battles during the war. Thousands of soldiers from France, Belgium and the Commonwealth nations fought to defend the area from the Germans, and many lost their lives in the process.
There are many war memorials and cemeteries in the Ypres Salient now, which you'll explore with your knowledgeable guide. Visit the St Julien Memorial, a sculpture atop a monolith sometimes called the 'Brooding Soldier' that is dedicated to Canadian soldiers, and a memorial to the 5th Australian Divison called Polygon Wood.
Continue to the Essex Farm Cemetery, near the former site of a farm that had been used as a dressing station for treating wounded soldiers. The site is dedicated to John McCrae, a Canadian soldier famous for having written the poem 'In Flanders Fields.' Listen to your guide explain more about the poem, which led to the poppy becoming the international symbol honoring fallen soldiers. The site also still has some of the British bunkers from the war.
Walk up Hill 60, one of the famous World War I battlefields. At this site, much of the fighting occurred underground in tunnels created by mines. Visit the Tyne Cot Cemetery, in which many of the soldiers who died fighting in the Ypres Salient are buried. Among the graves, take note of the Tyne Cot Memorial to the Missing, dedicated to the missing soldiers from the UK and New Zealand.
Visit the Menin Gate Memorial in the town of Ypres, in which thousands of names of missing soldiers from Commonwealth nations are inscribed. Enjoy some free time in the town of Ypres to explore at your leisure, including time for a lunch break (own expense), before the return trip to Paris.
June 2016
Superb experience with knowledgeable guide, Sylvain. Personalized to our request - Canadian and Scots war sites and cemeteries. Incredibly skilled driver in Paris traffic. Clearly bilingual guide, helpful, friendly.
October 2015
iT WAS AN EXCELLENT TOUR. SYLVAN SPELLING? WAS SUPERB! hIS VERY IN DEPTH KNOWLEDGE AND EXCELLENT eNGLISH MADE FOR A VETY INFORMATIVE AND ENJOYABLE DAY.
August 2015
This was an amazing experience! I would recommend this company to everyone and anyone. Bertram spelling? was so knowledgable and fantastic he made this trip exactly what I wanted. When I booked this tour I expected other people but it ended up being just me. I found it especially great of this company to think of the client, me, and not cancel. I've since talked to other travellers who have booked with other companies to only have it cancelled due to low numbers. This made me extra greatful that the company I went with did my do this. They had my interest at heart and took me alone. Thank you for the great new knowledge and memories.
Robyn G Australia
October 2014
I took this trip hoping to visit my great uncle Sam's grave at Tyne Cot.Incredibly moving. it is a very long day but very rewarding.Our guide Sebastien was incredibly knowledgeable and helpful.He provided an un-biased account of WW1 and gave us wonderful insight into the times from both sides and also from the locals perspective.Great in a small group so we were able to locate both the requested personal memorials. Sebastien did a fantastic job bringing history to life .A highlight of my time in France Thanks so much Robyn Australia
Garry G Australia
October 2014
Excellent value for money. Driver arrived on time and was a very knowledgeble guide. The tour was very interesting and took in all the sites of importance to Australians.
I would recommend the tour to anyone

August 2014
My husband and I chose this tour especially because we family who fought in this area during WW1. Our tour guide took us to the places that were important to our interests. We found that he had an in depth knowledge of the campaigns which he was able to bring to life for us using vivid descriptions of what took place at each location we visited. He had excellent communication and driving skills and was passionate about conducting the tour. He also added a new understanding on what our people and the French people went through.
June 2014
Fantastic trip with a very knowledgeable guide, lucky enough to have just one other couple from Australia with us
December 2013
This tour was magnificent thanks to Bertram, his extensive knowledge and wonderful sense of humour was much appreciated. Because it was a small group- only 2 we were able to spend a longer time in places of personal interest and shorter times in others. We missed the heavy traffic both coming and going and while it is a long trip to the battlefields the scenery was interesting. Would highly recommend this trip.
September 2013
This was the best tour we went on during this trip - the guide was on time, courtious and knowledgable. Our guide gave us a running commentary of all the historical and not so historiacal sites we past or visit during the entire trip. This was further supported by a local expert guide re the battle fields we picked up in Ypres who came fully prepared with photos, maps and diagrams. This expert's knowledge and communication ability was not only enlightening but delivered clearly and effectively. The guide and the expert adjusted the tour to visit areas geared to our country's participation and our interests which further enhanced our knowledge and appreciation of the past events. During our independent time in Ypres we explored the musium and the cathedral as well as the local town area around the Menin Gate. This tour spoiled us for any other tours we took this trip and became our measuring stick (set our expectation levels) for all other tours.
August 2013
A very emotional day! The enormity of the sacrifice made by our Canadian and Allied Veterans is at once poignantly obvious. We are so proud of Canada's contributions and of the spectacular war memorial erected in honour of these brave people who made the ultimate sacrifice for our freedom. Our Parisian driver and our very knowledgeable guide from Belgium made this trip a most educational and enjoyable day.
Advertisement
Advertisement