Get the authentic French culinary experience with a small-group cooking class in a private Parisian apartment. Head to the centrally located home and get ready to learn – and eat! Meet your local chef instructor, gather ingredients on an optional market tour, and discover the fundamentals of preparing a classic French dishes such as soufflé, cod mouclade and chocolate fondant. Then prepare and savor delicious dishes with fellow food lovers!
Highlights
Choice of 3-hour cooking lesson or 4.5-hour lesson including market tour
Learn to prepare a traditional French 3-course banquet
Hands-on training from an experienced French chef
Enjoy small-group, personalized format
Finish with a delicious lunch and glass of wine
Recent Photos of This Tour
Small-Group French Cooking Class in Paris
What You Can Expect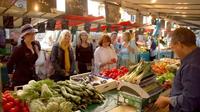 You can also choose to take a guided tour of the local markets in Paris, a unique opportunity to meet local butchers, bakers, and farmers selling vegetables from their gardens. On the market tour you will learn how to find and select the highest-quality ingredients and how to barter to get the best price. Along the way you will purchase fresh ingredients for your lunch before returning to the kitchen. Then it's time to start cooking!

Alternatively you can skip the market tour and dive straight into this Paris cooking class. Whether you're a cooking enthusiast or a novice, this half-day Paris cooking class is a true hands-on experience: you will prepare a delicious lunch - including entree, main course and dessert - from beginning to end. Best of all, when you return home, you can wow friends and family with your Parisian recipes and cooking skills.

And at the end of your lesson your reward is the delicious lunch you have prepared accompanied by a glass of well-earned wine.
Itinerary
Sample Menu:
Tarama soufflé - Duck magret with bigarade dressing - Orange cake with olive oil and saffron
Cereal pancake and mushroom fricassee with nut oil - Cod mouclade with lemon liqueur - Ice cream with soft white cheese
Chicory cream - Old-style blanquette - Chocolate fondant
Please advise at booking of any food allergy.
June 2016
Fantastic cooking class!!! I have cooked two of the four things we learned. The chef spoke great English and we were able to meet his family because it was a holiday. We really lucked out because there were only 2 of us that day.
May 2016
EXACTLY the experience we were looking for! From the moment we arrived Chef Dominique was nothing but friendly and hospitable. After a nice chat over espresso we headed across the street to the farmer's market to gather fresh ingredients for our meal. Chef took the time to walk us through what local life is like and was sure to accommodate our food preferences. While preparing the meal he carefully walked us through each step and made it interactive to ensure we were learning as we went. We also appreciated we made dishes we would actually make in real life on an average week night and not something just for special occasions which we'd be less likely to make again. His beautiful daughter joined us for the finished product and we enjoyed the meal together. Thank you Chef Dominique!
March 2016
We had an excellent experience with chef Fred who shared lots of tips with us and made sure everyone participated in the preparation of our meal. Highly recommended.
March 2016
Great time. Fred is a great instructor. Taught out group some simple techniques we had never seen that will make cooking easier and better in the future. Also gave us a lot of great tips and best practices. In the end, we made a 3 course meal that we sat down for and was delicious. I would do it again as he always uses different recipes from his 25 year career in the restaurant industry in Paris.
January 2016
The company was delightful, exploring the market was fun and interesting, the food was delicious, the recipes doable and innovative, the chef--Fred--charming and informative. All in all, a great experience.
November 2015
This was a wonderful and tasty experience!! Marthe walked us through the market as she bought what we needed for our meal. She gave us time to stop at different stands and browse/buy things. The cooking portion of the day was back at her apartment. She did an excellent job of walking us through what we needed to do and let us actually do the cooking. Very hands-on! And oh my goodness - the resulting meal was DELICIOUS! She also sent us the recipes via email after the class, so we didn't have to worry about taking notes. This is a must-do!
P H H USA
October 2015
This class, taught by Frederic, was absolutely the best tour I have ever booked with Viator. And I have done quite a few! Only word to describe the whole experience was AMAZING! If there was a higher rating than 5 stars, I would definitely assign it. After the class, Frederic emailed us the step by step recipe for the incredible meal we prepared.
October 2015
Excellent experience.. Chef Dury did a wonderful job of picking ingredients and the end product was delicious. I am looking forward to getting the recipes soon :-
September 2015
Lovely morning shopping with our chef and cooking the produce for a delicious lunch. Dominique generously shared his cooking tips, recipes, knowledge of local produce, as well as some recommendations for food-shopping and restaurants in the area we were staying.
September 2015
One of our favorite activities of our trip, we had a great time learning and tasting French cuisine. Our host was Frederic, who took us to the local market and picked out fresh ingredients what we liked to customize the meal we made with another couple. The meal itself was delicious, although we probably could have done a little more participating. Would highly recommend!
Advertisement
Advertisement