Learn to shop and eat like a real Parisian on a small-group walking tour of the Marché d'Aligre. Located in the less touristy 12th arrondissement, this energetic market is a favorite with locals and is bursting with vendor stalls selling all manner of goods and gourmet treats. Follow your guide to the best shops to chat with vendors and taste with choice chocolates, cheeses and wine. Group size is limited to eight people for a more personalized experience.
Highlights
Marche d'Aligre small-group food walking tour in Paris with tastings included

Explore popular market Marche d'Aligre with a knowledgeable local guide

Talk with shopkeepers about their wares and savor tastings of cheese, wine and chocolate

Small-group tour limited to eight people to ensure more personalized attention from your guide

Why Our Insiders Chose This Tour
A wonderful way to go off the beaten path and get a real sense of Parisian life. Head to a local's market where you'll talk with shop owners and taste some fabulous cheese, wine and chocolate!
Recent Photos of This Tour
Small-Group Marché d'Aligre Food Walking Tour in Paris
What You Can Expect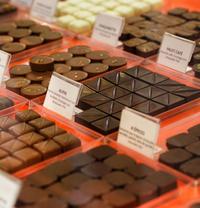 Meet your guide at 10am in central Paris and walk through the lovely 12th district, often overlooked by tourists but popular with Parisians. Your local guide will lead you to the Marché d'Aligre, a lively indoor/outdoor market selling everything from old gramophones to pieces of crockery to artisan jams.

With the help of your local guide, discover wonderful gourmet shops at the Marché d'Aligre where you can talk with the vendors about their passions and ask all the questions you like. Visit several cheese and chocolate shops and La Graineterie, a seeds shop that opened in 1895 and today sells specialty flours, spices, teas and classic candies along with seeds. Enjoy tastings of cheese, wine and chocolate, all of which are included in the price of your tour.

At the end of your 2-hour food walking tour, your guide will be happy to give you recommendations for further exploration so you can continue to wander the Marché d'Aligre on your own, seeking out tasty treats alongside the locals.
July 2015
This was the best tour we took on our trip. David Jornet was a great host, he knew so much about the history of the market, the culture, and the food. The real stars of the tour was the fantastic cheeses and chocolate we got to try. We would take this tour again, if we ever get back to Paris!
December 2014
David was fantastic. He is very knowledgeable and very friendly. He took time to answer all our questions and never seemed rushed. The wine and cheese were very good. All the merchants were very friendly. I highly recommend this tour.
Cynthia M USA
July 2014
This was a great tour that took us through some markets in Paris and gave us a nice overview of the finer points of French shopping, wine, cheese and chocolate. Our guide, Francois, was very knowledgable and fun to spend time with. I would highly recommend this tour!
June 2014
Our tour of Marche d'Aligre was very enjoyable! Our guide was David who was very knowledgeable about the area and the people who work in the market. He had been delayed with his earlier tour at the Louvre, but when we called he immediately responded and as promised, arrived in a short while; also, he definitely made up the lost time at the end of the tour. We were with only one other couple so the 4 of us had his undivided attention throughout the tour. On our way to the market David took us by a very popular boulangerie and suggested their croissants. Nothing can compare with these divine treats! He took us through the entire market: the outdoor produce section showcasing items that were works of art - not just vegetables and fruit; followed by the permanent building housing meats, cheeses, and more produce, where he explained some of the butchering and seasoning practices; and last to the "flea market." This was much more than the usual flea market, having some very interesting antiques and exotic pieces from Africa. Along the way he introduced us to the businesses that would furnish our cheese and wine. After the market we returned to collect the cheeses, which he carried to the wine store for our tasting. Then we went to the confectionery for the most elegant chocolate delights. At each stop David offered information about the items for sale, especially the more exotic meats that are not available in the US. He discussed the cheese, wine, and chocolates at our tasting, and facilitated purchases in the flea market for us. I strongly recommend this adventure to anyone interested in such adventures or who loves cheese, wine, and chocolate. So many wonderful choices and sites in such a relatively small space - an excellent morning and a wonderful guide!
Lauren D USA
May 2014
This tour was one of the highlights of our stay in Paris - great eye candy for foodies. The wine, cheese, and chocolates tasted were all exceptional. Though we walked through the outdoor and indoor markets, I also really enjoyed the shops in the surrounding area. David was an amazing guide with fantastic recommendations. After the tour, we stayed in the area and took his advice and tried the steak tartare at a local bistro and it was delicious, and afterward we walked back to a bakery that David showed us at the beginning of our tour, and enjoyed coffee and the most delicious pastries. It was a great way to spend a 1/2 day.
Debra S USA
January 2014
This was great fun! It turned out that our party was the only one scheduled for this particular tour, so it was basically a private tour for us. Our guide was friendly and knowledgeable, and the tastings were great. The market was very interesting. We would have never done this on our own.
February 2014
The guide was wonderful--very knowledgeable and personable. Nice tastings of the products. It's a good way to get to know the market.
August 2014
Great tour and guide but didn't get the stated amount of food and think it was incredibly over priced for what we received.
September 2014
There were a lot of closed stores, and the meeting point was not clear, causing us to run around looking for the guide. There should have been an address, not just a meeting point store name. The leader was charming and gave us some good insights, but we expected a lot more. The sampling experience was just fair. We stood on the sidewalk while trying some cheese and 1 wine not the 2 promised. The chocolatier was interesting, but again we didn't get as many tastes as promised. We felt the experience should have been richer for the price.
August 2014
I did not enjoy this tour. I could have done it without the tour guide. David was unprofessional. Instead of leading the tour the group was leading it.
Advertisement
Advertisement