Embark on a unique shopping adventure Paris with a small-group tour of the famous St-Ouen Flea Market. Also known as Marché aux Puces St-Ouen, it's one of the largest flea markets in the world. Treasure hunt for unique items as your guide shows you the most interesting parts of the market and helps negotiate purchases with French-speaking sellers. After shopping, enjoy a hot drink at a local cabaret café. Numbers are limited to eight people for a personalized shopping experience.
Highlights
3-hour small-group walking tour of the St-Ouen flea market in Paris
Explore some of the thousands of small shops and vendors at one of the largest flea markets in the world
Discover hidden corners of the vibrant market and shop for antiques, vintage clothing, jewelry, paintings, ceramics and more
Negotiate the best prices with the help of your expert local guide
Enjoy a hot drink at Chez Louisette, a famous cabaret café

Small-group tour with a maximum of eight people ensures personalized attention from your guide
What You Can Expect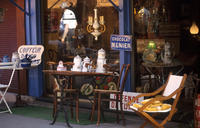 Since 1885, the St-Ouen flea market (also known as Marché aux Puces St-Ouen or Les Puces de St-Ouen) has provided one-stop shopping destinations for local Parisians. Begin your tour of one of the largest markets in the world at Porte de Clignancourt metro station in central Paris, where you'll meet your guide in the afternoon. Walk together to the expansive flea market, which spans an astonishing 15 acres (6 hectares) just beyond the city's outlying 18th arrondissement.
With thousands of vendors selling everything from vintage clothing, antique furniture and jewelry to original works of art, it would be impossible to see all of the market in one day. Marvel at the array of goods as your knowledgeable and thrifty guide leads you to some of the most interesting shops in the market, customizing the tour based on the items you seek. If you'd like to make a purchase, your guide will assist with negotiating prices and arranging shipping with French-speaking vendors for a stress-free experience.
Once you've had your fill of shopping, rest your feet at the cozy Chez Louisette cabaret café. Rejuvenate with a hot drink and soak up the festive Parisian ambiance as you listen to the stylings of a cabaret singer and accordion player. At the end of the 3-hour tour, your guide will escort you and your purchases back to the Porte de Clignancourt station.
September 2015
I loved this!! It was everything I was hoping for. Our guide, David, went above and beyond to help us with deals and translation. I would love to go again!!!
August 2015
The was a great tour and our guide was very nice. He spoke great English and really knew the area well. He showed us all over the flea market and took us into different areas. He was willing to negotiate with sellers and made sure we understood the dynamics of the flea market. The flea market is located in a bad area and we felt safe with him.
January 2014
Our guide, Erell was extremely knowledgeable and very engaging. The market is very large and impossible to see in its entirety in one afternoon; Erell did a great job finding out what areas we would be interested in and then took us to each of those areas. We look forward to going back and experiencing the market with Erell once again!
August 2013
Excellent tour guide and tour. Would definitely recommend this tour to other's visiting Paris! Great price and found some terrific gifts at flea market.
April 2013
The guide was very knowledgeable and extremely friendly. If you are looking for a particular type of item, or are needing someone whom speaks French, I would highly recommend this.
November 2012
I was a little bit afraid to go to this area by my own, but I am very glad I take this tour. They show me really nice furniture, vintage clothes, and I even bought a 40's hat. This market is like a fantasy, you take several steps to the past and it is a most seen in paris.
November 2012
Roberto was wonderful and spoke multiple languages so was able to cater to our group. Thoroughly enjoyed the walk through and it was very informative on the evolution of the area and the markets. He also takes care of his clients to ensure our safety. Highly recommended!

November 2012
I really enjoyed it. Roberto, our tour guide was really keen on giving us the right tips!!! Wonderful afternoon!!!
August 2014
Quick tour; excellent guide - market is over-rated and not many 'market deals to be had'.
November 2013
Not impressed with the selection of goods for sale at the flea market, lots of repetitive things
and garage sale quality items at alot of them. My tour guide, and her protege (sorry can't remember the names, started with a K) were great though! Very friendly and helpful. We were the only ones on the tour that day which made it nice and personal. Probably wouldn't do the flea market again.
Advertisement
Advertisement