Pay your respects to French and British military history with a full-day tour of the Somme battlefields. Walk on the sites where one of the bloodiest battles in history was fought during World War I, while learning about the battle's causes and repercussions from your historian guide. See the Deville Wood cemetery where thousands of fallen soldiers were laid to rest, and visit several war memorials and the Historial Great War museum in Peronne. Numbers are limited to 16 for a personalized and informative tour.
Highlights
Somme Battlefields of WWI tour of Paris by minivan

Personalized small group (maximum 16 people)
Visit the Delville Wood cemetery at Longueval

See the landmine Lochnagar crater

Visit the Australian battlefield sites at Poziere and Mouquet Farm

British memorial at Thiepval and Ulster Tower

Visit the Australian National Memorial at Villers-Bretonneux
Tour the Historial Peronne WWI museum

Recent Photos of This Tour
Small-group WWI Somme Battlefields Day Trip from Paris
What You Can Expect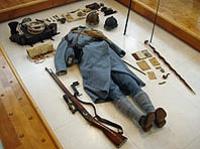 The 1916 Battle of Somme marks one of the darkest chapters in French history and remains among the bloodiest battles ever recorded. Your full-day tour of this hallowed military site begins in the early morning, when you'll meet your guide in central Paris and board a minivan for the approximately 2-hour drive north.
Stop in Longueval to visit the Deville Wood cemetery, the final resting place of more than 5,500 fallen soldiers from World War I. In La Boisselle, see the enormous Lochnagar mine crater that stretches 330 feet (100 meters) across and has been preserved as a memorial.
Visit several other memorials throughout the area, including a site dedicated to missing British soldiers in Thiepval, the Ulster Tower, and the well-preserved battlefields and trenches of the Beaumont-Hamel Newfoundland Memorial.
Throughout the day, take note of tributes to the contributions of the Australian and New Zealand Army Corps (ANZAC) during the Battle of Somme, such as the Australian National Memorial at Villers-Bretonneux and the Australian flag that still flies over Poziere.
Toward the end of the day, visit the Historial in Perrone, a well-curated museum dedicated to the Great War. Learn more about the origins and aftermath of the conflict and view more than 50,000 historic objects relating to military and civilian life in wartime France.
Rest and reflect on the return drive to Paris, where you'll be dropped off back at the original departure point in the early evening.
April 2016
Tremendous guide, who varied tour depending on nationality of those on tour. We had couple from Newfoundland so visited in detail battlefield where Newfoundland regiment was annihilated. Really appreciated that the whole area is one big cemetery and how entire units were destroyed in hours or days. Impressive 30 meters deep by 90 meters wide from huge mine one of first sights.
January 2016
Extremely interesting tour. Our tour guide was fantastic! A very enjoyable day for anyone whether you are interested in world war history or not.
October 2015
I would recommend this tour. There were a total of 4 people on our tour. An Australian couple and ourselves from Northern Ireland. The tour was completely customised for us all, visiting sites where both Australian and Ulster soldiers so bravely fought.
It's a very moving experience and its good to have a guide to be able to personalise a tour so much. This was without a doubt one of the best tours I have ever been on and well worth the money.
October 2015
Can I give 6 stars?? It's a very moving experience, and it's all about respect. Respect for the history, respect for the frailty of life, respect for the villagers, respect for the clients.
It's good to have a guide able to personalise a tour so much. We were lucky enough to have only one other couple with us, and we were able to ask so many questions ALL were answered, by the way, so knowledgeable!.
October 2015
Great tour. Guide was fantastic. Very informative and knowledgeable. Information told and places that we visited suited the people on the tour. Would recommend this tour to anyone, especially Australians.

October 2015
My wife and I cannot speak highly enough about this tour.
Being Australian, the very knowledgable guide Nicola, structured the tour to suit our interests, as well as those of the other couple on the tour with us, who were also Australian.
Anyone with an interest in the Western Front campaign of WW1 would be advised to avail themselves of this tour.
October 2015
By far one of the best tours you will ever do if you are Australian or Canadian. A real eye opener! The tour guide was fantastic!
October 2015
My husband and I did a full day tour and we were impressed with Nicola's passion for her job and the information imparted to us,had a lovely lunch at the old blighty,where they have some amazing war memarobilia on display.
October 2015
Fantastic tour. Saw all the key sites around the WW1 Somme battlefields where Australians fought. Our tour guide Nicola was extremely knowledgeable and gave heaps of background information. Small group of 10 people was fabulous. Our driver Julian was friendly and did a great job negotiating the peak hour traffic upon our return to Paris.
October 2015
This was a big tick item for me on my trip to Europe. I was so glad we did it and the commentary along the way by Herbert was informative, accurate and interesting. It was a very personal tour and we even dropped into a local identity's place for an unexpected highlight. It was great to visit our lads who did us and the French so proud.
Advertisement
Advertisement