Discover a bargain hunter's paradise at Paris' St-Ouen flea market, one of the largest of its kind in the world. Browse hundreds of unique market stalls accompanied by your local guide, who will help you find what you're looking for and negotiate the best deals with vendors. Shop like a true insider at the amazing open-air market, which is been in operation since 1885. Group numbers are limited to 10 people for a personalized shopping experience.
Highlights
2-hour walking tour of St-Ouen flea market in Paris with a local guide
Shop for authentic yet affordable items from just about every era
Visit speciality shops that only the locals know

Get tips on how to haggle and sniff out the best bargains
Meet market traders and listen to their memorable tales

Small-group tour with a maximum of 10 people ensures a more personalized experience
Recent Photos of This Tour
What You Can Expect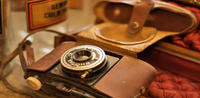 Offering up an endless assortment of affordable goods since 1885, the St-Ouen flea market spans an astonishing 15 acres (6 hectares). Make your way to the Porte de Clignancourt metro station in Paris' 18th arrondissement, where you'll meet your guide and set off on a walking tour of this historic market, also known as Marché aux Puces St-Ouen.
With 2,000 indoor and open-air stalls, the market can be overwhelming for a first-time visitor. Your local guide will give you an insider's overview of the 16 different submarkets and lead you to the best and most unique stalls, where you can chat with vendors and learn the history behind the goods they sell.
Whether you're looking for vintage clothes, original art, books, antique furniture or unique household goods, your guide will help you track down treasure at an affordable price and negotiate with French-speaking vendors to arrange payment and shipping, if needed. At the end of your 2-hour shopping bonanza, your guide will escort you back to the metro station, from where you can return to your hotel or continue exploring on your own.
April 2016
February 2016
The guide was well-versed on the market and historical background. The length was just right. We had a great time!
October 2015
Romaine was fantastic - many thanks
September 2015
The tour was wonderful, I'm so glad I booked it. The guide was friendly, very informative in history and art and made the tour a memorable experience. The market is so large and diverse it would be easy to be overwhelmed, the information from the guide was a huge asset for navigating the market on my own later that day.
Lady Di Australia
August 2015
What an amazing small tour with a fabulous informative bohemian tour guide, he loved the past and history of the markets and the eclectic items sold in these 100's of stalls. Managed to get my hubby a vintage copy of Edith Piafs songs, he loves that French woman. These markets are fantastic and shouldn't be missed as something different to see in Paris. Highly recommend
June 2015
Excellent guide. Orleck Not sure of the spelling was very informative and a lot of fun. We gathered in front of a McDonalds with a few others and he walked us to the market. He discussed the history of the flea market, how to bargain, and really gave us a wonderful cultural overview. I would highly recommend this tour. If you stay to shop you will be for more informed. You can also treat it like a museum experience.
April 2015
Olek? Was wonderful. Had lots of great info about the area and shopping safely around the flea market.
Found many beautiful items but many were above my price point. Some of the shops are almost like museums filled with beautiful furniture and art. Great day
October 2014
I was the only one on my tour but my guide was fantastic! She took me to some really interesting shops and was more than happy to stop while I took a picture or wanted to look at something. After spending a few days trying to find all the tourist sites myself, it was wonderful to have a guide!
September 2014
April 2014
This tour was such a great experience. Our guide was very knowledgeable and personable and was able to joke with the group while showing us around and generally making the day fun and interesting. He delivered the history and background of the various market sections without sounding bored or rehersed and really seemed to enjoy interacting with the group and showing us little secrets he's discovered in the markets. We were shown so many wonderful and beautiful (expensive!!) things and taught how to bargin with useful tips etc. The meet point was a bit dodgy, and getting a taxi out of the area after the tour was a nightmare, but don't let that stop you!
Advertisement
Advertisement