Go on the shopping spree of a lifetime with a 3-hour guided shopping tour for teens in Paris. Follow a fashion-savvy guide to the most chic shops to find the trendiest French brands the local teens covet. Bring home the latest in French fashion and an unforgettable Parisian shopping experience. Parents are welcome to come along, too.
Highlights
Insider tour of Paris' teenage fashion boutiques
Shop for fabulous bags, shoes and jewelery on this teen shopping and fashion accessories tour
Fashion tips on teen clothing and brands
Invaluable Paris shopping tips from your expert English-speaking guide
Smaller number of tour members ensures a more personalized experience
Recent Photos of This Tour
Teen Shopping and Fashion Accessories Tour in Paris
What You Can Expect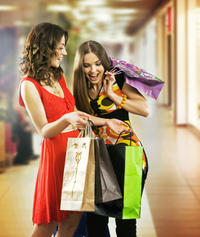 Send your teenage shopaholic on an unforgettable Parisian shopping spree with a qualified guide.
Shop for all sorts of trendy accessories, including great shoes (boots, flats, sandals, heels, tennis shoes), fantastic bags (handbags, funky bags, backpacks) and a huge assortment of jewelry (statement necklaces, bold rings, unique earrings) in one of the world's most fashionable cities.
Follow your guide to discover the money-saving secrets of the local teenagers who head for sample sales and shops where last season's fashions are sold at up to 70% off the regular retail price. It's the ideal way to pick up a memorable souvenir and some excellent shopping advice at the same time.
Guides are qualified to work with teenagers, and carry a mobile phone at all times. Parents are also more than welcome to come along on the shopping tour, too.
Tours meet at a cafe in central Paris, where they also end after the shopping spree is done.
July 2014
My daughter really enjoyed herself. Our guide took us to a great shopping district. It was the perfect time because there were huge sales everywhere we went. I even bought a couple of things.
December 2013
I have a 13 yr. old daughter and my son's 18 yr. old girlfriend with me in Paris....hmmmm I KNOW I need to take them somewhere cool to shop. This was it! Everybody had a great time, found cool things no one back home will ever have, and shopped like a french girl!! Had a great translator with us who showed us around. I loved walking and seeing all the small local shops away from the common and EXPENSIVE tourist avenues. She listened to what we wanted to find and took us to the them. I personally love vintage and she took me to a beautiful, high quality shop that had Chanel, Louis Vuitton, Prada etc. one of a kind items. Tons of great clothes and accessories to look for that piece that speaks to you. Very good prices. I scored a vintage Chanel necklace that I will cherish. A unique way to spend a few hours in Paris plus we got a great tip where to find the best crepes for lunch after!! Had a blast and bonded with the girlfriend and scored big with the fussy 13 year old daughter!!
August 2013
I booked this tour for my 18-year old granddaughter and I to take on our first day in Paris. We had the tour guide, Sandra, all to ourselves, and she was GREAT! My granddaughter was especially interested in shoes, and Sandra helped her find not only wonderful shoes, but also some fantastic clothes as well. She took us to places we would have never found on our own, and she was truly a terrific shopping guide. She knows the places to go for every budget and what you are looking for. Not only did my granddaughter find wonderful things, but so did I. Our time with Sandra was definitely worth the money and a highlight of our trip. We highly recommend this tour, especially for first-timers in Paris. We went on the tour the first day in Paris and were glad we did because we later went back to some of the shops and did even more shopping.
July 2013
Emmanuelle was wonderful. She asked lots of questions before we left the meeting place to get an idea of what my daughter was interested in, what her style was, and what our goals were for our shopping expedition. She knocked it out of the park and my daughter came home from Paris ecstatic with a whole new (and very reasonably priced) wardrobe. Emmanuelle even recommended some items that my daughter loved that she would never have considered on her own. An excellent time was had by both of us.
April 2013
Our guide was wonderful, she was very knowledgeable and able to tune right in on the girls taste, she asked the right probing questions and was very patient.
We intentionally left this one for last so our daughter remembered her "shop to you drop" trip to Paris! We were pleased and she was thrilled.
February 2013
I sent my 2 girls (13 and 16 years) alone on this tour with the guide. She was awesome according to the girls. I think it helped that she spoke such good English. But she very quickly worked out what Dana and Sienna liked and they both came back with bags full of goodies!
December 2012
This was one of the highlights of our trip to Paris. Our tour guide is a Fashion encyclopedia! She not only took us to the best shops/boutiques in Paris but she taught us so much about the Fashion Industry. We came home with fabulous clothes/shoes and a wealth of fashion knowledge.. Both my daughter and I agree it was one of the BEST days ever!
July 2012
Our experience was terrific. Even though my 11 year old granddaughter was jet-lagged and homesick, our guide was unfailingly patient and we felt like we had our own personal shopper. It was a wonderful introduction to Paris fashion!
June 2012
We ended up being the only ones on the tour-which was great. She asked my daughter what she was looking for and in what price range. we were in stores we would never have found on our own. There was no pressure to buy. My only complaint is that we ran out of time. definately recommend this tour.
April 2012
Our guide was fabulous! My girls got so many cool clothes and accessories. They were thrilled! Our guide was great at picking things out for the girls as well. I would highly recommend
Advertisement
Advertisement