The gardens of Versailles span an impressive 1,976 acres. Rather than exploring the sprawling grounds on foot, pedal your way around with an informative guide on this full-day Versailles bike tour from Paris. Discover a leisurely 10 miles of garden trails and tree-lined paths behind the palace, and reach parts of the grounds that visitors on foot do not frequent, including Marie Antoinette's country-style Hameau, the Petit Trianon and the Grand Trianon. Stop by the Grand Canal for a picnic lunch before heading inside the Palace of Versailles.
Highlights
Versailles bike day tour

Tour Versailles' gardens by bicycles and see far more than visitors on foot
Marie Antoinette's farm-style Hameau, the Petit Trianon and the Grand Trianon
Visit to Versailles' market to shop for delicious picnic provisions
Picnic lunch by the Grand Canal
Why Our Insiders Chose This Tour
Have the freedom to explore the gardens of the Palace of Versailles to the full on two wheels and enjoy a typically French picnic lunch, before heading into the Palace itself.
Recent Photos of This Tour
Versailles by Bike Day Tour
What You Can Expect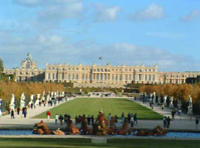 Meet your guide at a central location in Paris and take the RER train together for the 20-minute ride to Versailles. After picking up your bike a short distance from the Palace of Versailles, continue to a nearby village market to purchase baguettes, cheese, ham, wine and whatever else you'd like to feast on (own expense) for your picnic later on in the day.

The gardens and forests of Versailles span 1,976 acres (800 hectares), and are crisscrossed by a network of picturesque trails and tree-lined paths. Follow your guide and leave behind the pedestrians as you explore parts of the grounds that few venture out to, including Marie Antoinette's country-style Hameau, the Petit Trianon and the Grand Trianon. You'll cover about 10 miles (16 km) at a relaxed pace.

Arrive at a lovely secluded section of the Grand Canal that only those on bicycles can reach easily, and settle in for your picnic lunch. Get a kick out of the fact that you are sitting on the same spot where Louis XIV, XV and XVI enjoyed their meals when they wished to admire their spectacular palace from the outside.



Then, cycle back toward the palace and spend about 1.5 hours inside. With your provided audio-guide, learn about the lives of the French monarchy before their removal from power by the 1798 Revolution. See the King's State Apartments and Chapel, and walk through the unforgettable Hall of Mirrors, where the treaty ending WWI was signed.

Your Versailles bike tour ends with a return to Paris via RER train.
April 2016
Super tour with an excellent guide Alan who kept us entertained all day
April 2016
This was our favorite day in our week long trip to France! We had so much fun going to the market, biking through the gardens, picnicking along the water and learning about the history of Versailles. Our guide was great and everything was managed so well. I highly recommend this tour for anyone visiting Paris.
Louise R USA
April 2016
My son and I really enjoyed this bike tour! Tommy, our french guide was great! Getting an hour to shop around the Versailles market for picnic food was fantastic. It was a lot of fun seeing the gardens and Tommy was very knowledgeable with the history of the palace and the past french royalty. It was one of our favorite days!
April 2016
best way to get around the gardens of Versailles. one of my favorite parts of my trip to Paris. the bike tour guide was really great. his explanation of the history was told like a story and kept me interested.
the picnic lunch just topped it off. thanks for a great tour

March 2016
This trip was super fun. Even though it was cold in Paris and Versailles, that didn't keep us from having a great time. Our tour guide Richard kept our group of twelve informed and entertained the entire time. The market in Versailles, had the most amazingly fresh and delicious food. It took everything in our will power to not buy too much - a suggestion for future groups is to divide and conquer, because we had way too much food. The grounds of Versailles were beautiful and vast. I truly got my work-out in that day and was ready to eat when we stopped for our picnic. Versailles was beautiful. It was definitely worth the trip.
January 2016
Lovely day at Versailles! Tour guide Nick was interesting, informed, friendly, made us feel like we were hanging out with a friend for the day. Best picnic ever!
December 2015
Wow, this tour was tiring, but worth it if you have an extra day in Paris. I would recommend seeing the inside of Versailles on another day because of how long this trip is, we were too tired to enjoy the palace, way too much for one day. The guide was great, it was all interesting, and I'm glad we went.
November 2015
This is an all day fun trip if you enjoy bike riding. This is the only way to see the whole palace and experience how they lived. Excellent history background stories and beautiful picture perfect scenes at the Marie Antoinette's Garden!! My legs got tired at the end of the day but so worth it!!
November 2015
OMG I just finished writing a really long review for this and then the site deleted it when it asked me to sign in ahhhhh! The main points - Valentine was the best guide I've ever had on any of these tours. Insanely knowledgable about everything and not in your face about it. He's so chill I never felt like I was in a classroom but walked away feeling like I knew every detail about the history of Versailles. The bikes were totally worth it - completely different experience than my first visit to Versailles as a teenager. Lastly, Versailles markets were incredible. Full markets operate only twice a week apparently and Friday is one of those days. That's when we luckily were there. AMAZING. Sorry, I cannot bring myself to re-write the whole review. I even tried the back button! This was my most anticipated tour going to Paris and it did not disappoint! Do it!!
November 2015
Loved the bike ride around Versailles was the best part of the tour.
Advertisement
Advertisement