1365 Reviews
Location:

Paris, France

Duration:

9 hours

(approx.)
Take a tour of Versailles with a difference - by bicycle! It's the only way to see Versailles' expansive gardens plus you'll get to see highlights of Versailles that most visitors miss, including Marie Antoinette's country-style Hameau, the Petit Trianon and the Grand Trianon. You'll also enjoy a picnic by the Grand Canal then take a tour of the Palace of Versailles.
Highlights
Versailles bike day tour

Tour Versailles' gardens by bicycles and see far more than visitors on foot
Marie Antoinette's farm-style Hameau, the Petit Trianon and the Grand Trianon
Visit to Versailles' market to shop for delicious picnic provisions
Picnic lunch by the Grand Canal
Why Our Insiders Chose This Tour
Have the freedom to explore the gardens of the Palace of Versailles to the full on two wheels and enjoy a typically French picnic lunch, before heading into the Palace itself.
Recent Photos of This Tour
Versailles by Bike Day Tour
What You Can Expect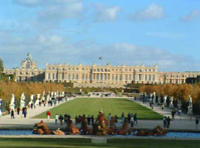 Together with your guide, you'll walk to the RER train station to make the 20-minute trip by train to Versailles. Once in Versailles, you will pick up your bike at at an office just 5 minutes from the Palace of Versailles. The first of many highlights on this active day out is a visit to Versailles' village market to buy baguettes, cheese, ham, wine and whatever else you desire for your delicious picnic lunch in Versailles' gardens. These picnic provisions are purchased at your own expense.

The next highlight today is a bike ride through the gardens behind Versailles palace. You'll leave foot visitors behind on your tour of the palace by bicycle, as visitors on foot can visit only a small fraction of the palace gardens. Versailles' gardens and forests are crisscrossed by a network of fantastic trails and tree-lined paths, so bring your camera for picture-perfect views in every direction.

Arriving at the far end of the Grand Canal, you'll settle down for a picnic in the exact spot where Louis XIV, XV and XVI ate in order to marvel at their palace. Relax on the grass in peace where only your cycling group will be able to easily reach this end of the Grand Canal.

After lunch, pedal back towards the palace itself for an unforgettable view into the lives of the French monarchy before their removal from power by the Revolution in 1789. You'll visit the Hall of Mirrors (site of the treaty ending World War I), the King's State Apartments and the amazing King's Chapel (audio guide available). After your visit to Versailles you'll return to Paris via RER train.


November 2015
This is an all day fun trip if you enjoy bike riding. This is the only way to see the whole palace and experience how they lived. Excellent history background stories and beautiful picture perfect scenes at the Marie Antoinette's Garden!! My legs got tired at the end of the day but so worth it!!
November 2015
OMG I just finished writing a really long review for this and then the site deleted it when it asked me to sign in ahhhhh! The main points - Valentine was the best guide I've ever had on any of these tours. Insanely knowledgable about everything and not in your face about it. He's so chill I never felt like I was in a classroom but walked away feeling like I knew every detail about the history of Versailles. The bikes were totally worth it - completely different experience than my first visit to Versailles as a teenager. Lastly, Versailles markets were incredible. Full markets operate only twice a week apparently and Friday is one of those days. That's when we luckily were there. AMAZING. Sorry, I cannot bring myself to re-write the whole review. I even tried the back button! This was my most anticipated tour going to Paris and it did not disappoint! Do it!!
November 2015
Loved the bike ride around Versailles was the best part of the tour.
November 2015
Great way to make Versailles more accessible. My tour guide was truly terrific!
November 2015
AMAZING! This was a great way to see Versailles, I feel like the other tours where you do not see the grounds are depriving you so much of the beauty of this hunting cabin. Our tour guide Cain - spelling?, who was Irish, kept the tour fun and very informative. We learned so much about the significance of Versailles, the history and it was just beautiful. By far one of our favorite experiences in Paris.
November 2015
This tour was my favourite day, out of my whole trip to Europe!! You have to book it! The bike riding was even more exciting than the actual palace. Yes the palace grounds are that beautiful! Don't get me wrong, the palace is amazing. But I'm so glad that I didn't choose a walking tour. I would have missed out on so much! Danial was a great tour guide and so helpful when we had no idea what to buy for the picnic. Do yourselves a favour and buy chicken terrain at the local market. Better than the food that I had in Paris. Thanks for an awesome day out. I recommend this tour to anyone :D
November 2015
Fantastic tour. Loved it.
November 2015
This was the highlight of our 8 day trip to Pairs. Our tour guide was amazing and gave the group some awesome information that I will never forget.
Versailles is a total of 2,000 acres and would be impossible to walk the full grounds on foot in a day. This tour took us to all of the attractions and to the end of the ground. The market place was a great added benefit to this tour as we were able to pick our own foods to have for dinner. If you buy a sandwich and don't use the fresh local ingredients to make your sandwich or choice of lunch, you are doing yourself a disservice. We bought meat, cheese, veggies for sandwich and salad, along with snacks and a bottle of wine. The lunch was one of the best parts of the trip. Try to learn a little bit of French before the marketplace as it will make it a bit easier to get exactly what you want. Every vendor is helpful but it is not like metro Paris, many don't speak English but you can still get some great food for yourself and your party.
November 2015
I cannot say enough about this tour, it was more than I could have imagined or hoped. Our tour guide, Nate, was approachable and friendly and he gave just the right amount of historical context: you neither felt overwhelmed nor out of the loop. I thought the stop at the market would be a quick part of the overall experience, but it totally blew me away and turned out to be a huge highlight! Lunch was incredible, as was the ride through the grounds. If you're thinking about going in the fall, don't worry, everything is beautiful and golden and the weather was perfect. My only tip is to decide whether you want to see more of the gardens or really take your time in the chateau when you're turned loose after the biking portion: it's a long day and you want to be sure you're seeing everything you can while you still have daylight! Thank you for an amazing day, Nate!!
October 2015
It was amazing! The best way to discovered Versailles, besides the tour guide has a great knowledge about history.
Advertisement
Advertisement