Spend a decadent afternoon in the French capital with a wine and cheese tasting in Paris, guided by a knowledgeable sommelier. Sample wines from various regions, including Rhone, Bordeaux and Sancerre, learning how each region produces different wines. Find out the proper way to taste wine. Nibble on wine-friendly snacks like French cheeses and cured meats for lunch while you sip in a comfortable converted wine cellar in the center of Paris.
Highlights
French wine tasting, cheese and charcuterie lunch in Paris
Taste 5 different wines from regions such as Bordeaux, Sancerre and Champagne
Sample artisanal cheese and tasty charcuterie

Learn about the best wine-tasting techniques from your trained sommelier guide
Relax in an elegant wine bar in central Paris
Recent Photos of This Tour
Wine Tasting in Paris with Cheese and Charcuterie Lunch
What You Can Expect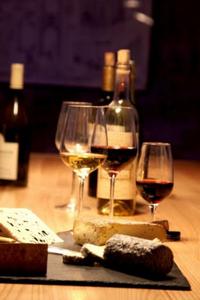 Spend your lunchtime break in the heart of Paris with a wine and cheese tasting set in a converted wine cellar in the city center. Sample in style – the wine cellar is now a refined wine bar and you'll sip fine wines from delicate Riedel wine glasses.
Led by an expert sommelier, you'll taste five different French wines from different regions such as Rhone, Sancerre, Bordeaux and Champagne. Learn how to properly taste these wines and what to look for in each one to appreciate the subtle differences between them. Hear what makes each region's wines different, and how to read a French wine label.
You won't go hungry during this lunchtime tasting, as you'll get to nosh on some excellent French cheeses and charcuterie – cured meats including smoked ham from the southwestern part of the country and sausages from Corsica. Learn insights into pairing wine with cheese.
Enjoy learning something new in a fun and relaxed environment, and take home increased knowledge and new expertise in French wines.
April 2016
I really loved it, and would do it again. Everything was set up perfectly for everyone and we were aloud to ask as many question has we needed.
April 2016
Was WONDERFUL! Very informative, tasty and a lot of fun my daughter and I thoroughly enjoyed the whole experience!
April 2016
The food and Wine were so yummy, I couldn't believe it. The presenter was really knowledgeable about the Wine and I discovered that I'm more of a white wine drinker. I would highly recommend going on this tour especially, if you want to learn more about wines and how to pair wines with food.
March 2016
We arrived at O Chateau, which we found very easily due to the very good directions given on the voucher. We were immediately greeted warmly and led to the tasting room which was beautiful. The Somelier was informative and interesting. The wine was wonderful and the cheese, each wine was paired with, was equally delicious. We learnt so much, about wine, the french regions , how to open a bottle of champagne and what to look for when tasting wine. It was definitely worth the money and the time spent there during our short break. If you love wine and cheese it's a must go to.
February 2016
Wonderful experience! Learned a great deal and had lots of fun. Staff was knowledgeable, welcoming, and eager to please. Highly recommend to those who want to learn about French wines and those who just want to have a great experience in a comfortable environment.
November 2015
What an amazing experience. Not only were the wines and cheese and meats delicious, but the education on the different wine regions of France was wonderful. Also enjoyed the wine cellar setting.

October 2015
Truly enjoyable experience, while learning about the wines and wine regions. I arrived an hour early, and was welcomed in. The parings were outstanding, with the cheeses and wines providing wonderful compliments to each other.

October 2015
An outstanding experience. Cheese, wine, guide and environment outstanding.
September 2015
OMG - this was great. I could have done similar tours like this every day we were in Paris. So many wines and cheese, so little time. The big surprise for me was a particular pairing of a white wine with a Rockfort cheese. It was amazing. If you like wine and cheese, do this tour.
September 2015
Had a great time and our wine expert was very good at helping us identify the wine's aromas and tastes.
Advertisement
Advertisement