Enjoy a Thai tradition: the legendary Tiffany's Cabaret Show, a world-class transvestite theater show and musical that's been entertaining audiences for nearly three decades. Tiffany's reputation as a must-see attraction has helped Pattaya City become the 'anything goes' place it's known as today.
Highlights
Enjoy a world-class cabaret show, the first transvestite cabaret show in South East Asia

Choice of several departures throughout the day

Includes hotel pickup and drop off

What You Can Expect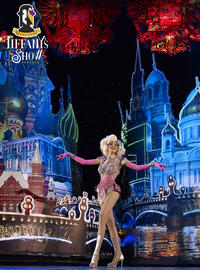 Millions of international visitors from every part of the world have experienced this spectacular performance and enjoyed the marvelous, talented and beautiful Tiffany's performers.
Tiffany's Show is a palace of decadence, spectacular elegance, and enjoyment not to be missed.
Come and experience the world-standard spectacular show by yourself!
March 2016
March 2015
a fantastic cabaret show, the show itself was amazing, and some great costumes, after the show there are photo opportunities with the cast, the hotel pick up and drop off was first class, driver picked me up on time and was waiting for me after the show
good clean fun for all the family, i would recommend this cabaret show while in pattaya

March 2014
Very diverse and lots of culture
January 2012
Incredibly nice show, perfect seat's position, nice pick-up service - Warm recommendations !
November 2010
just truly great the dresses and scenery where outstanding

Rachel H United Kingdom
May 2010
Good show - if you want to see one show do this one - wasnt impressed with others. Great photo ops afterwards with the "girls"
Syvia W United Kingdom
March 2009
Great fun, well organized.
Jennifer L USA
March 2009
This show was fantastic. I recommend this for the whole family. The music, costume, and cast were all fabulous. Being from Florida, we cruise a lot and this show was better than any cruise shows I have seen.

Haagse Harry. Nederland
March 2009
Tiffany and Pattaya - the best show in Thailand.
June 2016
Worth seeing... cannot be compared to Las Vegas shows though
Advertisement
Advertisement