Escape the urban landscapes and make your way to sandy shores on this Monkey Beach excursion including BBQ lunch from Penang. You'll enjoy a quick boat ride over calm and clear waters to an uninhabited Malaysian island for a day of sun, sand and ultimate relaxation. Choose to fish, trek through the jungle or just lounge on the beach before tucking into a delicious BBQ lunch cooked on the beach.
Recent Photos of This Tour
Monkey Beach Excursion including BBQ Lunch from Penang
What You Can Expect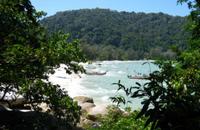 Your Monkey Beach excursion including BBQ lunch from Penang kicks off with hotel pick up, where you'll meet your friendly driver and make your way to crystal blue waters. Enjoy a 30-minute boat ride to an uninhabited island, where you'll find sandy beaches, coconut trees, monkeys and wildlife. Choose from fishing in the stunning blue waters, taking a jungle trek through the surrounding foothills, or simply relaxing with surf and sun before enjoying a savory BBQ cooked right on the beach! Your day ends with a return trip to your Penang hotel.
August 2011
We were picked up from the hotel and taken to the lobby of another hotel. We were then taken to the beach and dropped off without telling us what to do, except "wait for boat here". After 45mins of waiting i called the tour company and told them what had happened, at which point a boat appeared. We were the only 2(plus 2 yr old daughter) on the tour, and the tour guide (boat driver) was lovely. We spent 30 mins fishing and caught 5 fish. We then went to the beach and relaxed there while a BBQ was prepared for us. The food was plentiful and tasty. The tour took a total of 6 hours and was definitely worth it.
November 2010
def worth doing, very relaxing! not much to do except swim & laze around in hammock, some guys there also had jetski's which we took out for 15mins for around 100MYR for the 2 of us. boatman was friendly, huge yummy bbq lunch, a day well enjoyed. didn't see any monkeys tho!
Patsy R Australia
July 2010
Monkey beach was great as we were the only 2 on the boat. Was a great private tour. The fishing was great, we didnt have to bait or touch the fish, he did it all. The chef was great, he cooked a great bbq meal, just dont expect anything too flash and drinks are not included. He offered us drinks and then when we got off the boat he gave us a bill, lucky we had money with us. But overall would definitely do again
Esther T United Kingdom
July 2009
This was amazing, lovely people and great scenery. And the BBQ was brill.
Esther T United Kingdom
July 2009
This was really good. The fishing on the boat was fun, the barbecue was excellent, the tour guides were excellent and funny, and we saw loads of monkeys and fed them.
August 2008
This trip was so much fun. We had a great time fishing and Monkey Beach was lovely. Our guide was great, very friendly and fun.
December 2014
This was a great tour, we very much enjoyed fishing with the guide and his friends. It was a beautiful day and the views were breathtaking. We saw some sea eagles up close, sea otters, and then were dropped off at Monkey beach for a superb BBQ lunch, surrounded by the monkeys and a hungry monitor lizard. The food was great. We had a variety of food: prawns, satay, sausages, chops, chicken, and a simple salad, followed by fresh fruit. The weather was just right for a dip in the ocean (at the beach) too. Overall a very enjoyable day.

Jackie Australia
December 2013
Even though I had to call as we weren't picked up at alotted time all worked out well. We fished with hand lines for about an hour for going onto the beach. Monkey's are very friendly and the bbq lunch was excellent.
December 2013
The beach is dirty but aside from that it was a great experience getting the boat over. We stopped to fish which was rather exotic with eagles soaring down nearby! The lunch was nice and the monkeys were fun.
Davin C Australia
June 2010
Fishing off Monkey Beach was great as was the BBQ lunch provided on Monkey Beach itself. Got to feed the monkeys after lunch.
Advertisement
Advertisement