Kick back and relax before your flight with this access pass to the Airport Plaza Premium Lounge at Penang International Airport. No matter whether you're traveling near or far, this lounge offers the perfect combination of luxurious amenities. In addition to comfortable seating areas, you'll also have access to shower facilities, periodicals and magazines, complimentary buffet, drinks and high-speed Wi-Fi and global TV networks. Choose from one of three different time lengths to suit your needs.
Highlights
Plaza Premium Lounge at Penang International Airport
Relax in a lounge at the domestic or international departure terminal before your onward flight
Complimentary beverages include soft drinks, specialty coffee and tea.

Shower facilities, comfortable seating and international TV included
High-speed wireless internet, local calls and fax services available at four work stations
Choose a 3-, 6- or 12-hour pass
What You Can Expect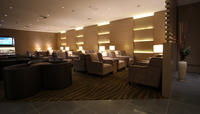 Travel through Penang International Airport in style with this Airport Plaza Premium Lounge pass offering three, six and 12-hour options in both the domestic and international terminals. This high-end lounge offers a wide range of amenities to keep you entertained and relaxed before your next flight.
Head to the lounge any time during its operating hours. T
he lounge in the international departure terminal is open from 5:30am – 11pm, while the domestic departure lounge is open from 7am – 11pm. Enter the lounge and grab a comfortable seat in the richly-appointed interior.
Whatever you might need before your flight is available in this high-end facility. Grab some hot food at the included buffet, or get a complimentary non-alcoholic drink (alcohol is available at your own expense). Then entertain yourself by watching a full range of global TV networks, reading a newspaper or magazine, or logging into the included high-speed wireless internet. The lounge's four workstations are at the ready if you need to get some work done. A full list of services and facilities is detailed below.
Advertisement
Advertisement