Explore three of Western Australia's renowned northern icons, the magical wild Dolphins of Monkey Mia, gorges of Kalbarri and mystical Pinnacles Desert on this three-day tour from Perth.
Highlights
Three-day tour of Monkey Mia Dolphins, Pinnacles Desert and Kalbarri National Park from Perth

Encounter wild dolphins at Monkey Mia

Visit the world heritage listed area of Shark bay - Shell Beach and see the stromatolites

Explore the red river gorges of the Kalbarri National Park

See the limestone pillar formations of the Pinnacles Desert

Two nights superior accommodation with private facilities

What You Can Expect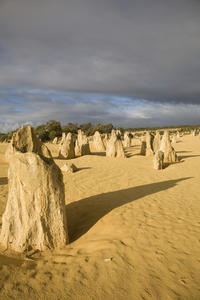 Encounter with the wild dolphins of Monkey Mia, see the incredible Shell Beach and the limestone pillars of the Pinnacles Desert and explore the red river gorges of the Kalbarri National Park on this 3-day tour from Perth.

Day 1: Depart Perth and journey north via the lobster fishing town of Port Denison, where you stop for lunch by the waters edge. Continue north across the Greenough Flats, known for the unusual 'leaning trees' there, then onto the World Heritage listed area of Shark Bay. Overnight at Garden Villa (Standard Rooms)

Day 2: Spend time at the waters edge this morning where you may encounter a visit by the famous Monkey Mia dolphins. As they are wild, dolphin appearances can't be guaranteed, but coming in at regular times through the day to interact with people has been a ritual for many years. The opportunity to join an optional cruise is also available this morning (at own expense).

This afternoon visit the town of Denham for lunch, then onto incredible Shell Beach and Stromatolites before travelling south to Kalbarri. Known for wildflowers (in season) and magnificent rocky landscapes, visit Hawks Head in Kalbarri National Park, one of the areas most spectacular red river gorges. Overnight at the Kalbarri Edge Resort (Standard Rooms)

Day 3: Enjoy sightseeing along the Kalbarri coastal gorges then travel south, breaking for lunch at the rock lobster fishing village of Cervantes. This town is the gateway to the Pinnacles Desert, an amazing moon-like landscape and truly one of Australia's most mystical experiences. Arrival back in Perth at approximately 7:00pm.
Day 1 - Meals (Lunch and Dinner)
Day 2 - Meals (Breakfast, Lunch and Dinner)
Day 3 - Meals (Breakfast and Lunch)
January 2016
Wonderful experience! Be advised though that it takes a lot of driving to get to Monkey Mia so if you have a problem with riding a bus for nearly 10 hours in a day don't do it!
Other than that, wonderful organization, great food, our guide Bob was wonderful, informative and kind.
Great accomodation too. A must-see if you want to see a lot in a little time!
October 2015
The first day was very long driving from Perth to Monkey Mia but worth every klm .A great tour our driver Grant was excellent and very helpful
December 2014
This is a great tour with lots to see and good accommodation and meals. We saw natures wonders that are truly memorable. The only suggestion I would make that could improve the tour is to rethink the schedule. The first day was taken up with travelling 850km seeing some amazing scenery flashing by, in some locations along the coast, but not visiting any of the highlights. We couldn't help thinking that we had not chosen well with the tour. However, the second and third day is crammed with the natural wonders of Western Australia. It would be better to re-route the tour so that travellers are seeing some of the tour highlights on the first day, rather than just sitting on a coach for hours, apart from the short rest breaks. The long driving day could then be on the third day when travellers could catch up on some sleep with out worrying that they might miss something.
May 2014
This was the best and most enjoyable tour I have ever taken, in Australia or overseas. The food, the accommodation and the company were great, the experience and the sights of WA were a memorable introduction to a part of WA we hadn't seen before. Our driver, Bob, made the trip, with his well-informed comments, his company, and the value-adding he provided. I would recommend this trip to anyone.
December 2013
Wonderful trip - lots of driving the first day. Might have been better to add a day and stay someplace in between. Accommodations were very comfortable, food quite good, companions very good, and guide/driver was fantastic!!! Never boring in his commentary, very knowledgeable - the best! Really recommend this trip!
February 2012
13/1/12 had a fantastic trip,driver excellent as was accommodation and food. Days are long but extremely interesting and informative.
Leandro S Brazil
July 2010
Everything was perfect.
Anonymous
October 2013
Amazing country on the way up and back to Perth. Such extremes in landscape, but be prepared for a very long first day drive. Plenty of short stops helped. Arrived after dark, ate very late that night as a result, then left at 10:30 am the next morning in Monkey Mia. A bit of free time in each location which for the most part was sufficient but at some stops would have been nice to have more time to walk a trail along the cliffs overlooking the ocean. All-in-all a good trip and so glad I did it.
Did recommend to the company to make this a 4-day trip with more time in Monkey Mia such as arriving in the afternoon with the morning departure the same.
No room-mate matching service so all singles pay the single supplement.
Advertisement
Advertisement