See Fremantle in style on board a vintage-style hop-on hop-off tram, and choose from three tour options. Enjoy the tram tour, add a scenic Swan River lunch cruise, or combine the hop-on hop-off tram tour with a guided tour of the World Heritage-listed Fremantle Prison.
Highlights
Choose from three hop-on hop-off tram tours in Fremantle
Explore the historic town of Fremantle and see all the major attractions and landmarks
Enjoy a buffet lunch on board the Swan River cruise (if option selected)

Choose between two Fremantle Prison tours, 'Doing Time' and 'Great Escapes' (if option selected)

Hop-on hop-off tour ticket valid for a full day -- hop on and off as many times as you like
Live commentary provided throughout the tours
What You Can Expect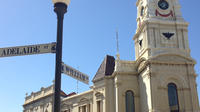 Your hop-on hop-off tram tour of Fremantle takes you from Fremantle Town Hall to the port, passing all the historic sites along the way. See Fremantle's famous market and prison, docks, heritage buildings and quaint streets, and hear the history of this lovely port town while you listen to the on-board commentary.
Add the Swan River lunch cruise to see the sights from the river while enjoying a buffet lunch featuring local prawns, hot and cold dishes and a glass of wine or beer.
Or, take the hop-on hop-off tour of Fremantle Tram Tour, and add a tour of the historic Fremantle Prison.
Choose from the 'Doing Time' or 'Great Escapes' tours to learn more about life behind bars in Fremantle Prison, today a World Heritage-listed site. The tours reveal the history of the historic jail, built in the 1850s and used right up until 1991. See the artworks left by convicts and prisoners, visit the chapel and cells, and hear about the daring bids for escape made over the decades.
Itinerary
Fremantle Tram Timetable:
September 1 to April 30
Town Hall: 9:45am, 10:45am, 10:50am, 12:15pm, 1:15pm, 2:05pm, 2:35pm, 3:15pm
Victoria Quay: 9:55am, 11:20am, 11:35am, 12:35pm, 1:35pm, 2:20pm, 2:45pm, 3:35pm
Fremantle Station: 10am, 11:25am, 11:40am, 12:40pm, 1:40pm, 2:25pm, 2:50pm, 3:40pm
Fremantle Prison: 10:10am, 11:35am, 1150am, 1:15pm, 1:50pm, 2:35pm, 3:05pm, 3:50pm
Esplanade Hotel: 10:30am, 12pm, 12:30pm, 1:40pm, 2:15pm, 2:55pm, 3:25pm, 4:10pm
Fishing Boat Harbour: 10:35pm, 12:05pm, 12:40pm, 1:45pm, 2:20pm, 3pm, 3:30pm, 4:15

May 1 to August 31
Town Hall: 9:45am, 10:45am, 12:30pm, 2:05pm, 3:10pm
Victoria Quay: 9:55am, 11:20am, 11:35am, 12:35pm, 1:35pm, 2:20pm, 2:45pm, 3:35pm
Fremantle Station: 10am, 11:25am, 12:45pm, 2:20pm
Fremantle Prison: 10:10am, 11:35am, 1:15pm, 2:25pm
Esplanade Hotel: 10:30am, 12:05pm, 1:40pm, 2:15pm
Fishing Boat Harbour: 10:35pm, 12:15pm, 1:45pm, 2:55pm
Leslie C Australia
September 2015
very happy with this tour and the driver was great and very informative
April 2014
I waited for almost an hour for the trolley to come which was because the alternate one had broken down. The commentary was ok but there are little stops. You have to start the tour early as it finishes in the afternoon and I found I had not got through it all. Next time I would use the free cat buses
Advertisement
Advertisement