Explore Perth on a hop-on hop-off tour, with commentary provided as you travel by double-decker bus to Perth's most famous attractions, including Kings Park and the Botanic Gardens, Swan River, The Bell Tower, and The Art Gallery of Western Australia. See more with several other options that include: a round-trip boat cruise on Swan River to Fremantle, a hop-on hop-off tram tour in Fremantle, entrance to the Fremantle Prison, and lunch at the Fremantle Fishing Boat Harbour.
Highlights
Choose from a 24- or 48-hour hop-on hop-off bus tour of Perth and Kings Park
Explore Perth at your own pace and see all the major attractions and landmarks
Enjoy a Swan River boat cruise and a Fremantle hop-on hop-off tram tour with the Triple Pass upgrade

Receive entry to the Fremantle Prison and lunch at Fishing Boat Harbour in addition to all of the other tours with the Deluxe Pass upgrade

Learn about the Perth's rich history and modern vibe from informative commentary provided on all tours

What You Can Expect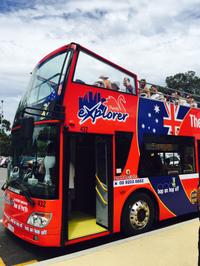 You'll board the double-decker Hop-On Hop-Off bus at any of its 11 stops and start your tour of Western Australia's bustling capital. The recorded commentary will provide insightful information on the sights you pass as you go along.

Highlights include the Victorian Gothic architecture of Perth's Town Hall, Australia's only convict-built capital city town hall. Nearby you'll find the shopping malls on Hay and Murray streets. Continue on for a glimpse of Australia's cultural riches at the Perth Cultural Centre, the Museum of Western Australia, the Art Gallery and the Heath Ledger Theatre – named after the late actor who was from Perth.

Be sure to save time for a visit to Kings Park, where you get excellent views of the Perth skyline and Swan River. The enormous park is one of Perth's jewels, with picnic areas, walking trails, and an impressive botanic garden. More than 3,000 species of indigenous plants, including many of Western Australia's famous wildflowers, are growing in the extensive Kings Park and Botanic Gardens.

The complete hop-on hop-off circuit takes about two hours to complete, and you can get off the bus at any of the stops to explore in depth. You'll have a minimum of 24 hours on your ticket, and your ticket gives you discounts at many of Perth's top attractions. See Itinerary below for more details on the passes you can choose from.
Itinerary
24-hour Hop-On Hop-Off Ticket
The 24-hour hop-on hop-off tour gives you a full day and night to explore the sights from the hop-on hop-off bus.

48-hour Hop-On Hop-Off Ticket
The 48-hour hop-on hop-off tour gives you two days to explore the sights from the hop-on hop-off bus.

Triple Pass
The Triple Pass includes the 48-hour Hop-On Hop-Off ticket. A boat cruise on the Swan River to Fremantle and a Fremantle Hop-On Hop-Off Tram Tour with full commentary are also included. This flexible option can be completed all in one day, or enjoyed over two to three days, depending on your itinerary.

To complete the tour in one day, you'll catch the 9.15am hop-on hop-off bus at Barrack Street Jetty and tour Perth and Kings Park. Afterward, board the 11:30am boat cruise on the Swan River from Barrack Street Jetty to Fremantle. Fremantle trams will meet you at the cruise dock and take you around this lovely and laid-back port town, passing historic sites including Fremantle's famous market and prison, docks, heritage buildings and quaint streets. You get to hop on and off at your leisure.

After enjoying time in Fremantle, you'll return to the dock at 3:45pm to catch your boat back to Perth. If you have more than one day, you can explore Perth and take the Swan River boat cruise to Fremantle another day (please note: it does not need to be on consecutive days).

Deluxe Pass
The Deluxe Pass includes all of the above plus entrance to the historic Fremantle Prison and lunch at Fremantle's scenic and lively Fishing Boat Harbour. The UNESCO World Heritage-listed Fremantle Prison was built in the 1850s by convict laborers and was in use up until 1991. It's a must-see attraction in Fremantle. When you're ready for a break, head to the Fishing Boat Harbour for your included fish & chips lunch and relax while enjoying the charming atmosphere of the harbor. If you like fish & chips, you'll be in the right place!
February 2016
Very useful way of getting around and seeing main attractions
December 2015
We did the swan valley and bus trip, due to flight delay we missed the boat we'd booked on but the staff were really helpful and got us on the next one and contacted the bus for us so it all ran smoothly, well worth doing both trips made even better by lovely staff
December 2015
all the drivers were very personable and chatted with the riders. The buses were clean and on time.
October 2015
Smooth journey and friendly driver.

September 2015
Thoroughly enjoyed playing tourist in my home city. What a pity about Barrack Street Jetty being such an upheaval, though.The works are said to be finished in a few weeks - I bought 2 hats to eat Can I suggest more talk of historical buildings within the city? The talk of local fame included only 1 woman......could we include Professors Neville and Fiona Stanley to your commentory please? They have acheived much!!!!! Kings Park in full bloom....magnificent. Could you extend your tour to South Perth as much Aboriginal Hx there? All in all a good tour with room for more. Big thanks to our tour guide...he tried to take us home with him. Thanks so much for a very professional local service and well done Perth.
July 2015
The deluxe pass is the way to go which includes the cruise with Captain Cook Cruises return to Fremantle, The hop on- hop off tram in Fremantle, the Prison tour, fish'n'chips for lunch and then the next two days you can use the Hop on-Hop off bus in Perth city. A great way to explore two locations with hassles.
June 2015
Perth hop on/off was excellent , bar one incident where the driver took a shortcut and missed the scheduled stop where we were waiting. This cost us a valuable hour off site seeing.. We reported it to the next driver. Freemantle hop on/off was superb due to the friendly and outgoing nature of Ross our driver host, a mine of information. certainly the nature of the tram versus the double decker bus made the trip more intimate and the vehicle was quieter allowing more interface with the driver..
June 2015
Was a good way to get around Perth. The river cruise and old prison was the best part.
April 2015
Had a great time. The staff was extremely friendly informative and fun. We highly recommend this tour.
April 2015
Timing was perfect to be able to the bus and boat in one day! Loved it
Advertisement
Advertisement