See the sights of Fremantle on a hop-on hop-off tram tour when your cruise ship docks in port, with a choice of two shore excursion options. Take the tram tour or combine the hop-on hop-off tram tour with a Swan River lunch cruise.
Highlights
Choice of two Fremantle hop-on hop-off tram tours
Explore Fremantle's attractions and landmarks by tram
Enjoy a buffet lunch on board the Swan River cruise
Hop-on hop-off tour ticket valid for a full day -- hop on and off as many times as you like
Live commentary provided throughout the tours
What You Can Expect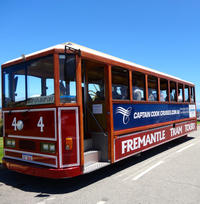 While your cruise ship is docked in Fremantle, see the port's famous heritage buildings on a hop-on hop-off tram tour. Traveling from the port, your hop-on hop-off tram tour includes an on-board commentary and passes all the sites of interest including Fremantle's town hall, market, prison, docks and quaint streets.
Add a lunch cruise to sail along the Swan River, and enjoy a buffet lunch of local prawns, hot and cold dishes, served with a glass of wine or beer.

This excursion is located within a 20-minute walk to the cruise port, so you determine the time you return to your ship in Fremantle. Please allow yourself ample time to enjoy the excursion and ensure your timely return to the port. This excursion is not covered by our worry-free policy.

Itinerary
Fremantle Tram Timetable:
September 1 to April 30
Town Hall: 9:45am, 10:45am, 10:50am, 12:15pm, 1:15pm, 2:05pm, 2:35pm, 3:15pm
Victoria Quay: 9:55am, 11:20am, 11:35am, 12:35pm, 1:35pm, 2:20pm, 2:45pm, 3:35pm
Fremantle Station: 10am, 11:25am, 11:40am, 12:40pm, 1:40pm, 2:25pm, 2:50pm, 3:40pm
Fremantle Prison: 10:10am, 11:35am, 1150am, 1:15pm, 1:50pm, 2:35pm, 3:05pm, 3:50pm
Esplanade Hotel: 10:30am, 12pm, 12:30pm, 1:40pm, 2:15pm, 2:55pm, 3:25pm, 4:10pm
Fishing Boat Harbour: 10:35pm, 12:05pm, 12:40pm, 1:45pm, 2:20pm, 3pm, 3:30pm, 4:15

May 1 to August 31
Town Hall: 9:45am, 10:45am, 12:30pm, 2:05pm, 3:10pm
Victoria Quay: 9:55am, 11:20am, 11:35am, 12:35pm, 1:35pm, 2:20pm, 2:45pm, 3:35pm
Fremantle Station: 10am, 11:25am, 12:45pm, 2:20pm
Fremantle Prison: 10:10am, 11:35am, 1:15pm, 2:25pm
Esplanade Hotel: 10:30am, 12:05pm, 1:40pm, 2:15pm
Fishing Boat Harbour: 10:35pm, 12:15pm, 1:45pm, 2:55pm
Advertisement
Advertisement