Take a day trip to Rottnest Island, a popular Perth getaway due to its white-sand beaches, secluded bays, scenic bike paths and vehicle-free atmosphere. Travel to the island, just off the coast, by high-speed ferry, and then explore at your leisure with included bike rental. You have the option to go snorkeling, if you wish, or include lunch at the Rottnest Lodge. When booking, select the option that corresponds to your departure location—either Perth or Fremantle.
Highlights
Day trip to Rottnest Island from Perth or Fremantle

Depart from Perth and cruise down the Swan River, past local landmarks and Millionaire's Row
Bike around the island and discover secluded beaches
Snorkel in the pristine bays (equipment included if option selected)
Enjoy lunch at Rottnest Lodge (if option selected)
Recent Photos of This Tour
Rottnest Island Bike and Snorkel Tour from Perth or Fremantle
What You Can Expect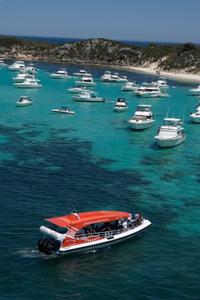 If you're departing from Perth, your Rottnest Island day trip starts with the ferry ride along the Swan River, which takes you past luxurious homes and yacht clubs on the water. When you arrive in Fremantle, pick up more passengers; if you select the Fremantle option when booking, you'll board the ferry here. Then speed across the Indian Ocean to reach the island.

Known to locals as Rotto, the island is beloved for its tranquil, relaxing environment, due largely to its no-cars-allowed policy. Explore the island independently with your included bike rental; hop on and take off along the scenic roads, checking out viewpoints, remote white-sand beaches and turquoise bays dotted with yachts. When you stop for breaks, make sure to keep your eyes open for quokkas, the local marsupials who call the island home.

Depending on option selected when booking, you can go snorkeling off the beach with your provided equipment or visit Rottnest Lodge for lunch. When your time on Rottnest is up, board the ferry for the return cruise to Fremantle or Perth.
April 2016
Reliable pick-up and bike rental. There is no tour guide, but this is okay since the island is small and easy to navigate
February 2016
It was a slick operation. Everything was on time. The only problem was it would have been nice when you book on Viator you got a boarding pass on to the boat. When we got there we had to line up in a huge line to show them our documents to get tickets to boarding the boat.
A lot of stress with everyone hurrying as the boat was loading.
November 2015
The 25 naut winds made it too hard for me to bicycle the island, but that had nothing to do with the tour. They left promptly and were easy to reach. The bicycles worked fine. I loved the daring small museum which did a good job of evoking the sad aboriginal convict history of the island. And then to negate that sad affect, the jubilant leavers who had just finished their exams were having a merry time in the small cottages for let.
Paul R Australia
September 2015
Thoroughly recommend this tour with the bike hireand snorkel weather/season permitting. Peaceful, tranquil, able to tour the island at your own leisure, either make a picnic, or eat at one of the establishments there. Great scenery, wildlife, and a nice peaceful tranquility. Bicycle riding suits all levels. Tour guide on express boat down very knowledgeable too. Good value for money
April 2015
March 2015
Had an awesome day started with our ferry ride down the swan river saw some absolutely amazing wealth with the size and position of some of the houses then onto Fremantle which is a amazing port .then of to Rottnest lunch bike riding and snorkeling all in our pre played tour thank you so much David
December 2013
A fantastic day out and tour! I loved the island and wish I could stay longer. The cycling was great, however we didn't really take advantage of the snorkelling gear.
We were a group three girls in our late 20's / early 30's with average fitness levels (maybe slightly lower)
The weather conditions were perfect for cycling. We started off the day with cycling the coast to Cape of York and stopping for a break before heading back using the Defence road, then Digby Drive passing through the lakes.
We had lunch at the Rottnest Lodge. We had a pleasant surprise to find that lunch was included in the tour price as we didn't realise this before boarding the boat. Brilliant added bonus.
Lunch was very nice. It was a small buffet that was fairly busy which meant that the food was constantly fresh.
The staff were excellent. One waiter bought beef to our table so we didn't have to wait for it and a waitress took us to an area in the lodge were it was guaranteed to find quokkas as we hadn't seen them yet.
In the afternoon we cycled to Parker point. This seemed a bit more strenuous which could be because it seemed a little hillier or because we had heaps to eat at lunch.
On the way back we stopped for a quick drink at Hotel Rottnest, which had an awesome outside area that overlooks the water.
The process of collecting and returning the bikes and snorkelling gear was too easy.
Most of the bikes seemed rusty, which isn't really a surprise considering the amount they get sprayed with salt water of the ferry. My bike made a slight squeaking noise as I cycled, but wasn't too bad. A lot of the bikes didn't locked, but by the end of the day no one was locking them anyway.
I loved Rottnest and I would like to stay longer on the island. Definitely worth a visit!
I thought that this tour was a very well organised way to get there.

November 2013
Very good trip and thoroughly enjoyed it. I picked up the ferry from Perth City - do be warned its a long trip to Rottnest from there, we were on the boat at 8.30 and it was gone 11 by the time we got to Rottnest, so do be prepared to spend a long time travelling if you pick the boat up from the city. The alternative is to get the boat at Fremantle. Lovely cycle round the island, although my 70 year old mother found the hills hard! The beaches were beautiful and the quokkas were seriously cute. A really good day out.

August 2013
Rottnest Island is amazing! Due to high tides, we bused from central Perth to Freemantle where we boarded the express boat. The boat ride was uneventful and comfortable. Bicycles were ready on the pier and I quickly embarked on a lovely tour of the island. I believe it's about 18km around and is generally fairly flat. I made a point of stopping at every lookout and point of interest. The day was beautiful, the water was crystal clear and every beach was amazing. The entire ride took approximately3 hours at a very leisurely pace.

Eleanor D Australia
May 2012
Had the best day. Got my husband to ride a bike for the first time in years. Sat in the pub and had lovely food and beer. Perfect spot
Advertisement
Advertisement