Discover the delights of Swan Valley's Food and Wine Trail on this tour from Perth. You have your choice of a morning tour, which features mostly sweet treats, and the afternoon tour that takes in more savory items. As you travel through the scenic wine region, stop at local wineries, breweries, chocolate shops, cafes and more for more than 25 tastings of everything from honey to coffee to cheese to, of course, wine. This small-group tour is limited to 16 people to provide a more personalized experience.
Highlights
Small-group Swan Valley food and wine tour from Perth
Indulge your taste buds with more than 25 different tastings
Meet the growers and see the processing behind your favorite food labels
Taste award-winning wines and sample fresh produce directly from the growers

Choice of a morning or afternoon itinerary

Small-group tour limited to 16 people ensures a more personalized experience
What You Can Expect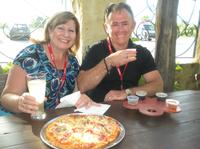 Your culinary tour from Perth starts as you board your coach for the drive northeast of the city into Swan Valley wine region. Visit 10 local shops and operations in the valley, such as Windy Creek Estate and Twin Hill Wines, Mago Coffee, Margaret River Chocolate Company and Windarra Honey.

You have your choice of a morning 'sweet' tour or an afternoon 'savory' tour. See the Itinerary for full details on each tour and a list of possible stops.
Itinerary
Morning tour: Sweet Treats
Start your morning off by tasting exotic coffee blends from around the world at Yahava Koffee Works. Sample chocolate-coated coffee beans and take a behind-the-scenes look at the coffee-roasting process. Visit the Windarra Honey where you can chat with the bee keepers and sample this season's finest.
Discover unique indigenous history with a visit to the Aboriginal Gallery to sample authentic Australian bush tucker jams, sauces and chutneys made from native Australian food plants.
Visit Oggie's Ice-cream Cafe and English Sweet Shop to taste a range of delicious ice-cream flavors. Wash everything down with a visit to Windy Creek Estate. Here, sample award-winning premium and fortified wines accompanied by West Australian cheeses and a range of homemade jams and chutneys.
Stop at Mondo Nougat for treats and a behind-the-scenes view of production. Step next door to visit Morish Nuts to enjoy unlimited tasting of roasted brittle and infused nuts including macadamias (chilli, wasabi, truffle and abalone to name a few)
Finish off with a visit to Whistlers Chocolate—WA's oldest confectionery company.
On Saturday and Sunday, the tour will visit Edgecombe Bros to sample fresh seasonal produce including asparagus straight from the patch, grapes from the vine and renowned fortified wines.
The mid-week morning tours will visit Cape Lavender to enjoy scones with jam and cream, accompanied by refreshing lavender tea and unique lavender wine! Visit Mago Coffee and explore the region's largest flavored coffees, Western Australian extra virgin olive oils, dukkahs and freshly dried roasted nuts.
Afternoon tour: Savory Delights
Start your afternoon tour by tasting exotic coffee blends at Yahava Koffee Works. Sample chocolate-coated coffee beans, and take a behind-the-scenes look at the coffee-roasting process. Enjoy a chocolate fix at the Margaret River Chocolate Company and Providore Pavilion for handcrafted jams, chutneys, liqueur sauces and many more savory delights.
Next, visit Cape Lavender to enjoy scones with jam and cream accompanied by refreshing lavender tea and unique lavender wine! Then give your palate a bit of a kick with a savory experience at Mago Coffee.
Visit the House of Honey and chat with the bee keepers sample this season's finest. Then, visit the third generation operated Twin Hill Wines to taste local handcrafted gourmet cheeses, marinated olives, premium wines.
Explore healing herbal teas at Valley Tea before ending your tour with an icy cold beer, alcoholic or non-alcoholic ginger beer or cider at internationally multi-award-winning Ironbark Brewery. Enjoy your drinks and try one the brewery's famous wood-fired pizzas (own expense).
Itinerary is subject to change; some of the places you may visit include:
Yahava Koffee Works
Cape Lavender
Windarra Honey and the House of Honey
Valley Tea at Swan Valley Vegetarian Cafe
Maalinup Aboriginal Gallery
Windy Creek Estate and Twin Hill Wines
Ironbark Brewery
Margaret River Chocolate Company
Oggies' Ice-Cream Cafe and English Sweet Shop
Mondo Nougat and Chocolate Factory
Morish Nuts
Mago Coffee
Whistlers Chocolate
September 2015
Very friendly and knowledgeable tour guide/Loris/ Lots of important and interesting facts about Swan river, the valley Great venues,yummy tastings.probably another winery would be a good adding to the tour!!!
THERESA G Australia
May 2014
Terrific Host. Small groups, personal tours. Perfect way to spend Sunday afternoon and see the Swan Valley. Honey, chocolate, wine, coffee, lavendar scones and beer tasings all in one afternoon. Last stop at Iron Bark brewery with wood-fired pizza and beer tastings in a great beer garden. Perfect.
April 2014
Host was lovely and friendly. Many places were discovered in the time. I thought there could have been more tastings at a couple of places.
Carol R United Kingdom
January 2013
this was an excellant tour, lots of lovely tasters from very small outlets, good variety, I even bought 12 bottles of excellant wine. I would reccomend it to anyone, I did the morning sweet tour, and next time I will try the afternoon one.
August 2015
Novel way to experience a wide variety of Swan Valley attractions. Thoroughly enjoyed our time with Lorus.
March 2015
November 2012
We did the morning tour and it was most enjoyable. Small group numbers make for a more personalized experience and you don't need to fight your way thorugh the crowds for a tasting. Most of the tastings were generous and most places we visited were informative and gave a perfect insight into what the Swan Valley is about. Only irk (through no fault of the tour operator) was the fact that people had to be reminded not to double dip. In this day and age surely we should be informed enough to know that this is not the done thing. - unfortuantely though there were still people doing exactly this. All in all a great morning out will look forward to doing the afternoon tour when we return to Perth.
October 2012
Loris was a great guide! she explains everything you needa know about swan river and was especially patient towards elderly who took longer to get on and off the bus. It could be better if we are able to stay longer at each stop as there were some stops that I feel rushed and did not have ample time.
October 2015
My friend and I were greatly disappointed. The trip never was called off due to insufficient participants.
September 2015
1st- the samples were very small, not enough to satisfy any type of hunger
2nd- this is essentially a shopping trip, a lady drops you off at various shops to encourage you to spend more money
3rd- Overpriced, not worth it! You can drive to swan valley yourself and go to all the places and have the same experience, the places are very close in distance - and there was little to know special treatment for being with the tour except for coffee and wine, all customers of these shops get the same samples.
4th-The weather put a damper on events of the day , it was wet, cold, and rainy and a few of the stops were outdoor.
On a high note, The Tour guide was very nice thats why i gave it 1 star
Advertisement
Advertisement