Take a 2-hour whale-watching cruise from Hillarys Boat Harbour, just north of Perth, for a chance to get out on the Indian Ocean and look for humpback whales during their yearly migration along the coast of Western Australia. When booking, you have the option to enhance your experience at Hillarys with admission to the Aquarium of Western Australia. Or, select the option that includes round-trip transport from Perth, which provides free time at Hillarys to enjoy family-friendly attractions on your own, such as restaurants, shops, bars, a beach and waterslides.
Highlights
Hillarys Boat Harbour whale-watching cruise

Look for wildlife like humpback whales and dolphins on a 2-hour boat ride on the Indian Ocean
Upgrade to include entrance to the Aquarium of Western Australia
Enjoy round-trip transport from Perth with driver commentary, if option selected

Depending on option selected, enjoy free time at Hillarys to check out its many attractions, including eateries, shopping, playground and waterslides

What You Can Expect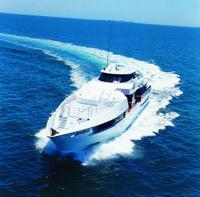 Depending on the option selected when booking, your Hillarys experience starts with pickup in Perth for the 15-mile (25-km) drive north of the city to Hillarys Boat Harbour, which boasts a prime location on the Indian Ocean. If you do not select the transport option, you must make your own way to and from Hillarys.

When you arrive at this popular family destination, enjoy its array of family-friendly attractions during free time before your whale-watching cruise departs. There are many ways to keep yourself and your kids entertained, from open-air restaurants to shopping, waterslides, a beach, playground and much more (all food and activities are at your own expense).

By 11:45am, you must head to the south side of Hillarys to catch your whale-spotting tour, which coincides with the annual whale migration along the coast of Western Australia. Set off across the ocean, keeping your eyes peeled for humpback whales and other marine life like dolphins. Your cruise returns to Hillarys around 2:15pm, when you are again free to enjoy more of Hillarys independently until return transport to Perth in the early evening (if option selected).

If you select the Aquarium of Western Australia option when booking, head inside this impressive aquarium and marine center to see exhibits that feature coral reef, jellyfish, stingrays, turtles, seadragons, sharks and more.
January 2014
unfortunately not enough whales in the area. the crew did try and track think was 3 pods but being a under water mammals can not judge what is going to happen. the crew were friendly and informative. but would do again
November 2013
Hilary's boat harbour was pretty, the shops and restaurants were lovely to browse around. The aquarium was beautiful and well worth a visit. The boat trip to see the whales was nice and the crew were very helpful. We did sight a few whales briefly and saw them in the distance,it was a shame we didn't see them close up.I think if you just did the whale watching it would have been a disappointing day trip. The fact that there were other things to see and do at Hilary's made it a lovely day trip.
November 2015
It was great, manage to watch the whales but it wasn't so near, that was the only disappointment. However, it was still a great experience.
October 2014
November 2013
We really enjoyed Hillarys Boat Harbour, it was a beautiful day, but the whale watching was a little disappointing. We were not allowed on deck until we reached the whale watching area. We were blocked into our seats when we were allowed and it took some time to get out, meanwhile all the prime watching spots were taken and of course they (watchers) didn't move the whole time. We didn't see a thing as we were not tall enough to see over their heads. We were disappointed for our interstate visitors. Luckily we enjoyed the rest of the day enjoying each others company.
September 2015
Some whale sightings but very far away. Just luck of the draw on the day I suppose. The narration over the loud speaker, however, could have been much louder and clearer, couldn't hear most of it. Boat excellent.
Ard Belgium
December 2013
Unfortunately we did not see any whales. Seemed to be late in the season
November 2013
Being Sunday there was a large crowd with lots of kids, and being short I could not see very well through the ranks of people who ran over as soon as the sighting was announced. I waved my camera about to see if I could capture a shot of the whales way in the distance, I thought we would run into more pods but we didn't so I felt seasick for little or no reason... but I know it is unpredictable.
October 2013
"Complimentary pick up from Hotel" was from their choice of hotel, not where you were actually staying. Trying to organise the pick up turned into a nightmare and confirming the arrangements had to be done via e-mail as you could never get on to them via phone. We didn't see many whales at all (not their fault - I know) making it a disappointing tour. It was strongly suggested we use our Aquarium tickets prior to the Whale Watching tour, which is what we did, so that when we arrived back at Hillary's Harbour, we had nothing to do for the 3 hours they expected us to wait for another "complimentary drop back to the hotel". There was nothing in this description to explain that a water park was nearby and that we could spend some time there, which would have been good as my children would have brought their swimmers then. We ended up making our own way back to the City, rather than wasting more time waiting on this tour operator. Very poorly managed day tour and would not have wasted my money if I'd known what the day was going to be like. Wouldn't waste my money with this lot ever again.
Advertisement
Advertisement