Explore Creole Rock on this half-day snorkeling excursion aboard a catamaran from St Martin. Float on the tranquil waters among vibrant displays of coral and schools of tropical fish, and keep an eye out for the rare frogfish. Sip complimentary beverages and snack on French baguettes and cheese provided by your professional crew.
Highlights
Half day trip to Sand Dollar from St. Martin
Sightseeing, snorkeling and swimming
Creole Rock
Diverse marine life including the rare frogfish
Snacks, refreshments and beer
Port fees included for quick and easy access to the catamaran on travel day
What You Can Expect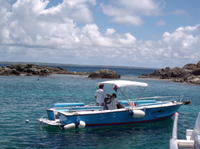 Make your way to Grand Case and board your catamaran with Captain Alex at the helm. Be sure to bring along a towel and swim suit, as well as sunscreen and a hat to protect you from the hot St Maarten sun while snorkeling.
Trips start with the boat gliding out of the lagoon. Find a space on the deck and relax, grab a cold soda, a beer or some French cheese on a crusty baguette. View the picturesque coastline as you sail out towards Creole Rock, about a mile offshore.
Creole Rock is an unusual rock formation with a reef extending out towards the shore, whose calm, shallow waters make for excellent snorkeling and diving. When Captain Alex moors the boat, slip on your provided snorkel, fins and mask and jump in. Feel free to ask the captain and crew any questions about the surrounding environment or get a few pointers on snorkeling.
View the surrounding rock formations as tropical reef fish dart in and out of their hiding places. Be on the lookout for barracuda, pufferfish and the rare frogfish.
Non-swimmers are always welcome to take the scenic boat ride with beautiful views of neighboring Anguilla. Divers are also welcome to join this excursion, but must bring their own equipment.
After approximately 3 hours, Captain Alex will return you safely to shore at Grand Case.
February 2013
Awesome snorkeling trip. Highly recommend this to everyone.
December 2012
This was my first snorkeling trip and it was great! Junior our captain was very helpful. And the view was amazing!
November 2012
This was a terrific snorkel trip. I would recommend to anyone.
February 2012
Wonderful snorkeling trip.. Our captain was courteous and helpful and we enjoyed the day tremendously. We'd recommend it to anyone.
Victoria V USA
January 2010
The tour was great! The tour guide was so informative and made everyone feel welcome on the boat.
Annette M USA
December 2009
I snorkeled many times in St. Maarten. This location provided the calmest waters for the entire trip. Unfortunately it was also the most crowded. They had been hit with a hurricane about a month before so there were not as many fish as normal but there was still plenty to see. Reef squid were my personal highlight.
Elaine V USA
August 2008
I have done this trip many times and the guides never disappoint. Great boat, good company, and very well run. Just perfect for the beginner or advanced snorkeler.
Tony C USA
August 2008
The trip was fantastic. The snorkeling was great, a little rough, but some of the better snorkeling we did the entire week. The captain of the boat was great. He was like a tour guide. An unforgettable trip that we will definitely take next year.
James B USA
January 2007
This adventure was a great deal of fun. Our two kids 9 and 10 years old snorkeled for the first time and loved it!
June 2015
super trip...Roy a super boat captain.....good snorkling
Advertisement
Advertisement