Slice through the waters of the Caribbean aboard a multi-million dollar race boat on this 3-hour excursion from St Maarten. If you've ever wanted to compete in a sailing race, this is your chance to board one of the Caribbean's fastest boats and be part of the crew. Get pre-race training, a sailing history lesson and a spot on the crew, then zoom through the aqua waters with sea spray in your face. Enjoy complimentary refreshments onboard and a commemorative shirt upon return to shore.
Highlights
Sailing adventure on a professional race boat
Crew training, position and shirt
Complimentary water, soda and beer on board
Fruit / rum punch
Recent Photos of This Tour
St. Maarten 12 Metre Challenge
What You Can Expect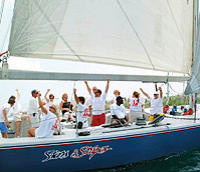 Make your way to Bobby's Marina in Philipsburg to meet your racing instructors. Make sure to wear soft-soled shoes appropriate for climbing around on board a million-dollar yacht.
Upon arrival, undergo sailing instruction and a safety orientation before getting your crew assignment; y
ou could be grinding a winch, punching a stop watch or trimming a sail as you slice through the aqua Caribbean waters. If you're more of an observant type, just find a spot on board to relax and enjoy the complimentary refreshments.
Climb on board one of the yachts: you may sail on the 'True North IV', the 'Canada II', the 'True North I' or the 'Stars and Stripes', all of which have been contenders in the America's Cup in the past. Learn about the history of yacht racing from your guides, which dates back to the 19th century.
After your sail, return to the shore and get your commemorative shirt.
Please note:
Minimum age for this excursion is 12 years old. However, children aged 7-11 are allowed with parental permission. All tours are subject to change due to weather conditions.

March 2016
Very exhilarating! The people who opted out of sailing the boat got quite wet at the front. The ones at the back held on for dear life when the boat keeled over, so far that the water wet them up to their waists. The ones doing the work looked exhausted and had trouble staying in place with the boat keeled over so far.The crew rotated them to other positions when they began to look worn out. I would do it again. You need to keep in mind that this is a race. If you want a relaxing tour, take a catamaran trip.

March 2015
The staff and crew were amazing and we had great weather conditions to really get the true racing experience. We would go again in a heartbeat!
January 2015
Awesome experience. This was our second time sailing with the 12 meter challenge. We highly recommend this tour and will do it again the next time we are in St. Maarten. The staff and crew were very friendly.
August 2014
Trip was great. Weather was perfect and the beaches and water were to die for. Best tours were the 12 meter yacht challenge (we won) and an all day snorkel tour with Billy Bones boat (our captain was Belage and he was the best - I highly recommend this tour as you get to see two sites, one with sea turtles, and another with a coral reef - also we had the best lunch ever). Finally, the absolute best place to eat on the island, based on location (right on the water), quality of food, service, and price is Cherterfields.
July 2014
This is a must do for anyone going to St Maarten. You actually learn something and enjoy the thrill of the competition. You will want to do this again and again. The crew is great.
June 2014
Experience of a lifetime to be on the actual 12M yachts! Staff/crew very nice. Easy location whether coming from cruise ship or driving in from resort.
June 2014
Great experience and highly recommend. I remember watching these boats race in the 80's wishing I was on one of them. We sail little Sunfish and Zuma boats so it was fun being on a 12m racing yacht. We won our race by about a boat length, and I can assure you that on the last leg our captian was seriously wanting to win. I plan on doing it again if I ever get back to St. Maarten.
April 2014
This adventure is well worth your time and the expense is very reasonable. For someone who knows very little about sailiing it was also a learning experience. This is a very rare opportunity to sail on an authentic, historic vessel and also learn something about sailing whether you elect to remain passive or participate as one of the actively involved crewman. I highly recommend including this activity in your itinerary for both adults and young children. M. Curry, Missouri
July 2013
Great experience! The entire crew had a responsibility, I was the wich wench...so much fun!! Then after the race, they pass out cold sodas and cold brews to enjoy on the sail back to the dock.

JennyC United States of ...
May 2012
This was too much fun! I was nervous about having to work, but at the end of it, I was so glad that I did! The job assigned to me was a 'Winch Wench' and I was told exactly where to sit and what to do and I'd like to think I performed and didn't let my crew on the Canada II down! Although we lost to Stars & Stripes, it was only by a second or two. The crew were very helpful and made this a truly fun experience for everyone...
Advertisement
Advertisement