15 Reviews
Location:

Phillip Island, Australia

Duration:

1.5 - 2.5 hours
Want the best penguin viewing opportunities in Australia? Take the Penguin Eco Tour for a premium penguin experience that offers a personalized, intimate wildlife experience. Or choose the Underground Viewing option to enjoy the closest possible viewing of the Penguin Parade at eye-level.

Highlights
View the cute little penguins from a secluded beach or from the skybox stand, both options offering an intimate experience
You won't miss a thing as the tours also include the use of binoculars
Small group tour maximum 10 people
Visit to Nobbies Conservation Centre
What You Can Expect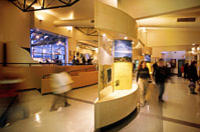 ULTIMATE PENGUIN ECO TOUR: Designed to cater for up to 10 people only, this fully accredited eco tour takes visitors to a stunning, secluded beach to view the little penguins waddling ashore to their sand dune burrows. The beach is in a completely different location to the standard Penguin Parade. This tour is the premium penguin experience on offer and ideal for those seeking a more personalized, intimate wildlife experience. As the sun sets and the light fades, participants can use night vision technology to view the penguins. Rangers provide an informative commentary which visitors listen to through personal headphones.

SKYBOX EXPERIENCE : Enjoy the Penguin Parade (the world's smallest penguins in their natural habitat) from the comfort of an exclusive, elevated viewing tower. Located at the main viewing stands at the Penguin Parade, this option allows for 10 people each evening to have 'pole position' for penguin viewing. Warm and dry, you will enjoy an excellent overview of Summerland Beach and the penguin burrows. Interact with the ranger and take part in the penguin count to assist in the ongoing research of the Phillip Island penguins! The Skybox Experience also includes canapes and non-alcoholic beverages.
UNDERGROUND VIEWING: Enjoy the Penguin Parade with a bird's-eye view as you view the world's smallest penguins in their natural habitat in the world-first underground facility. Designed to cater for up to 70 people only, enjoy the Penguin Parade at eye-level and the closest possible viewing point undercover through the glass with expert commentary from a local ranger. You will also have access to the new Penguins Plus viewing platform, the new platform mirrors the coves of Phillip Island's spectacular southern coastline and offers visitors unprecedented, up-close viewing of the little penguins as they make their way along the most popular penguin pathway at the Penguin Parade.
Before your tour, check out the Nobbies Centre, Phillip Island's newest eco-tourism attraction. This free world class marine attraction provides the chance to discover the wonders of the Australian marine environment through educational displays, conservation presentations and optional ranger guided tours. Fully interactive cameras at Seal Rocks (2km off shore) allow visitors to zoom in, catch a glimpse and take your very own photos of the Australian Fur Seals.
Itinerary
Why can we not take photos of the Penguins?
Phillip Island Nature Park understands the disappointment of not being able to use your camera but hope you have an enjoyable experience of the Penguin Parade® The Park did not take lightly the decision not to allow cameras. After many years of consideration the cameras were banned for the following reasons:
Flash photography is at the blue end of the light spectrum and disturbs penguins: Whilst flash photos were always banned, the Park could not stop them being taken. Many people could not turn their flash off their camera. This taking of flash photos also disturbed other customers who were obeying the ban.


The parade lights are soft and dispersed at the yellow end of the spectrum: Research has proven that these lights do not affect the penguins.


All photos are banned because some new digital and video cameras are very like flash cameras in appearance: Since the new cameras regulation many people have commented on the improved experience while watching penguins. Visitors are no longer crowded by other customers trying to take pictures and the whole evening is now much more peaceful for people and penguins.
Some amazing Penguin facts:
The penguins at Phillip Island are the smallest of 17 species of penguins in the world (they are only 33cm tall). Their largest Antarctic cousin is the Emperor Penguin, standing up to 130 cm tall.
Penguins are found only in the southern hemisphere; so you will never see a penguin and Polar Bear together in the wild!
The name 'Little Penguin' is now used instead of 'Fairy Penguin' as it is a more accurate translation of their scientific name, Eudyptula minor.
A Little Penguin can actually sleep at sea, dozing as it floats on the surface.
A Little Penguin can stay at sea for weeks, diving for fish, yet its waterproof feathers keep its skin absolutely dry.
Penguins may swim 15 - 20 kilometres a day searching for small fish to eat. One penguin was recorded travelling 100 kilometres in one day!
A Little Penguin has been recorded diving to 65 metres!
The Little Penguin's dark feathers are not black like other penguins. They are a deep, rich blue. Their colour camouflages them from above and below the surface of the ocean.
Natural hazards for penguins are sharks, birds of prey, rough weather and fish shortages.
Sadly, a penguin's biggest danger is humans. They die from our plastic rubbish, oil spills at sea and on land from cars and introduced animals such as foxes, cats and dogs.
A fox may kill as many as 30 or 40 penguins in one night. The fox is the penguins' main predator and keeps the rangers busy protecting the penguins.
The Penguin Parade® research team are world leaders in the study of Little Penguins.
Volunteers are knitting sweaters for penguins to keep them warm during the rehabilitation process after being oiled by spills at sea.
Phillip Island Nature Park is a self-funding organization dedicated to protecting Little Penguins and other wildlife and their habitats on Phillip Island. The Penguin Parade® has become the number one wildlife tourist destination in Australia, with over half a million visitors per year.
April 2015
From start to finish it was perfect. We are so glad we did the VIP package. We had a wonderful ranger meet us and answer all our questions. We had reserved seats at the very front of the parade. If you're going, make it extra special.
April 2015
This was an outstanding trip. Very unique and individualized, with a great tour guide/ranger Cecilia who was fantastic at explaining everything. We saw 200 penguins at very close range on a wonderfully secluded moonlit beach, with a total of 10 people. The only things that I would suggest viator emphasize up front so that people are well aware are that there is NO photography, and NO transport from Melbourne.
March 2014
Ultimate Eco tour was an experience I will never forget! Saw 300 tiny penguins up close!!!! Amazing!
January 2014
The Penguin Eco Tour was brilliant. We were seeing the penguins in their own environment rather than seeing them come into ours. A memorable experience
December 2013
We were very pleased with our trip to see the Little Penguins. Tim, our guide, was a friendly, informative young man and told us so much abount the Penguins that we did not know. All the staff were friendly and helpful and we would recommend this Eco Tour to anyone. Thank you all very much.
August 2013
Unexpectedly fabulous! Up close and personal with thousands of penguins instead of thousands of tourists. Our ranger, Michele, started with a very detailed and informative orientation and history about the penguins of Phillip Island. Then we donned our rain gear and rode in a van to the secluded beach opposite the main beach where thousands sit in the bleachers. Though the tide was high, the weather was perfect and we managed to find a narrow spit of sand to sit on. At 6:17pm, we saw the first raft of penguins emerge from the surf and head for the bluffs. The infrared monoscopes worked great and we counted over 200 penguins. All the time, we could hear commentary by Michele whispered over our wireless headsets. I appreciated that Michele seemed in no particular hurry as we returned through the penguin "suburbs" where we could observe the penguin interactions. Traffic is blocked from the area at sunset so we had the birds all to ourselves (along with a few wallabies). The Eco Tour was one of the most enjoyable events and one of the best values of our trip. Don't forget, cameras are absolutely forbidden so get your photo taken in the main building against a green screen. You get a price discount on the photo as well as free hot chocolate at the end.
May 2013
I can HIGHLY recommend the Penguin Eco Tour, as all the other tours sat on concrete stairs with flood lights on and watched the penguin come in, we went with the ranger to a isolated beach with night googles and sat on the beach and watched the penguin come in within 2 feet of us. The ranger also explained everything to us and were able to see on the walk back from the beach where the penguin were nestlng. The next day when we drove around we knew what to look for and saw several penguins ourselves, which we would not have been able to do if it was not for the information the ranger told us.
You can not go wrong with this tour.
March 2013
This penguin package was awesome - and I nearly didn't get there. If you buy a ticket like this bear in mind that getting to Philip Island and back to Melb on your own same night is nigh on impossible - The Little Penguin Bus is your only option and I had to find that myself, they were great too.
Tis private penguin ticket rocks, 2000 people showed up on the other side of the island... There were 3 of us and a ranger sitting on the beach as they came by and it was fantastic!
I nearly just wrote it off as there's no warning how ard it is to get out there, but I am glad I found a way!
November 2012
This trip was excellent. The unique experience of seeing them literally a few feet in front was one in a million. The only downfall was how little time you got and the fact you can't take pictures anymore. But that didn't affect the experience
April 2012
I forgot to confirm our booking (becausI didn't read the instructions after printing the voucher, however 2 hours before our tour I rang to confirm and was instructed on what to do on arrival and when to be there. We were greeted very courteously and shown to the conference room where our night began which was thoroughly enjoyable and very informative. Highly recommend this tour. Be prepared for the cold though.
Advertisement
Advertisement