Get the best views of Phillip Island's world-famous penguins with your choice of three different premium penguin experiences. Watch the nightly Penguin Parade from a secluded beach using night vision technology on a ranger-led eco tour. You can also get a bird's-eye view of the enchanting event from the Skybox VIP viewing tower, or opt for an eye-level perspective from a special underground viewing facility. All options include a pre-parade visit to the Nobbies Conservation Centre.
Highlights
Watch the mesmerizing Penguin Parade from a secluded beach, an elevated VIP skybox or an underground viewing area
Chat with knowledgeable rangers to learn about the penguins' lifecycle and habitat
Don't miss a thing with the use of night-vision technology or binoculars
Browse interactive marine life displays and watch a local fur seal colony at Nobbies Conservation Centre
What You Can Expect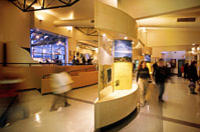 Choose from three different premium experiences to enhance your viewing of Phillip Island's world-famous Penguin Parade — a natural nightly phenomenon when hundreds of the world's smallest penguins emerge from the sea and waddle across the beach to their burrows. With all options, enjoy a pre-parade visit to the Nobbies Conservation Centre, where you can browse interactive marine life displays and observe the boisterous fur seal colony at Seal Rocks.
Ultimate Penguin Eco Tour
Escape the crowds and watch the Penguin Parade from a secluded beach separate from the main viewing stands. Use special night-vision technology to better see the penguins in the fading light, and listen to informative ranger commentary through headphones to avoid disturbing the tiny waddlers. Numbers are limited to 10 people on this small-group eco-tour.
Skybox VIP Experience
Stay protected from Phillip Island's chilly night air in the comfortable, elevated Skybox. Holding a maximum of 10 people, the viewing tower is located near the main stands and offers prime, unobstructed views of Summerland Beach and the burrows. Enjoy nibbles and non-alcoholic beverages while you wait for the penguins to emerge, and chat with a ranger to learn more about the penguin's lifecycle and habitat. You can even assist with eco-research by taking part in the nightly penguin count!
Underground Viewing
Get a unique, ground-level perspective of the Penguin Parade from a special underground viewing facility located near the most popular migration path. Stay warm in the glass-enclosed area and watch the penguins up close without disturbing them. A knowledgeable ranger is on hand to provide commentary and answer any questions. You'll also enjoy access to the new Penguins Plus outdoor viewing platform for more premium views.
Please note: In order to preserve the penguins' natural habitat and create a peaceful experience, photography is not permitted on any Penguin Parade tour.

Itinerary

April 2016
The whole experience was amazing it was the highlight of my holiday
February 2016
Very cool but need own transport to get there
November 2015
Loved this tour! Was very personalised - only 10 people on the tour. We got to see penguins up close on a secluded beach with no one else around. Wonderful experience.
April 2015
From start to finish it was perfect. We are so glad we did the VIP package. We had a wonderful ranger meet us and answer all our questions. We had reserved seats at the very front of the parade. If you're going, make it extra special.
April 2015
This was an outstanding trip. Very unique and individualized, with a great tour guide/ranger Cecilia who was fantastic at explaining everything. We saw 200 penguins at very close range on a wonderfully secluded moonlit beach, with a total of 10 people. The only things that I would suggest viator emphasize up front so that people are well aware are that there is NO photography, and NO transport from Melbourne.
March 2014
Ultimate Eco tour was an experience I will never forget! Saw 300 tiny penguins up close!!!! Amazing!
Michael P United Kingdom
January 2014
The Penguin Eco Tour was brilliant. We were seeing the penguins in their own environment rather than seeing them come into ours. A memorable experience
December 2013
We were very pleased with our trip to see the Little Penguins. Tim, our guide, was a friendly, informative young man and told us so much abount the Penguins that we did not know. All the staff were friendly and helpful and we would recommend this Eco Tour to anyone. Thank you all very much.
August 2013
Unexpectedly fabulous! Up close and personal with thousands of penguins instead of thousands of tourists. Our ranger, Michele, started with a very detailed and informative orientation and history about the penguins of Phillip Island. Then we donned our rain gear and rode in a van to the secluded beach opposite the main beach where thousands sit in the bleachers. Though the tide was high, the weather was perfect and we managed to find a narrow spit of sand to sit on. At 6:17pm, we saw the first raft of penguins emerge from the surf and head for the bluffs. The infrared monoscopes worked great and we counted over 200 penguins. All the time, we could hear commentary by Michele whispered over our wireless headsets. I appreciated that Michele seemed in no particular hurry as we returned through the penguin "suburbs" where we could observe the penguin interactions. Traffic is blocked from the area at sunset so we had the birds all to ourselves (along with a few wallabies). The Eco Tour was one of the most enjoyable events and one of the best values of our trip. Don't forget, cameras are absolutely forbidden so get your photo taken in the main building against a green screen. You get a price discount on the photo as well as free hot chocolate at the end.
May 2013
I can HIGHLY recommend the Penguin Eco Tour, as all the other tours sat on concrete stairs with flood lights on and watched the penguin come in, we went with the ranger to a isolated beach with night googles and sat on the beach and watched the penguin come in within 2 feet of us. The ranger also explained everything to us and were able to see on the walk back from the beach where the penguin were nestlng. The next day when we drove around we knew what to look for and saw several penguins ourselves, which we would not have been able to do if it was not for the information the ranger told us.
You can not go wrong with this tour.
Advertisement
Advertisement