65 Reviews
Location:

Phnom Penh, Cambodia

Duration:

4 hours 30 minutes

(approx.)
Discover the history and horror of Phnom Penh's past on this half-day, small-group tour. Follow the path of one of the most tragic times of the 20th century – the rise and fall of the Khmer Rouge – and see how the country has been rebuilt.
Highlights
Half-day, small-group, historical tour of Phnom Penh

Hear personal stories of one of the darkest periods in Cambodia's history
Visit Tuol Sleng Genocide Musuem
See the Killing Fields and memorial stupa at Choeung Ek
Try local Khmer snacks
Recent Photos of This Tour
Historical Phnom Penh Small-Group Tour, including Genocide Museum and Killing Fields
What You Can Expect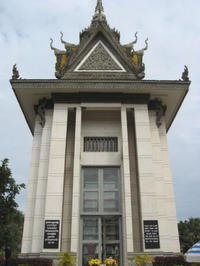 Phnom Penh was once a jewel in the crown of Indochina and a bustling outpost of French colonialism. Discover how that all changed with the rise of the Khmer Rouge and the beginning of the darkest, most tragic period in Cambodia's recent history.

Your tour starts as you learn about the fateful day of April 17, 1975, when Phnom Penh was taken by the Khmer Rouge. See where journalists camped out to witness the fall of Phnom Penh.

Visit the infamous Tuol Sleng High School, which was turned into the S-21 prison camp. It was here, at this unassuming high school in the heart of the city, that the horrors of the Khmer Rouge regime unfolded. It was a detention center for prisoners of the regime, where detainees were tortured and executed on a regular basis. The school is now the Tuol Sleng Genocide Museum and as you tour the museum, you'll discover the brutality of the Khmer Rouge documented in the photos and memorabilia, including torture instruments.

Next, you'll visit Choeung Ek, one of the most well-known sites of the Killing Fields. The Killing Fields are several sites in Cambodia where masses of people were killed and buried by the Khmer Rouge. Choeung Ek was home to large graves filled with bodies of those executed at Tuol Sleng. The pits no longer remain, but a large stupa (shrine) filled with more than 8,000 human skulls acts as a memorial and a grim reminder of the atrocities of war.

Finish the tour on a happier note – by sampling local snacks and learning how the country is moving forward into the future. Although this tour is confronting, it offers great insight into Asian political history and the struggles of the Cambodian people.
November 2015
Excellent tour and tour guide couldn't have been better. Very knowledgable. Well paced tour covering Cambodia's very dark history
November 2015
This was a fantastic tour and our guide Daro was superb. We visited the museum first and heard from genocide survivors about exactly what went on at S21. Our trip to the Killing Fields was similarly moving. Well recommended.
November 2015
We highly recommend this tour and our guide, Daro. Although it was a somber tour by nature, Daro did an excellent job. His explanations were clear and descriptive and he was helpful answering any questions we had. We liked that it was a smaller group for the Genocide Museum and the Killing Fields. We feel that it helped to put the rest of our travels of the beautiful country of Cambodia in perspective. We recommend this tour and our guide, Daro, if you are in Phnom Penh.
October 2015
A must see. The tour is extremely emotional and intense but it is also extremely interesting and captivating. Our tour guide Daro was excellent. HE was extremely knowledgable, friendly, approachable, fun and spoke very good english. Definitely use these guys!
September 2015
Extremely interesting. Great tour guide. Make sure you bring comfy trainers and lots of water. We went in rainy season which meant there are bones and clothing coming up at the killing fields, extremely harrowing. Not for the faint hearted but an important part of Cambodian history
August 2015
Was picked up from my hotel with the guide coming to get me from reception. Modern mini bus with air con!! Straight away our guide who was a top class guy with loads of passion and knowledge started telling us all about cambodia and its history. The tour of the genocide museum should be taken by everyone who visits Phnom Penh. Killing Fields is ok - not as powerful as the museum but completes the picture and story so needs to be done.
July 2015
Excellent a must for any trip to Phonm Penh
Guide was very good
June 2015
This tour was perfect. Although a very sad day, our guide made sure to cover all points and details so we were left without any questions. He was so passionate about Cambodia's history and made a huge effort to keep the tour going even throughout our ride back to the hotel. Definitely recommend!
June 2015
The tour was super informative and insightful. Our guide really provided excellent historical information and context for everything we saw and it's pretty harrowing stuff, which really made the whole experience a lot more impactful and meaningful than just showing up and trying to supplement what you're looking at by reading a guidebook. Travelling from the sites by air-conditioned minivan was nice, too, and I appreciated they provided hotel pick-up/drop-off, which made the tour a breeze.
June 2015
This tour was really well done by the guide. It's important to have a good guide for trips like this due ton the nature of what happened and this guide was exactly that. He knew everything and told the stories well.
Advertisement
Advertisement