Discover the delights of the Cambodian countryside on a half-day small-group tour of the Mekong River from Phnom Penh. Escape the metropolitan madness of the city on a traditional tuk-tuk and venture to Koh Dach, an idyllic island known as Silk Island due to its vibrant silk-making culture. Explore indigenous villages and learn about ancient cultural traditions before taking a sunset cruise back to Phnom Penh. Gaze at the incandescent light cast by the setting sun as your compelling cultural tour concludes.
Highlights
Mekong River and island tour from Phnom Penh

Travel by tuk-tuk to Silk Island

See how silk is woven on hand looms

Meet the local villagers

Try traditional Cambodian snacks

Enjoy a sunset cruise along the Mekong River

Recent Photos of This Tour
What You Can Expect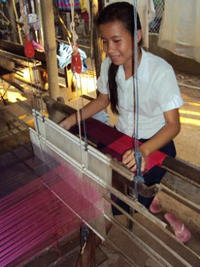 Greet your guide at a central Phnom Penh location and climb aboard a traditional tuk-tuk to begin your journey to the Mekong River. Cross the magnificent Japanese bridge and pass picturesque countryside peppered with roadside stalls, selling everything from paper-Mache animals to steamed corn. Climb aboard a barge and sail over the river to the idyllic island of Koh Dach, locally termed Silk Island.
Disembark and begin exploring the intriguing sprawl of rural Cambodian villages; watch locals weave silk at impressive speed and enjoy the vibrant color of the patterns. Purchase silken shawls as special souvenirs and interact with locals to discover their rich cultural heritage.
After thorough exploration, board a boat to watch the sun sink into the Mekong River. Marvel at the fiery glow cast by the descending sun and admire the architectural tableau on the shores of Cambodia. Bid your guide and group farewell when you return to a central location in the city.
April 2016
Well organised.
Lovely guide. Very approachable and knowledgable.
Lady at silk farm was amazing. Made us feel really welcome and the fruit she gave us was great. It was really nice to chat with her for a while to learn more about her and her lifestyle.
December 2015
March 2015
a fantastic tour , are guide( daro) picked me up on time and was one off the most friendly guides i have
had , we first went by public boat across the mekong, ( which was a great experience)
then by tuk tuk through the countryside to a silk farm where they show you how the silk is produced and made , you even get a chance to weave some silk yourself , the people who own the silk farm are friendly and make you feel most welcome, at the farm wewere given refreshments off fresh fruit and drinks
after the silk farm we were taken to see the reclining Buddha, and the monkeys !!!
and to finish the trip we were taken back to phonm pehn by boat to see the sun set.
this trip is well worth doing while in phonm pehn ,

Patrick USA
February 2015
December 2014
This half day tour is a nice break from the city and a good way to see some of the countryside. I was picked up from the hotel right at the time that the local tour operator had told me. The guide (Daro) was excellent and very informative and offered different local snacks. The village and silk weaving were interesting and travelling by ferry and then a boat cruise were also great experiences.
December 2014
This was the way to see to see Phnom Penh and the guide was excellent
April 2014
February 2013
Excellent, fun and informative tour. Travelling by tuk tuk on a dirt road was certainly an experience but a great way to see the local countryside. Silk weaving was very interesting and you can actually have a go at it yourself. Lovely sunset coming back by boat. Our tour guide Tien was delightful with a great sense of humour so all in all a lovely day.
May 2016
Really enjoyable, particularly meeting and talking to locals about their way of life , politics etc. they have a wonderful sense of humour
June 2015
Enjoyed this tour,it was very cosy being transported by tuk tuk.The guide was very informative and the sights were a joy to behold.Eating some local delicases was an eye opener.Overall a very good tour.
Advertisement
Advertisement