20 Reviews
Location:

Phoenix, Arizona

Duration:

3 days / 2 nights
Take the time to enjoy an in-depth experience of Arizona's natural beauty on a 3-day tour with overnights in Sedona and the Grand Canyon. Admire the red rock country of Sedona and explore the shops and galleries in town. Then marvel at the grandeur of the Grand Canyon as you approach the South Rim and stop at spectacular viewpoints. This semi-independent tour includes some planned activities with a local guide, and includes transportation and accommodation. Enjoy ample free time to explore on your own and customize your experience.
Highlights
3-Day Sedona and Grand Canyon tour
Tour through the Sonoran Desert
Choose from a variety of activities at the Grand Canyon Village
23-mile tour along the rim with stops at additional lookout points
Recent Photos of This Tour
3-Day Sedona and Grand Canyon Traveler
What You Can Expect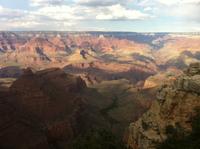 Day One:
Travel through the Sonoran Desert to the red rock country of Sedona. You will have the afternoon and evening free to enjoy many Southwestern art galleries and unique shops. In addition, you can choose either a 2.5-hour scenic and historical tour or a wilderness jeep excursion. Many hiking trails are also nearby.

Overnight: Kings Ransom Sedona or equivalent

Day Two:
This morning your guide will meet you at your hotel to begin your tour through scenic Oak Creek Canyon. You'll arrive at the Grand Canyon Village around noon for your first dramatic view. Rooms will not be ready for occupancy until later in the afternoon, so your guide will present various options for you to enjoy. You have the afternoon free to hike, take an optional scenic air tour over the Canyon, spend time at the Visitor Center or just enjoy the views of the ever-changing colors of the Canyon.

Overnight: Grand Canyon Maswik Lodge or Yavapai Lodge

Day Three:
This morning you have free time to watch the sunrise over the Canyon, walk along the rim out to Yavapai Museum, or just enjoy the views. The early afternoon you are free to explore. You can add an optional helicopter tour or take advantage of the West Rim shuttle (seasonal) to enjoy other views of Grand Canyon. Return to Phoenix mid to late evening.

Please note: The price displayed is based on 4 people in a single reservation. If you require separate rooms you must make separate reservations. There is a maximum of 4 people per room.
November 2014
Trip was fantastic! Each tour representative (driver and coordinator - Donna in Sedona) clearly was there to help us get the most out of our short visit. The accommodations provided through the company were conveniently located in Sedona and the Grand Canyon Park allowing us to make the most out of seeing each area using walking and the free bus in the Grand Canyon. The Yavapai Lodge in the Grand Canyon Park had a reasonably priced cafeteria with good food and was conveniently located to a general store with moderately priced souvenirs and a post office that enabled us to package and sends a multitude of misc. souvenirs from the trip back home. Recommendations by a tour representative in Sedona to the Cowboy Club restaurant for lunch were on the money. We had the "Sampler" that included bison bits, cactus fries, cilantro flat bread, prickly pear fruit sauce and a southwestern peanut sauce. A tour person in the GC Yavapai Lodge recommended a breakfast in the fancier El Tovar lodge. The decor, service and menu were well worth the morning visit. (I had blackened trout for breakfast plus all the other regular breakfast items). We passed on their fancy breakfast sweet pastries.
We did not realize when we got picked up in Phoenix (on time!) that the other people in the minivan were not necessarily on the same "tour" as us. The tour should be recognized as three legs...one to Sedona, at Sedona and to and at Grand Canyon and returning to Phoenix. Sedona is actually a brief stop on the one day trip to the Grand Canyon. We were actually returned to Phoenix from the Grand Canyon by another one day trip minivan. You will have multiple driver guides AND many different guests on each leg. The tour company is used to it and does an excellent job of taking care of its clients by coordinating the pickup and drop off times. One item to note, many of the Sedona galleries closed early (in October) making visits to them in the early evening somewhat limited.
August 2014
Very good experience and super nice guides. Would recommend if you do not drive yourself.
March 2014
December 2013
Accommodations were great, always on time, interesting guides.
December 2013
Great trip and well organized by all the tour operators.
All tour operators were friendly and helpful. Tour guides were all knowledgeable and made the tours so interesting.
Terrific location to visit and to get to know all aspects of the area and the settlement of Arizona down through the ages.
Were only sorry that the trip was marred by some monsoon weather, which the tour companies obviously had no control over. We must remember this for the future and be more aware of the weather patterns for areas we visit. Apart from this it was Great! Just Great!
November 2013
AMAZING! A wonderful way to see these two places if you have never been or have some people with you who may not be up for trying to find your way or hiking. I went with my parents who are in their 70s and it was perfect. We saw and did a ton but it also gave us an idea of things we may want to do the next time we visit. All of our tour guides and drivers were friendly and very knowledgeable. I was extremely happy with this tour.
April 2013
Excellent trip! Staying overnight in Sedona and staying overnight in the Grand Canyon were both the best ideas. The trip was easy, enjoyable well worth it.
July 2012
Both Sedona and the Grand Canyon were awesome. Especially enjoyed the jeep tour in Sedona and seeing the sun set over the Grand Canyon at Yavapai Point. Everything went smoothly. Didn't really anticipate the hugeness of everything and therefore all the walking that was necessary. We had a great time. Thanx.
May 2011
Outstanding tour. The guides were very knowledgable and went above and beyond what one could have reasonably expected. The whole trip went like clockwork. We had a wonderful time in Sedona and at the Grand Canyon.
BRUCE E United Kingdom
August 2008
The logistics worked very smoothly, even though my itinerary was complicated. The drivers were superb. They were informed, friendly, helpful, humorous, and really went the extra mile for everybody. Accommodations were comfortable. The experience of the desert region and Grand Canyon was magical. It could not have been better. I would go again.
Advertisement
Advertisement