Go deep into Arizona's wild, scenic desert on a 4-hour UTV tour, and steer your 4WD, off-road vehicle across creeks, washes and rolling hills. Follow your guide through the Agua Fria River Valley, and hear stories of Native Americans, outlaws and miners that made their homes in this inhospitable landscape. Watch for lizards and coyotes as you steer between cactus and sagebrush, see ancient ruins and the abandoned shafts of gold mines, then visit a crumbling silver boom town on a rugged hillside.
Highlights
Off-road tour of the Arizona desert

Ride a personal through the beautiful Bradshaw Mountains

Explore the Aqua Fria River Valley as you journey through the rugged desert landscape

Use of equipment and professional guide included

Vehicle's safety cage provides added protection, perfect for groups with children
What You Can Expect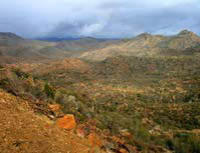 This guided tour begins about 45 minutes north of Phoenix in the lower desert near the Agua Fria River Valley. This area, just below the Bradshaw Mountains, is perfect for off-roading. Admire gorgeous views of the colorful Arizona desert sky as you explore creek crossings and places for wash riding, as well as ghost towns and abandoned gold mines.

UTVs resemble golf carts and are perfect for rugged, off-roading adventures. They drive like cars and have safety cages surrounding all passengers for added security, making them ideal for families. All vehicles are fully automatic and have both 2- and 4-wheel drive.

You'll be accompanied by a certified guide with a vast knowledge of the terrain, plant life, wildlife, history and climate of the area. Hear stories about the Native Americans who once farmed, hunted, survived and evolved in this unforgiving desert. See ancient Native American ruins and pass by several working and abandoned gold mines on the way up to Tip Top, an Arizona ghost town with awesome views of the surrounding valley.
January 2014
So much better then we were expecting. Unbelievable adventure through the mountains. Awesome views and great work by the staff!! Loved every bit of this adventure...even the cave exploration that our guides did with us!!
January 2014
Unbelievable adventure...kids loved it!!!
March 2013
The tour was enjoyable. My wife and I both loved the scenery and excitement of the trip. Matthew, our guide was knowledgeable about the history and features of the area we rode in. He kept an eye on us because he rode a fourwheeler while we were on a 2 seater ATV and couldn't travel as fast over the rough ground. Good trip.
Advertisement
Advertisement