Marvel at the Grand Canyon's vast expanse and some of the American Southwest's most awe-inspiring terrain during a scenic flight from Phoenix. Your pilot flies at the perfect altitude to clearly view the natural beauty of Arizona, including Tonto National Forest, San Francisco Peaks, Montezuma Well and the Red Rocks of Sedona. Choose either a 2.5-hour air-only tour, or experience this majestic wilderness from the ground and air on a 7-hour tour that includes a stop in the National Park and lunch.
Highlights
3- or 7-hour tour of the Grand Canyon by airplane, from Phoenix

Soak in spectacular aerial views of the Grand Canyon and other Arizona landmarks

Fly over Tonto National Forest, the Red Rocks of Sedona and Montezuma's Well
Upgrade to experience Grand Canyon National Park by scenic flight, then land in the park for a ground tour

Learn from your knowledgeable guide about the wildlife, geology and history of the Grand Canyon and Arizona

What You Can Expect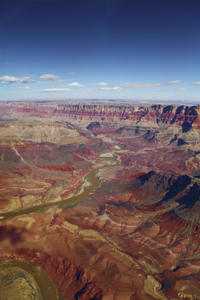 When in the Phoenix area, a trip to the Grand Canyon National Park is a must.

Meet your pilot at Deer Valley Airport where you receive a safety briefing and orientation to your aircraft. Travel in comfort in either a Cessna Caravan or T207, both of which are high-winged airplanes that are ideal for sightseeing from the air and taking photos. Every passenger has a window seat with unobstructed views of the spectacular scenery below.

As you fly to the Grand Canyon on the 3-hour flight, be amazed at the scenery of the Tonto National Forest, the Red Rock formations of Sedona, the San Francisco Peaks, Painted Desert and the Navajo Indian Reservation. Then get an amazing perspective of the widest part of the Grand Canyon as your pilot takes you where few other airplanes are allowed to fly.

Upgrade your experience to the 7-hour air and ground option, which includes landing in Grand Canyon National Park for a guided jeep tour. Enjoy impressive views from one of the South Rim overlooks and stop at the Grand Canyon Historic Village for fantastic photo ops, sweeping views or an unforgettable stroll along the rim of the Grand Canyon. Keep an eye out for native wildlife as you absorb the grandeur of the vast canyons and multicolored rock terrain. Lunch is provided during your time that you are exploring the park on the ground.

Afterwards, head back to the Grand Canyon Airport to continue your aerial journey, returning to Deer Valley Airport in Phoenix via Sycamore Canyon Wilderness and the old mining town of Jerome.
June 2016
The trip was well organized. The pilot was very informative and a great tour guide.
I would recommend this trip to anyone.
This is a very professional operation.
March 2016
Excellent tour that exceeded our expectations.Comfortable aircraft, great pilot, and a kick of a ground tour guide, Werner.Highly recommended.
September 2015
So sorry for my late scoring, I am writing this after I have come back to Japan.
I could enjoy the flight to, over and around Grand Canyon and really understand the meaning of GRAND.
Waaaaaooooh I could not find any words when the view of Grand Canyon appeared through the windscreen of the Cessna. It was so big, great, beautiful, wonderful, gigantic, tremendous, ... that I could not get any correct words.
Not only pilots but also ground staffs, they were all so kind and friendly that all my family felt so happy and really enjoyed the tour very much. Thank you!
My daughters are saying that they love USA and Arizona and are going to come again in the next summer.
March 2015
wonderful experience. would do it again.staff was friendly,knowledgable and courteous.our tour guide , frank was amazing.his in depth knowledge of the canyon and surrounding area, made for an educational as well as an entertaining experience. highly recommended.
December 2014
My wife and I had not visited the Grand Canyon before and wished very much to view this colossal spectacle. It was just that, but the flight there was also well worth the trip. The Arizona topography is breathtaking. I highly recommend this to any and all.
February 2014
Everyone punctual pick up to flight. Very thoughtful crew attendants. Very informative and professional pilot. Excellent trip enjoyed by my wife and I.
December 2013
The tour was very special. The driver arrived and was very upbeat. We checked in and met the pilot and started the Viatour over Sedona and the Grand Canyon. It was a good flight and absolutely breathtaking BUT my wife's ear phones did not work and could not hear any of the
history ~ very disappointed.
May 2011
We thoroughly enjoyed our grand canyon tour!!! Our pilot was very informative and very courteous.
RICHARD A Canada
July 2010
It was very good.
March 2015
The views were amazing. However, the organization was a mess. The times told by Viatur were totally wrong, and the ground operator had a totally dofferent plan. They also dont tell you as a part of the tour you will be sitting in the airport waiting to fly back for almost 1 hour instead of touring.
Advertisement
Advertisement