You and your tour guide will drive through some of the finest off road trails, washes, woops and hillsides. This is an exciting off-road/racing styled adventure in the Arizona Sonoran Desert you won't want to miss!
Highlights
Drive a desert car off-road
Enjoy the beautiful Sonoran Desert scenery
Convenient location near Scottsdale
What You Can Expect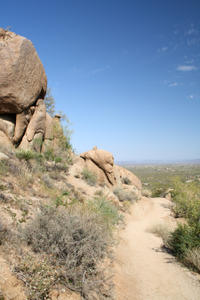 Centrally located near Scottsdale, this is the best fun you can have in the dirt as you follow the desert trails through sandy washes and rocky creek beds, eventually cresting a series of ridge lines. The result is an awesome view of the surrounding Sonoran Desert.

You are in the driver's seat, but your experienced guide will be with you all the way offering advice and instruction for a fun and safe couple of hours in the desert.

The "C2" Desert car is a 2 seat vehicle fitted with a roll cage and seat belts.

Important Note: Each booking must have 2 people
August 2012
Our desert car tour was great! The cars were fun to drive and felt very safe and stable. The guides were helpful and polite and were concerned about our safety. It was a unique way to see the desert landscape.
I was frustrated with two items about booking through Viator. I received my confirmation and printed my voucher. Only on the day of my tour did I see that I was supposed to contact the vendor directly to confirm. Viator should have made this more clear on the confirmation. Luckily, we were still booked for the tour. If we had contacted them we might have found out that the meeting place was different than the Viator information said. Also, the confirmation said the tour left at 8:00 am in the summer but the tour operator was prepared for 9:30. We waited an hour and a half.
April 2013
Wasn't much of a site seeing trip as you could not see anything but dust. The crew were very professional and overall a good experience.
Advertisement
Advertisement