This is an exciting off-road/racing styled adventure in Arizona's Sonoran Desert you won't want to miss! With a guide, you'll drive through some of the finest off road trails, washes, woops and hillsides.
Highlights
Drive a desert car off-road
Enjoy the beautiful Sonoran Desert scenery
Convenient location near Scottsdale
What You Can Expect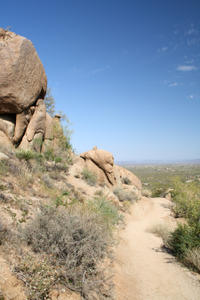 Not far from Scottsdale, Arizona, have fun on desert trails as you drive your own ATV with an experienced guide along for the ride, with key advice and top-notch instruction in this fun and safe excursion.

Outfitted with goggles and a helmet, you'll make your way along sandy washes and rocky creek beds, eventually crossing ridge lines for a bird's eye view of the Sonoran Desert. You'll be driving a "C2" Desert car, which is a two-seat vehicle with a roll cage and seatbelts.

Important Note: Each booking must have 2 people.

August 2012
Our desert car tour was great! The cars were fun to drive and felt very safe and stable. The guides were helpful and polite and were concerned about our safety. It was a unique way to see the desert landscape.
I was frustrated with two items about booking through Viator. I received my confirmation and printed my voucher. Only on the day of my tour did I see that I was supposed to contact the vendor directly to confirm. Viator should have made this more clear on the confirmation. Luckily, we were still booked for the tour. If we had contacted them we might have found out that the meeting place was different than the Viator information said. Also, the confirmation said the tour left at 8:00 am in the summer but the tour operator was prepared for 9:30. We waited an hour and a half.

April 2013
Wasn't much of a site seeing trip as you could not see anything but dust. The crew were very professional and overall a good experience.
February 2013
This was very exciting because you get to drive your own Desert Car and we went quite fast. The biggest downfall was the tour guide not very friendly, nor organized. During our tour we unfortunately had a flat tire, they did not have a patch nor spare to fix on trail, which according to terrain must happen periodically so had to cut the whole ride short. The guide put blame on the driver for not driving in the exact trail that he was but closer to the back it was very dusty, they were moving quickly and you had to pick your trail, I do not believe it was a total driver fault, for accidents like this happen to the best of us. The tour could have continued if the guides were prepared. This could have been a blast for the terrain is quite rugged, they do move fast and go through water, so be prepared to get wet and dirty and have fun!
Advertisement
Advertisement