Your Phang Nga Bay Day Trip from Phuket by Speedboat takes you through the emerald
waters of this epic bay, past hundreds of limestone islands. Make stops at James Bond
Island and the secluded lagoons of Talu Island on an scenic canoe ride and trek through
quiet caves for an up close look at these limestone wonders. This memorable full-day
tour includes local lunch and plenty of time to soak up the sunshine on the shores of Naka
Island.
Highlights
Full-day speedboat tour of Phang Nga Bay from Phuket
Explore the exquisite islands and limestone formations of Phang Nga Bay and Ao Phang Nga National Park
Visit the famous James Bond Island and ride a canoe around Talu Island's hidden lagoons
Follow an experienced guide on foot through stalactite caves
Enjoy a Thai lunch at Koh Panyee, a Muslim village on stilts over the water
Swim, relax or work on your tan at Naka Island's secluded beach
Hotel pickup and drop-off included
Recent Photos of This Tour
Phang Nga Bay Day Trip from Phuket by Speedboat
What You Can Expect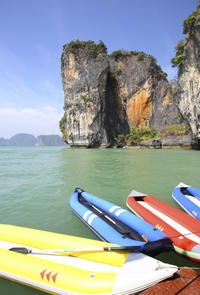 Meet your friendly local driver at your Phuket hotel and head out on a memorable all-day adventure. Travel in air-conditioned comfort to the Dolphin Seaway Pier, where you'll enjoy some live music before making your way to Phang Nga Bay by speedboat.
This epic waterway is famous for its limestone karsts and incredible scenery. More than 100 islands dot the turquoise waters here. Check out James Bond Island in Ao Phang Nga National Park, which was made famous in the 1974 movie The Man with the Golden Gun.
You'll speed towards your next destination, Talu Island, on your Phuket speedboat. Head out on a tiny canoe with your guide, who will paddle through sea caves and quiet lagoons while you relax and soak up the sun.
You can explore the caves on foot using provided helmets and flashlights and check out secret caverns with names like Ice Cream Cave. Once you've stretched your legs paddle back through mangroves and swamps of this untouched nature preserve. Take a swim break if you're interested, or continue on to your traditional Thai lunch. You'll savor local cuisine at Koh Panyee, a Muslim village with ocean views. Check out daily life and learn more about this unique community from your friendly guide.
Finally, head to Naka Island, where you'll have some time to relax on the secret shores of this out-of-the-way destination. Once you've worked on your tan and taken a dip in the waters you'll head back to Phang Nga Bay and eventually Phuket, where your friendly guide and driver will deliver you to your hotel.
April 2016
This is a wonderful trip where you will get to see some amazing beaches! The speedboat is also a fun ride!

April 2016
March 2016
Great trip! Staff was kind and helpful. Good food and plenty of drinks all day. Highly recommend- gorgeous scenery!
March 2016
Fantastic day out on the speedboat and a tasty lunch at the restaurant on stilts! All the staff very helpful and full of information. Definitely a day to remember.
March 2016
An exciting and fun-filled day. Guides were very nice. We thought the family style lunch in the village on stilts was actually pretty good. The cave walk was interesting, and James Bond Island was very scenic and bizarrely, very crowded considering we were in the middle of nowhere. Also enjoyed swimming at the beach near the end of the trip. One item to note--while the speedboat is moving, it is really not recommended to move around because the boat is going so fast. Also, be prepared to get off the boat into the water--ankle deep.
March 2016
Very busy day, but a lot of fun. We enjoyed the kayak portion the most.
January 2016
Great Tour! and well organized

January 2016
Such a beautiful place. All the scenery throughout the tour was just amazing and cannot describe them in words. Canoeing was awesome too. The only thing i wasnt happy about is that the tour guide spoke Italian about 80 of the time... we had no clue what he was talking about. :
December 2015
This tour was one of the highlights of my time in Phuket and I can highly recommend the trip and the day out, you get to see all the islands and is a great day out
December 2015
A great tour, recommended to take this super speed boat of 50 minutes to James Bond Island.
Only the cave is Slippery because of mud and rain water and very poor lunch including at moslim village.
Advertisement
Advertisement