Phuket Fantasea is a new theme park complex that promises to be the ultimate night time entertainment venue on the island. Inspired by Thailand's rich and exotic heritage, Phuket Fantasea not only showcases the charm and beauty of Thailand, but also enriches ancient Thai traditions with the wonder of cutting edge technology.
Highlights
Explore the magical cultural theme park of FantaSea

Enjoy the award winning spectacular show

Hotel pickup and drop off

What You Can Expect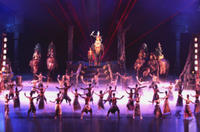 Be spellbound at the Las Vegas style theatrical show, where state of the art technology and special effects enhance the grace and beauty of local myths, mysteries and magic in a wondrous extravaganza.
FantaSea trully is the ultimate theme park, with carnival games, a shopping village and the award winning spectacular show, FantaSea is not to be missed!
September 2015
This is the top and best tour in Phuket, thanks all
June 2013
all that we thougth it would be and more would recomend it
May 2013
Have not seen such a wonderful show before in my lifetime. Great work.
January 2012
Great show, I was picked up on time and did not take long to get back to hotel
October 2011
A must when visiting phuket...entertaining and family friendly
May 2010
Great theatre, good show. Outside attractions very showy, but all just retail, pay-if-you-want outlets.
May 2010
It was okay. Next time I would get a private car, but the rest was fine - no hassles.
September 2015
Great night, we stayed a long way from main tourist areas and transport was on time and we had plenty of time before the show. The show itself is a bit hard to follow but showcases many different entertainment from singing to acrobats! Well worth it
May 2015
Tour did not depart on time- was meant to depart around 5:30 but actually departed more than half an hour after that, and kept picking up guests beyong that time throughout the night.
Therefore, we could only watch the show as we got there 20m before the show started and were made to line up and be searched. Would have gave it 5 stars had the bus gotten there half an hour earlier than it did, which would've allowed us to explore the theme park. Bus collected us at the end of the show without any time for roaming.
I did take this up with Viator - they have great customer service by the way. I just think Thailand Tour companies need to up their game if they're going to market themselves with bigger companies like Viator etc.
Advertisement
Advertisement