Head north to the Tone Pariwat Sanctuary Station on this trekking and rafting adventure form Phuket. You'll discover the beauty of unspoiled landscapes, lush vegetation and natural wildlife wonder. Experience the excitement of riding an Asian elephant and get your thrills rafting on a raging river.
What You Can Expect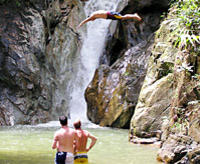 This Phuket trekking and rafting adventure is perfect for novices looking to experience the thrill of riding down a raging river, since rapids are manageable for almost any level. Start things off with travel through topical rainforests and breathtaking countryside atop an Asian elephant and then climb into your whitewater raft, where you'll cruise along rapids in a local stream, past scenic waterfalls and through epic landscapes in this memorable trip from Phuket.
February 2015
This was a major highlight of our time in Phuket. Fantastic experience and Gypsy made it so as our guide from the company. Her English was great, she was very friendly and informative and easy to approach. She gave everyone time to think and ask questions at any point.
November 2012
the guide adam was very helpful and informative. great day very well organised :)
May 2012
Excellent but long day, plenty to do.
August 2011
Elephants are so cute. Waterfall jumping was amazing, and the white water rafting was so much fun and so simple. The lunch provided was by far the best meal I had the whole trip. The staff are super friendly and funny. Don't forget to tip you elephant guide.
August 2011
would have liked to been told in advance it would take about 2 hours by car to get to the elephant camp. was well worth it though. decent length elephant trek - approx 30 minutes and could ride in a seat or on the neck. could feed the elephant afterwards. rafting was loads of fun - but like the description says it is a low to moderate rafting experience. great for first timers like myself. we were also taken out to a waterfall for a swim which was nice. buffet lunch was delicious.
CLINTON S Singapore
May 2011
Elephant trekking is an experience one needs to try. The rafting was very worthwhile and the guides on the raft might not speak much English but made the trip down the river quite fun.
Melvine M United Arab Emirates
May 2010
One of the best adventure i did. This was the highlight of my tour in Phuket. Enjoyed this like anything.
Lisa C Australia
March 2010
Fantastic trip well worth doing and I didn't have to confirm the tour when I got to Phuket, they contacted me.

August 2014
The rafting adventure was a lot of fun, but unfortunatley I felt it was not long enough for the price we paid. The lunch after the rafting was good, the service was excellent. I was impressed with the safety aspect shown prior to the rafting. I think they need a bit more thought to the way they take the photos while rafting. Perhaps a photo in the raft prior to starting would b good, that way you could actually see the faces in the pictures. Overall enjoying and a lot of fun.
December 2011
Excellent tour - great day out. Waterfall visit was a bit unnecessary though, crowded and we just seemed to be 'killing time' before the next activity.
Advertisement
Advertisement