Take advantage of InterIslander daily ferry service from Picton to Wellington. Swap New Zealand's South Island for the North Island, crossing Cook Strait to the capital city. The Picton-to-Wellington ferry departs one way, gliding over the serene waters of Queen Charlotte Sound on a 3-hour cruise that offers stunning views of both islands — the perfect entry to the colonial port city.
What You Can Expect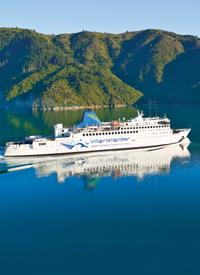 Board the InterIslander ferry in the picturesque port town of Picton, and relax during the 3-hour cruise across Cook Strait on what promises to be one of the most scenic ferry journeys. You'll travel through the tranquil, shimmering waters of Queen Charlotte Sound, nestled amid lush forest in the heart of the Marlborough Sounds.
Leave the South Island behind during daily ferry service to the North Island, where you'll arrive in port at Wellington Harbour. As New Zealand's capital comes into view, enjoy a unique panorama of the hills surrounding the lively city marked by its Maori and colonial heritage. Disembark in Wellington to enjoy
some of New Zealand's finest restaurants, shopping, theater and attractions, including the renowned Te Papa Museum.
Note: The InterIslander ferry does not allow travel with your vehicle.
June 2015
On time, smooth sail, easy embark-disembarking process, comfortable lounge seating, decent food.
May 2014
January 2013
A wonderful way to travel between the two islands. The weather was really good and the views amazing. We stayed overnight in Picton which was a beautiful place. Thank you for arranging the travel for us at a very reasonable price.
September 2011
The trip was brilliant on the Interislander -as usual. What makes it is the spectacular scenery leaving the sounds and heading to Wellington. The ferry is well equipped, you couldn't ask for anything else!
December 2015
Good service.Not a great lot of seating areas.
Rajanikanth A Australia
August 2008
It is a good experience for those who haven't done any big ferry trips.
Charles W USA
August 2008
The ferry trip was part of our own personal tour of the two New Zealand islands and was very enjoyable. Scenery was great, the accommodations were excellent, and the service by the employees was cheerful and helpful. Overall, a very good experience.
March 2011
Although it's not the company's fault, the water was extremly rough during the trip and myself as well as others got sea sick.
Advertisement
Advertisement