Jump aboard a the interIslander daily ferry service across Cook Strait; the stretch of water separating the South and North Islands of New Zealand. Not just the link between islands, it's a New Zealand experience not be missed. An edition of the US magazine Wine Spectator, described the interIslander trip as 'one of the most beautiful ferry rides in the world' and the scenery was described as 'jaw droppingly stunning!'
What You Can Expect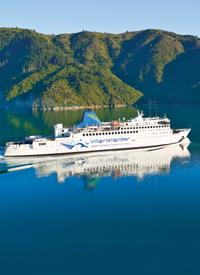 InterIslander offers daily ferry services across the Cook Strait linking New Zealand's North and South Islands. Cruise across in 3-hours whilst traveling in comfort and style as you savor one of the world's most scenic ferry journeys.

The picturesque port town of Picton at one end of the crossing is left behind as you cruise through the serene waters of Queen Charlotte Sound in the heart of the Marlborough Sounds. The sparkling clear waters and lush forests of the Sounds is breathtaking as you leave the South Island.

At the other end of the crossing is the beautiful harbor of New Zealand's capital city, Wellington (North Island). The cruise across Wellington Harbor offers a unique view of this exciting city. Nestled between surrounding hills and the glistening harbor, Wellington is a vibrant city which has retained the charm of its early colonial heritage. Wellington is alive with some of New Zealand's finest restaurants, shopping and theater - including the spectacular Te Papa Museum of New Zealand.

Note: This InterIslander option does not allow travel with your vehicle.

Please click on the "View Additional Info" button for a map of the departure point and route.
June 2015
On time, smooth sail, easy embark-disembarking process, comfortable lounge seating, decent food.
May 2014
January 2013
A wonderful way to travel between the two islands. The weather was really good and the views amazing. We stayed overnight in Picton which was a beautiful place. Thank you for arranging the travel for us at a very reasonable price.
September 2011
The trip was brilliant on the Interislander -as usual. What makes it is the spectacular scenery leaving the sounds and heading to Wellington. The ferry is well equipped, you couldn't ask for anything else!
August 2008
It is a good experience for those who haven't done any big ferry trips.
August 2008
The ferry trip was part of our own personal tour of the two New Zealand islands and was very enjoyable. Scenery was great, the accommodations were excellent, and the service by the employees was cheerful and helpful. Overall, a very good experience.
March 2011
Although it's not the company's fault, the water was extremly rough during the trip and myself as well as others got sea sick.
Advertisement
Advertisement