Just a short drive from Playa del Carmen, the Puerto Aventuras Dolphin Encounter allows everyone from little kids to adults to get up close to these lovable marine marine mammals while experiencing them in a whole new way. Watch them perform synchronized tricks and even receive a dolphin hug, kiss or handshake. It's a great alternative for non-swimming wildlife lovers—you can even score a souvenir pic (for an extra fee).
Highlights
Dolphin encounter program from Puerto Aventuras, Mexico
Watch dolphins perform tricks and experience the sensation of being kissed by them
Fun-filled environment ideal for children of all ages
What You Can Expect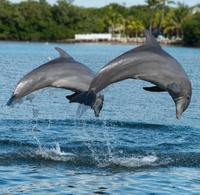 This is the perfect way to discover dolphin's best kept secrets in a safe and fun-filled environment while vacationing in Puerto Aventuras, Mexico! You'll be surprised by the great intelligence and friendliness of these wonderful marine mammals. Learn all about this amazing creature in an environment that is ideal for children of all ages!

You'll have the opportunity to hug and kiss the dolphin and the dolphin will respond with a friendly kiss on the cheek! Watch the dolphins as they perform a series of amazing tricks and marvel at their astonishingly entertaining behavior! They will make you tingle with excitement!
September 2010
this was one off the best experience i have ever had on holiday
ANDREW H United Kingdom
July 2010
What a fun and memorable trip!
March 2016
Really enjoyed swimming with the dolphins. The fact that you weren't allowed to bring your camera then they try to sell you your pictures for 160 was really disappointing as I have no pictures from the experience.

December 2014
Nice experience but a bit too pricey. You're basically in the water touching the dolphins not really swimming with them. The Buffet food Is included which is awesome but the food was not great. The pictures were way overpriced about 30 per picture and 60+ for package deals.
Advertisement
Advertisement