Ride to the Low Isles on this Great Barrier Reef sailing and snorkeling cruise from Port Douglas. You'll enjoy a full day relaxing on white-sand beaches, snorkeling and sailing the reef in a glass-bottom boat. With an expert marine biologist as your guide,
e
xplore pristine tropical waters filled with marine life
.
You're served a buffet lunch by an attentive crew aboard a
luxury catamaran, limited to 33 passengers.
Highlights
Intimate Great Barrier Reef snorkeling cruise from Port Douglas to the Low Isles

Enjoy five hours to snorkel and relax on the Great Barrier Reef

Cruise aboard a luxury catamaran

Dine on a buffet lunch, morning and afternoon tea

Take a glass-bottom boat tour with a marine biologist

Snorkeling equipment and instruction included

Numbers limited to 33 passengers
What You Can Expect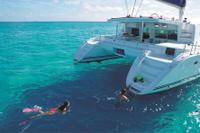 Your Port Douglas sightseeing cruise to the Great Barrier Reef begins with hotel pickup. You'll board a
luxury catamaran
to the Low Isles in the quieter morning hours, before most visitors arrive. Enjoy professional service by the attentive crew on the smaller 33-passenger vessel.
On arrival, you'll have 5 hours to spend at your leisure; slip on the provided snorkel gear and explore the
undersea coral gardens of a
sheltered lagoon just offshore, stroll to the historic 19th-century lighthouse,
or simply
relax
under the shade of tropical palm trees
on the white-sand beach. If you'd prefer a snorkeling tour led
by a marine biologist, explore the
magical underwater world of
the
Great Barrier Reef with your guide.
There's more eco-education aboard a glass-bottom boat tour, with
expert commentary and
stunning views of
iridescent fish and fluorescent coral.

After a seafood buffet lunch on board the catamaran, soak up the sun on the deck or return to the water for a final snorkel before cruising back to Port Douglas in the afternoon.
June 2016
June 2016
A great experience and honestly cannot express just how much I would HIGHLY recommend this company in particular. I had REALLY bad sea sickness sailing there and back due to the rough waters that day and unfortunately couldn't say it was as enjoyable as I may have hoped, but that was definitely not without effort from the crew. They were all very knowledgeable, kind, caring and understanding of the water conditions and made the experience as great as it could have possibly been despite it all.
Food was surprisingly delicious for what could be whipped up or at least packed up at sea and I would do it all over again the next time I come back under better conditions. The professionalism of the crew, not to mention the small size of our group no crowding really made this booking the perfect choice for our trip : You CANNOT go wrong sailing with Sailaway!
June 2016
May 2016
Weather not great but they made it an amazing experience, loved the reef and the marine biologist taught us a lot, great crew!
May 2016
Very nice day on a catamaran with a small group. Very nice staffs.
Snorkeling and stay on a small island, with free time. We saw turtles and nice corals.
Lunch on board before going back to Port Douglas.
Highly recommended
March 2016
The Sail Away staff were very helpful, organised and knowledgeable. We were provided with stinger suits as well as snorkeling equipment and the staff were very encouraging for beginners as well as informative for more experienced snorkelers. The lunch provided was excellent and the trip very sociable with such a small group.
March 2016
Amazing day sailing and snorkeling on this cruise. Nice sail boat with very friendly and helpfull staff. You travel with a relative small group of people and you arrive first on the reef where the snorkeling takes place. This is before the place is overwhelmed by tourist of the bigger boats and cruises. Great food for lunch and good instructions when snorkeling. Saw a lot of turtles and beautiful fish.
January 2016
First class all the way. The service was impeccable and the sites visited were outstanding. The skipper was very professional and friendly. Great sailing on the day of our visit to low isles. Our guide was very knowledgable and took the time lead the group to grant snorkelling sites. Overall an outstanding day
December 2015
What a day!!! Having been on the larger tours to the outer reefs in the past, ignore them and go on this one. Much better to be on a luxury smaller Catamaran, with an excellent skipper two great guides in and out of the water and superb lunch onboard afterwards. To see Turtles in their natural environment, a stunning coral reef, fish and blacktop reef sharks made the day one to remember for ever.
October 2015
Excellent trip and the staff were so helpful. Food was delicious. Would definitely recommend
Advertisement
Advertisement