Swim among the fantastic marine life of the outer Great Barrier Reef on this full-day snorkel and scuba catamaran cruise from Port Douglas. Visit three different dive sites on Agincourt Reef, where you can choose to scuba, snorkel or both. Introductory and certified scuba dives are available, and expert guides are on hand to provide instruction and point out highlights of the underwater world. Enjoy a total of 5 hours on the reef, breaking to recharge with a buffet lunch plus morning and afternoon tea. Hotel pickup and drop-off from Port Douglas is included.
Highlights
Full-day cruise to Agincourt Reef on the outer edge of the Great Barrier Reef from Port Douglas
Snorkel or scuba dive from the back of the boat
Visit three different sites and five hours on the reef
Beginners can snorkel or try an introductory dive
Experienced divers can complete up to three certified dives
Cruise on a luxurious catamaran accommodating up to 80 passengers
Enjoy buffet lunch

Hotel pickup and drop off at Port Douglas hotels
What You Can Expect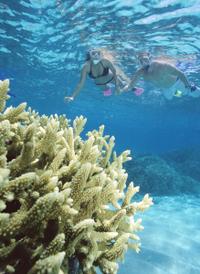 Explore the outer reaches of the Great Barrier Reef with this full-day adventure to Agincourt Reef, which sits at the edge of the Continental Shelf. After pickup from your Port Douglas hotel, board a comfortable 95-foot (29-meter) catamaran and settle in among the inside cabin seats or sun decks for the scenic ride out to the reef.
Throughout the day, visit three renowned dive sites that the cruise has exclusive access to, and customize your adventure with different options for exploring the reef. If you prefer to stay close to the surface, splash into the clear waters with provided snorkeling equipment and either snorkel on your own or join a guided tour. Or, go even deeper with a scuba experience. Beginning divers can try an introductory dive, and those with scuba certification can embark on up to three certified dives.
No matter what you choose, you'll get an up-close perspective on the spectacular ribbon reef teaming with an array of marine life such as schools of tropical fish, small reef sharks, massive coral formations and giant clams weighing up to 440 pounds (200 kg)!
When you come to the surface, recharge with a delicious buffet lunch on board, and break for morning and afternoon tea. Grab a drink from the fully licensed bar if you'd like something stronger (own expense), and stay comfortable with facilities including restrooms and freshwater showers. After approximately 5 hours at the reef, relax and soak up views of the Coral Sea on the return trip to Port Douglas.
Note: Book early to secure your spot, and enjoy a flexible reservations policy that allows you to change the date of your tour at no additional charge once you arrive in Port Douglas.
March 2016
I was so happy to be able to take this tour as it was the best of three trips to the Great Barrier Reef in 3 days. The seas were calm and the fish were everywhere. Although we had booked directly with Quicksilver for our tour in Cairns, we were pleasantly surprised that the operator was Quicksilver again. Thank you for making it very easy to book a tour!
February 2016
Once in a lifetime experience. Excellent staff, very organized. Enjoyed the different activities available - snorkeling, underwater submarine tour, observatory, diving and even the helicopter rides. Lunch buffet was also delicious. Highly recommended!
February 2016
Great tour. Staff was very dedicated to my enjoyment. The boat was great for both comfort on the ride out to the reef, and ease of getting on and off while at the reef. Simply an amazing sight to behold. Don't get to this area without seeing the reef. Surprisingly, even the lunch on the boat was very good.
December 2015
The reef was beautiful...outstanding coral and visibility. The boat crew does an excellent job at taking people with a range of abilities...from those who can barely swim to experienced divers...and making sure they have a great day. A beautiful, modern boat and snorkel/dive equipment was in good shape.
September 2015
First time at the Reef and first time snorkeling for both of us. It was a fantastic experience all around. The three different sites were all terrific opportunities to see many kinds of coral and dozens of kinds of fish. The strong optical masks made it possible for us to see details of everythingsomething we were a bit concerned with, since we both have significant near sightedness. The crew were professional, efficient, and generally friendly. We appreciated the fact that there was more than one vegetarian option at the lunch buffet and that no one blinked at a same-sex couple. In fact we were treated like any other couple for things like photos and getting our gear. It made everything that much more enjoyable.
September 2015
Great experience, got to visit three different sites. The staff was very friendly and informative.
October 2014
Crew is amazing. the selected places are great. the boat is clean, everything organized and safety. I truly recommend.
July 2014
Excellent Tour to Outer Great Barrier Reef, staff on boat to the reef were friendly and attentive, included food and drinks on board was fantastic.
I highly recommend this tour even if your not a great swimmer as the staff fit you up for all the snorkelling gear on the trip to the reef and you get a good briefing before each snorkel. I would recommend taking their advice on using a floatation vest or a spaghetti noodle as they help with floatation and enhances the snorkel experience. This tour went to three different reefs and they were all spectacular in their own way, the coral and fish were amazing, even got to swim with a sea turtle!
May 2014
An absolute must if you're in the area! Had a fantastic day on the Reef. Signed up for an introductory dive and loved it so much that I ended up diving again.
Was picked up at my hotel at Port Douglas and taken to meet the boat. It's about a 90 minute ride out to the first stop - and beautiful the whole way. Each place we stopped for diving/snorkeling was fantastic and there was plenty to see. We even saw a shark!! Staff were VERY nice, and the boat itself was great as well.
Make sure to pack sunscreen, some water, and a towel!
November 2013
Absolutely brilliant. Can't fault any of this trip. The crew were fantastic, the boat (Silversonic) was excellent, the food on board was great and the diving and snorkelling were unbelievable.
Advertisement
Advertisement