Discover the extraordinary underwater world of Australia's Great Barrier Reef on this full-day tour of the UNESCO-listed wonder from Port Douglas. Cruise around the Outer Reef in a luxury catamaran and stop along the way to swim or snorkel at some of the reef's top diving sites. Enjoy a guided snorkelling tour and up to three dives along the Agincourt Reef, with options suitable for certified divers, then refuel with a delicious seafood lunch served on-board.
Highlights
Snorkeling and Diving Cruise to Agincourt Reef from Port Douglas

Enjoy more comfort, better service and faster sailing on a luxurious, high-speed catamaran

Dine on a seafood buffet lunch, plus morning and afternoon tea
Take a guided snorkel tour and listen to a reef interpretative talk, or enjoy a guided dive

Snorkel equipment and instruction included
Small-group cruise, limited to 80 provides a more personalized experience on the Great Barrier Reef

Recent Photos of This Tour
Outer Great Barrier Reef Snorkeling and Diving Cruise from Port Douglas
What You Can Expect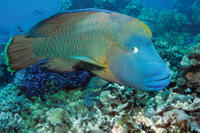 Cruising from Port Douglas aboard the high-speed Poseidon III , an ultra-modern, luxury catamaran, you'll have more time to spend at three fabulous snorkeling and diving sites on Agincourt Reef's outer limits. Renowned for its coral and marine life, the reef is known for being the best diving and snorkeling day trip destination from Port Douglas.

This cruise suits experts and beginners alike, whether you're a certified diver or you just want to go snorkeling. If you're a diver, you can take up to three dives into the Great Barrier Reef's coral gardens. You have your choice of diving from the mooring site, doing a drift drive back to the vessel or taking an excursion to less easily accessed sites.

If you'd prefer to stay on top of the water, go snorkeling in sheltered lagoons with breathtaking drop-offs. Learn about the Great Barrier Reef's fragile ecosystem during a reef interpretation talk, and then take a guided snorkel tour for a firsthand look at the reef's tropical fish and coral.

Not only is the Poseidon III super-fast, it's been specially designed to enhance your snorkeling and diving adventure, with more space and comfort than typical tour boats, a lowering transom for easier access to the water, an air-conditioned saloon and open deck areas for relaxing on the reef. You'll also have plenty of chances to hydrate and re-fuel with an included morning tea, afternoon tea and buffet seafood lunch.
April 2016
Poseidon Great Barrier Reef Cruises are AWESOME! Funny and friendly guides! Great reef sites, and their gear is too-notch!
December 2015
Poseidon and the entire team were awesome. The 3 snorkel sites we visited at Agincourt Reef were all incredibly beautiful. The reef information sessions were fabulous and gave further insight into the World Heritage listed Reef we had the privilege of sharing. An added bonus was the food which was lovely and fresh and there was plenty of it.

October 2015
Had a great time. Did the three dives. Well worth the price.

Lucy United Kingdom
August 2015
I cannot rate this tour high enough. Worth every penny.
I would 100 advise for anyone taking this tour to take travel sickness tablets. Ours was a very calm day according to staff however it was still quite sickness educing.
The staff were lovely handing out sea sickness tablets as we got on the ferry.
We had full safety briefings before each dive or snorkel. We were offered the chance to wear stinger protection suits and life jackets whist snorkelling which we took up.
There were always life guards in the water with use, a marine biologist to point out the fish on the reef and a spotter on the roof of the boat to water all the swimmers.
The food was amazing and fresh. There was also plenty of it. Every single member of staff were on hand to answer questions and most of them sat with the tourists on the journey.
The reef itself was absolutely beautiful. We swam with a range of fish, reef shark and turtles!
The tide was out when we were due to return to Port Douglas so they had organised for us to visit a fourth dive site which was fantastic.
January 2015
The staff is amazing! We had some of the roughest water I've ever been on and half of the boat (literally) was out bag with white paper bags due to sea sickness. That didn't ruin the spirit or service of the staff though. Because the weather wasn't so great, we did have a choppy first dive but Kim (one of the dive instructors) was my saving grace and made sure I had a good time. Without Kim, I may have missed out on my chance to live a life's dream of diving in the Great Barrier Reef.
The food that was served was REALLY good and way better than I expected. I would definitely recommend this tour for anyone who is looking for good GBR experience.
December 2014
Diving the Great Barrier Reef has ALWAYS been our dream. What an amazing experience! Viator made all the arrangements. All the inclusives in the tour was much more than we ever expected. From the pick-up at our Shantara Resort to the drop off, everything was seamless. We were treated to the best dive equipment on the Poseidon. The instructors were experienced, friendly and very attractive. We would highly recommend this tour company and dive operator to all who visit Austraila. The famous ribbon reefs were highly anticipated, since this is what entices all divers to the outer Great Barrier Reef. There are many to chose from, but with Viator and Poseidon, you won't be disappointed. The selection of food to keep divers and snorklers energized was very impressive.
"Thank you", Poseidon and Viator! We hope to adventure with you both again in the near future.
December 2013
This was a brilliant trip, and fantastic views of the reef and lots of different fish and coral to see.
Highly recommended.
October 2012
There is a bus service operated to pick you up and drop you back at your hotel in PD. The boat is smaller than the huge quicksilver boats but this was a plus it meant less people on the reefs with you. The three stops were great, snacks on boarding, lunch in the day and then bits and pieces you can buy. The crew are very friendly and interact with everyone. All snorkels/flippers are free and you can get a wetsuit for $5. Can't recommend them enough!
Advertisement
Advertisement