Travel from Portland to the Columbia River Gorge for a fun biking and hiking adventure! Soak in this beautiful Pacific Northwest landscape as you follow your guide on an easy bike ride and stop at several gorgeous waterfalls for nature hikes. Round-trip hotel transport is included.
Highlights
Enjoy an easy bike ride through the Columbia River Gorge
Stop at several stunning waterfalls to take nature hikes with your guide
Soak in gorgeous vistas and keep an eye out for wildlife such as ospreys and bald eagles
Suitable for all skill and fitness levels

Snacks, use of bicycle and helmet and round-trip hotel transport included
Recent Photos of This Tour
Bike and Hike: Columbia River Gorge Adventure from Portland
What You Can Expect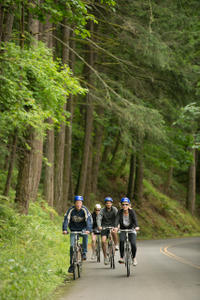 Your journey starts on a 45-minute drive to the Historic Columbia River Highway. On the way, stop to take photos of scenic vistas.

When you arrive the Columbia River Gorge, hop on your bike and follow your guide on an easy, 10-mile (16-km) ride along gentle hills. This ride will give you a sense of what it was like to travel along the country's first National Scenic Highway.

You'll make several stops at waterfalls to embark on short nature hikes, where you'll feel the cool, pulsing mist of water from amidst the lush green forest. Keep an eye out for native birds such as osprey and bald eagles.

Small snacks are available throughout your tour, and you may also bring food and drinks with you aboard the van. After soaking in the Pacific Northwest's famous natural landscapes, you'll be taken back to Portland.
July 2015
The tour was awesome. One of the highlights of my week in Portland. I arrived at the Pedal Bike Tours shop and was greeted by the friendly staff and outfitted with a bike, helmet and water bottle. They bring snacks and water refills on the tour. There was only one other person on the tour who was attending the same conference. While the tour size can vary from small to large, I was happy with the size as it was much more personal. Evan was our great tour guide. He drove us out to the Historic Columbia River Highway. We stopped at a fruit stand and picked up fresh berries. Next was the overlook and Crown Point Vista House. From here Evan unloaded the bikes, and we coasted downhill. Evan drove ahead, and we met at the next stop. I think we got back in the van once, but we biked from waterfall to waterfall with Evan meeting us at each stop. We saw Latourell Falls, Shepperds Dell, Bridal Veil Falls, Wahkeena Falls, Multnomah Falls, and Horsetail Falls. Quite a few of them had short hikes to reach the falls. Evan was knowledgeable about the history of the area, geology, plants and everything else. A walking encyclopedia. He says he doesn't look at his watch, or it stops being fun. He was very generous with his time, and we went an hour or two beyond the 5-hour tour. I recommended the tour to several other attendees who were staying on in Portland for a few days. Best day you will spend in Portland.
June 2015
Great tour! Beautiful way to experience the gorge. Our guide Daniel, was super friendly and enthusiastic. Gave us interesting background on the city and the gorge.
June 2015
Excelent way to get exercise and to see the different water falls.
March 2015
My boyfriend and I really enjoyed this afternoon adventure to the Columbia River Gorge. We were lucky to catch a clear, but chilly day! The guide personalized the tour and took our needs and interests into consideration. We got to see multiple waterfalls, and ended the day with a pit stop at a local brewery on the way home. We really enjoyed this trip and it was a great value for the cost!
March 2015
The tour was amazing, Sarah our tour guide was awesome, very knowledgeable and passionate
August 2014
Our tour guide, fellow biker and all around organizer was Sam. He's the kind of person you hope leads this type of tour. He was flexible with our stops, and just an all around nice guy. The bits of history that we got at each stop added nicely to the tour. There were four of us on the tour, from the very fit to the not so fit. All of us felt comfortable with the physical requirements of the hikes and rides. The hikes were small ones--the toughest one being the incline that takes you half way up Wahkeena Falls. Even that wasn't difficult. The bike rides were broken up in between visiting six different waterfalls. There is some truly beautiful country to be seen on this tour! There are longer hikes that can be had at some of the falls, hikes that would be too long for this kind of tour. But, it left us all feeling like there was more for us to explore if we ever came back. Can't say enough positive things about this experience! It was the highlight of our quick girls' trip to Portland!
October 2014
Great trip and beautiful scenery. Scotland was an enthusiastic and fun guide. Only complaint is that we were told on the phone that no water or snacks would be provided or available for purchase during the tour, so we went out and bought our own. When we got on the bus, Scotland said there were filled water bottles and snacks on the bus for everyone, after all.
September 2013
Although there were some organizational issues, this turned out to be a great trip and I would recommend it to someone looking to get outside of Portland for a few hours.
There was some confusion regarding the transportation arrangements - turns out the option we booked, even though it required us to give our hotel information for pickup, didn't include a pickup. Then when we tried to arrange one, we were informed that this was outside of the pickup zone. It was 15 minutes away by bus/streetcar so I'm not sure who they're charging to pickup if they have to be that close anyway... When we got to the bicycle shop the van they needed to transport us to the Gorge was not there. We had to wait about 1/2 hour or so for the van to be returned and loaded with our bikes before our trip could even start.
That being said, the adventure itself was awesome. I'm not an avid cyclist by any stretch of the imagination (in fact I'm a downright novice) and it was a fairly easy ride - a few hilly spots but nothing unmanageable. Our tour guide, Daniel, gave us a lot of historic information on our ride out and was helpful in setting up (and even repairing) the bikes. The hikes to the waterfalls were also fairly easy and offered spectacular views. The only thing we didn't have time for (due to our late departure) was to hike to the Multnomah Falls bridge. Slightly disappointing, but it didn't ruin the trip.
To make up for the late departure, Daniel did take us to a detour on the way back into Portland, one of the McMenamin's, for a beer and some snacks, courtesy of the company. This was a nice gesture to make up for the inconvenience caused by the morning's disorganization and was something else fun/touristy to do with a definite Portland vibe.
Overall, great active day outside of the city seeing some of the beautiful Pacific Northwest. The only thing that needs improvement is the shop's organization.
Advertisement
Advertisement