Immerse yourself in the beauty and culture of central Portland as a local would — by bike! On this guided 3-hour bike tour, ride through Portland's historic westside, exploring art galleries, food carts, iconic breweries and 19th-century architecture. Then head to Waterfront Park for great river views and bridge spotting.
Highlights
Experience Portland like a local on a guided bike tour

Cruise along the waterfront and pass Old Town's 19th-century brick buildings
Ride through lively Chinatown and discover the Pearl District's art galleries, shops and restaurants

Learn about the history and culture of Portland from your knowledgeable guide
Bike and helmet rental included
Choice of a morning or afternoon ride

What You Can Expect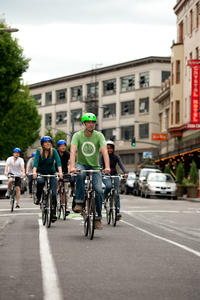 In the morning or afternoon, meet your local guide in downtown Portland and take off on an easy 9-mile (14-km) bike ride through the city's bustling and historic west side. First take the bike-lane route along Tom McCall Waterfront Park, a lively venue any time of year as the site of the city's biggest festivals and the Portland Saturday Market. Admire the Willamette River, the city's many bridges and the striking mountainous backdrop.
View the classic 19th-century brick and cast iron buildings of Old Town before leaving the riverside and passing through Chinatown and the trendy Pearl District, where sparkling new high-rises juxtapose converted turn-of-the-century warehouses. Pedal past art galleries, shops and restaurants, and learn some of the area's fascinating history from your guide.
As you continue toward the South Park Blocks, pass Henry Weinhard's 140-year-old brewery, a pod of eclectic food carts and Portland Center Stage, a fortress-like armory turned theater. The final leg of the tour takes you through Portland State University's lovely urban campus and back to your starting point on the river.
June 2016
Great tour. Really nice way to see the city. The guide was excellent, providing lots of information on the city.
November 2015
Great way to go around the city and exercise at the same time, and on a bike you can cover a bigger area. We did go everywhere on both sides of the river.
September 2015
We loved the tour. It was a great way to be introduced to Portland. We were surprised when we return via the opposite side of the river. We received lots of information and had a fun time.
June 2015
The tour was perfect!!! We were hesitant booking at first because we had never done one before but it was one of the best things we did on our trip to Portland. Our guide Evan made it even better... So knowledgeable about the area! So much fun, highly recommended!
June 2015
This tour was awesome! Thanks Evan for a great intro to Portland
April 2015
A great learning experience about the city -- highly recommend
August 2014
So great! My guide was friendly and informed. A leisurely pace was maintained throughout. She was really fantastic. I went alone and met some great travelers as well.
May 2014
My daughter and I spent our first morning in Portland cruising through downtown via bike. Our tour guide, Noah, tailored the information about the city around our interests (history, art, books) and did an excellent job of helping us get the "lay of the land" so we would be comfortable exploring during the remainder of our visit. He even provided a handy (and the by the end of the trip, well worn) map of the city with notes of where we had traveled and what we had expressed particular interest in exploring later.
The tour is a perfect way to start your visit to the city of Portland and it doesn't matter if you ride bikes frequently (my daughter) or haven't been on a bike in years (me). We had a wonderful time and we highly recommend this tour.
Lisa H.
Nashville, TN
October 2013
This was my first time ever visiting Portland and this bike tour was my lifesaver! Traveling around was so much easier because the bike tour was very comprehensive and helped me get an idea of where I was and how to get where I wanted to go as I explored the city after my tour. Our tour guide, Melanie, was very knowledgeable and was able to answer questions regarding not only the history of the town, but give tips on fave places, unique fun facts, and was attentive to the requests of our tour group. If you plan on exploring Downtown Portland for the day, I highly suggest doing the morning bike tour first, and then plan the rest of your day after getting a better idea of the city layout.
July 2013
Excellent tour. Well-worth it. Well-paced and gave a complete overview of the city. The tour guide (Sarah) was fantastic. Extremely knowledgable with an engaging personality. Whereas you might tune out other guides who drone on, you wanted to listen to what Sarah had to say. The bikes were comfortable, easy to use and changing speeds was effortless.
Advertisement
Advertisement