Discover the highlights of central Portland by foot on this 2.5-hour walking tour. Visit Powell's Books, Pioneer Square, the eclectic Alder Street food cart pod and more. As you stroll, enjoy your guide's insight into Portland's fascinating history, contemporary culture and urban design.
Highlights
2.5-hour walking tour of Portland
See Portland's famous food carts, visit Powell's Bookstore, and explore the Pearl District
Admire the Portlandia Statue – the second-largest staute in the world!
Pass markets, parks, gardens and several of Portland's well-known bridges
Learn about Portland's history, culture, arts and sustainability from your guide
What You Can Expect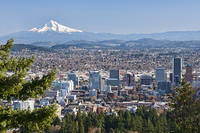 Meet your guide in the morning at Multnomah County Central Library, the magnificent 1912 construction that houses over 17 miles of shelf space within its brick walls. Begin with a stroll through SW Portland for visits to the Alder Street food cart pod, Pioneer Square and Powell's Books, the world's largest independent bookstore. Continue on to Mills End Park — the world's smallest park — and to the monumental Portlandia Statue, second only to the Statue of Liberty as the nation's largest statue.
Along the way, enjoy lively stories and facts from your guide as you pass LEED-certified (Leadership in Energy and Environmental Design) buildings, bridges, hidden alleyways and green spaces. End your tour with a greater understanding of Portland's history, culture and commitment to sustainable architecture and power sources.
Your tour returns to the Central Library just in time for lunch. Be sure to get a recommendation from your guide!
October 2015
Our tour guide, Gunner, was excellent not only imparting the history and background of Portland, but doing so in a witty and thoroughly enjoyable way. He answered all of our many questions. A terrific morning walk.
September 2015
Niles did a fabulous tour --just two of us--walking almost non stop! We did take a break at the Benson Hotel and enjoyed looking at all the lovely wood décor and the gorgeous fire place. I know so much more about the history of this progress city thanks to him.
August 2015
Gunnar was a great tour guide, very friendly and knowledgeable about the area. The local tour company was very flexible and accomodating - the scheduled tour guide actually broke their ankle the night before, but they were able to find Gunnar as a replacement and reschedule with us for later in the day, which worked out great. This did make his food recommendations less useful since we'd already eaten, but he pointed out a lot of interesting architecture and historical information as well. Definitely recommended, great value for the price!
June 2015
Gunner was charming, knowledgeable and fun. Would def. recommend him.
April 2015
Having never spent time in Portland, I found this walking tour the perfect way to become acclimated to the city. Our wonderful and knowledgeable guide made every moment a super fun learning experience. It was the perfect first thing to do as a newcomer in Portland. Love this city!!
April 2015
August 2014
gunnar was an excellent guide ; he knew the city backwards and forwards and brought it to life for us with his knowledge and humor
May 2014
Most knowledgeable and very interesting guide. No photos taken during tour.
Eduard K USA
April 2014
Very good tour with a lot of interested places.
July 2013
Booking of the tour was extremely easy considering we just googled it minutes before booking. Tour guide was fun and very informative. It indeed was a couple hours well spent. Wish we had done the tour at the beginning of our trip instead of the end. We now have a list of things of do for our next trip to Portland.
Advertisement
Advertisement